PROVO — BYU men's volleyball coach Shawn Olmstead was ready for a long day Thursday.
It was the opening day of the Mountain Pacific Sports Federation men's volleyball tournament. And while the Cougars didn't have a match or even a semifinal opponent to be prepared for, they did have plenty to do.
As part of the rules established by the conference, the remaining winners of seeds 2-7 will essentially be re-bracketed following the first round, with top-seeded BYU playing the lowest remaining seed available in Friday's late semifinal (7 p.m. MDT, FloVolleyball).
That means No. 7 Concordia could upset No. 2 UCLA and advance to face BYU, and the same with No. 5 USC and No. 6 Stanford against No. 4 Grand Canyon and No. 3 Pepperdine, respectively.
If seeds hold, the Cougars (17-3) would face No. 4 GCU in that semifinal.
"What we do know is we're not going to play UCLA or Pepperdine, but we could line up with anyone else," Olmstead told KSL.com by phone, in between placing an order of takeout sandwiches for his assistants and staff.
For a volleyball junkie like Olmstead, a former BYU libero who helped the Cougars to national titles in 2001 and 2004, there are worse ways to spend a spring day. Add to it the advantage (or disadvantage) of his team not playing thanks to the MPSF regular-season title — and being able to play the weekend at home for what are likely the biggest matches of the season — and the grind isn't so bad.
It helps that BYU has seen these programs as many as four times this year. Playing a conference-only schedule will do that, and the Cougars could face at least one program as many as five times in one season for the first time since they faced then-MPSF rival Long Beach State in the national championship match in 2001.
But it's still a long day.
"No matter what, being able to be in your own routine and native surroundings, it's definitely more comfortable," Olmstead said. "It's nice to be able to play on the court we practice on every day, and there's a lot of comfort there. But the teams we're going up against, and a couple playing today have beat us. So now we've got to play the hard part about this season: playing some of these teams a fourth or fifth time. That's almost never been done."
MPSF quarterfinals
No. 2 UCLA 3, No. 7 Concordia 1
At BYU, Cole Ketrzynski poured in a match-high 24 kills with seven digs to help the Bruins top the Eagles, 25-23, 21-25, 26-24, 25-20.
Alex Knight added 15 kills for UCLA (15-5), which got a double-double from Kevin Kobrine in 10 kills and 11 digs. Sam Kobrine dished out 59 assists and 10 digs for the Bruins.
Raymond Barsemian led Concordia (3-14) with 19 kills.
No. 4 Grand Canyon 3, No. 5 USC 1
At BYU, Camden Gianni poured in a match-high 24 kills to help the 'Lopes rally past the Trojans in four sets, 28-30, 25-20, 25-17, 25-23.
The two-time MPSF freshman of the year hit .697 with just one error on 33 swings, including a kill to clinch the match out of a timeout up 24-23.
Christian Janke and Hugo Fischer each had 10 kills and five digs for Grand Canyon (9-10), and Heath Hughes distributed 44 assists.
Billy Fauntleroy had 18 kills and nine digs to lead USC (5-13), and Brandon Browning added 16 kills, four digs and two assists for the Trojans, who got 50 assists from Chris Hall.
S4 | A kill followed by an ace by @CamdenGianni puts the Lopes in front! #LopesUp🎥 @FloVolleyballGCU 21, USC 20 pic.twitter.com/AjgwkUmA5N

— GCU Men's Volleyball (@GCU_MVolleyball) April 23, 2021
No. 3 Pepperdine 3, No. 6 Stanford 1
At BYU, Spencer Wickens and Jacob Steele each put down 14 kills as the Waves held off Stanford 25-22, 21-25, 25-22, 25-19 in the final match of the night.
Austin Wilmot added 12 kills for Pepperdine (12-5), and Bryce Dvorak dished out 44 assists and nine digs for the Waves.
Will Rottman led Stanford with 24 kills, and Luke Turner supplied 11 for the Cardinal (3-14). Nathan Lietzke dished out 45 assists and 10 digs for Stanford, who played what may be the final match in program history.
The Cardinal played the match with black duct tape covering the Stanford logo. Last July, the school announced it was cutting 11 varsity sports in the face of a $25 million budget deficit.
Of course, BYU earned any advantage it can take. Ranked No. 2 nationally in the latest American Volleyball Coaches Association poll, the Cougars handled the conference-only 2021 season as well as anyone, winning 17 of their 20 matches and clinching the MPSF regular-season title with a match to spare.
That was the good news of the final week of the regular season, which ended with a 3-1 loss at UCLA as the Bruins celebrated senior night at Pauley Pavilion.
Even then, there may be a silver lining. With the benefit of hindsight — Olmstead admits he didn't see this in the moment, but can now — the rare loss may have come at the right time for BYU. It came just in time for the postseason, when the Cougars have to be extra sharp, extra focused and extra dialed in to accomplish all their goals.
"It's always nice to be at home. But we're definitely not comfortable," senior outside hitter Zach Eschenberg said. "We know we have to go out and compete because every team in this tournament is gunning for us. Every team that plays us plays really against us. Every match here has a huge influence on what could be after this tournament.
"We're definitely extremely focused and motivated to make this week a really, really good one."
BYU has won or been co-champion of the MPSF in six of the past eight seasons but hasn't won a national title since 2004. Right or wrong, that's the standard against which the three-time national champions have been held for the past 20 years.
This season, BYU has as good a chance as any to break that drought.
Led by back-to-back MPSF Player of the Year Gabi Garcia Fernandez, BYU had six players receive MPSF honors — including Garcia Fernandez, outside hitter Davide Gardini and setter Wil Stanley on the all-league first team.
A wrecking ball from the pin as well as the service line, Garcia Fernandez became only the fifth player in MPSF history to win back-to-back Player of the Year titles. A four-time all-MPSF selection, the opposite from San Juan, Puerto Rico, led the conference with 254 kills, 317.5 points and 33 aces while hitting at least .300 in 12 of BYU's 20 matches.
Garcia Fernandez's 172 career aces are away from top-10 all-time in MPSF history, and his 33 aces this season are the fourth-most in the country.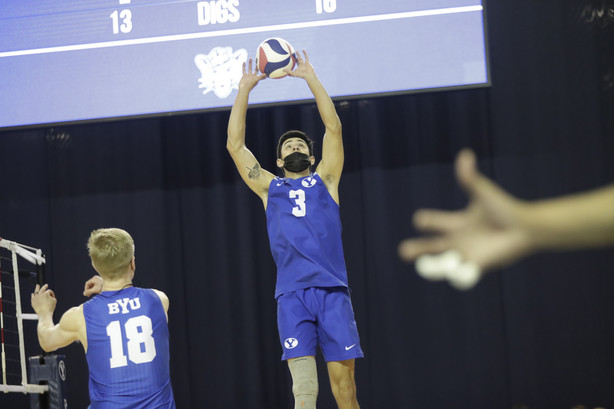 For as good as Garcia Fernandez has been his first three years at BYU — and he was good — he got even better in 2021 as he battled through the COVID-19 pandemic and prepared his game for the professional career that is sure to follow.
"He's getting towards the end, and he understands a new journey is coming up," Olmstead said of his star opposite. "It's fun to see him come into practice every day and be 100% engaged. He's here, he's for the guys, and he's definitely focusing on getting better for the next level, too.
"You see that mindfulness, that intent, in practice."
He's not alone, either. Garcia Fernandez was joined in the return to BYU by Stanley, the son of former BYU standout and 1968 Olympian Jon Stanley, who has 544 assists, 80 digs and six aces for the Cougars in 2021.
The offense is also bolstered by Gardini, the 6-foot-9 outside hitter from Ravenna, Italy, who has 222 points on 177 kills and 42 block touches as a junior. Felipe de Brito Ferreira from Brazil and fellow senior Miki Jauhiainen from Finland anchor the block, and outside hitter Eschenberg is a powerful hitter whose 169 points on 136 kills would lead several other teams in the conference.
The fifth-year senior from Newbury Park, California, has worked his way up from walk-on to full-rotation player and knows what it takes to compete — whether it's for playing time, battling back in that 3-1 loss to UCLA, or in an "insanely competitive" game of H-O-R-S-E with his wife, Kennedy, the former Bountiful High basketball star and All-American with the BYU women's volleyball team.
"Obviously, that loss was really unfortunate and tough," Eschenberg said. "UCLA came out and beat us, and it made our standing a lot more uncertain. It was definitely a wake-up call, and it reminded us how we need to finish out this season.
"We have to make sure we take care of business. We have no wiggle room right now. We put a lot of pressure on ourselves."
MPSF men's volleyball tournament
April 22-24 @ Smith Fieldhouse, BYU
All matches will be streamed live on FloVolleyball
Thursday, April 22
No. 2 UCLA 3, No. 7 Concordia 1
No. 4 Grand Canyon 3, No. 5 USC 1
No. 3 Pepperdine 3, No. 6 Stanford 1
Friday, April 23
First semifinal: UCLA vs. Pepperdine, 4 p.m. MT
Second semifinal: Grand Canyon vs. No. 1 BYU, 7 p.m. MT
Saturday, April 24
MPSF championship: semifinal winners, 7 p.m. MT
×
Related Stories