PROVO — No sooner had BYU men's volleyball coach Shawn Olmstead received news that Stanford was cutting 11 varsity sports from its athletic department — including the game he played and coached — and had broken the news to his conference commissioner than his phone rang.
It was BYU associate athletic director Brian Santiago on the line.
Fateful timing? A sign of things to come?
Hardly.
Santiago's call was one of relief for Olmstead, who said the long-term BYU athletic administrator was simply calling to tell him that kind of thing — the cut of a storied athletic program in the face of a $25 million budget deficit — would not be happening to Olmstead's program, or at least, not any time soon.
"He told me that has never been a discussion, we're one of the best teams they've got at BYU, and he wanted me to know that," Olmstead described recently on local radio station ESPN 960. "I really appreciated that … and I know they are doing the best they can right now."
Still, the thought was there.
Stanford made the extreme decision to eliminate 11 sports on campus following the 2020-21 season, discontinuing men's and women's fencing, field hockey, lightweight rowing, men's rowing, co-ed and women's sailing, squash, synchronized swimming, men's volleyball and wrestling. The department also eliminated 20 support staff positions as part of the decision to "realign" the athletic department, after what was originally forecasted to be a $12 million budget shortfall more than doubled due to the COVID-19 pandemic.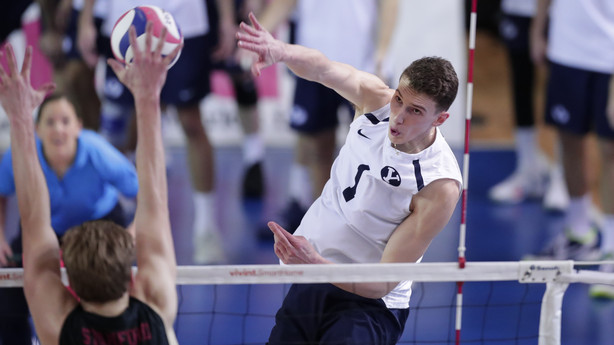 While no one likes seeing any sport cut, Olmstead said eyeing men's volleyball's place on that list was particularly painful.
"I've had a great relationship with their head coach John Kosty," he said. "I've known him for years and so I feel for him. It's tough for the growth of our sport. We just added a couple new conferences to make the Final Four more than just the Final Four that it was for so many years. Then you take a blow like this with such a strong program. That is a program that is competing year in and year out for a national championship. I feel for each one of them."
The number of athletic casualties could grow even more, if college football and other sports don't play in the 2020-21 season. But with games currently scheduled to begin in late August for every conference but the Ivy League — at least at the conference level in the Big Ten and Pac-12, that is — the current plan is to eliminate those 11 sports after the 2020-21 academic year.
The recent cuts would drop Stanford's robust athletic department from an NCAA-high 36 sports to 25. The NCAA requires at least 14 sports to maintain Division I status, and possibly more for schools with large football programs, due to Title IX compliance standards.
BYU currently sponsors 19 sports, including nine men's sports, and Olmstead doesn't feel like his program is in danger of being cut.
Hearing the reassurance from Santiago bolstered that assurance, too.
"I look at our leadership and I know we're under the best leadership we could be," Olmstead said. "I know they're doing all that they can for each one of our sports. I do trust that our outstanding leadership group is on top of everything right now."
The move won't have an effect on Utah, one of Stanford's Pac-12 rivals, because the dropped sports don't overlap in a conference that the Utes also sponsor.
But for BYU, losing a high-quality men's volleyball program is another blow for the Mountain Pacific Sports Federation, a one-time men's volleyball national powerhouse that split several years ago when the Big West sanctioned the sport.
Beginning with the 2021-2022 academic year, the MPSF will be home to BYU, UCLA, USC, Pepperdine, Grand Canyon and Concordia (Irvine) — the NCAA-minimum of six programs that maintains an automatic berth to the NCAA Tournament.
It also leaves a hole in BYU's schedule, one that can be filled — but not likely by a program of Stanford's caliber. Sure, they can replace two matches with national opponents, like Lewis, Loyola Chicago, Ohio State or Princeton. The Cougars aren't afraid to sign up for road games in some of those venues — and they have, as recently as last year, before the coronavirus shortened the season.
But the Cardinal had won national championships in 1997 and 2010, with three more runner-up appearances and five NCAA Final Fours. Stanford has also won 25-straight Directors Cup competitions, given to the top overall NCAA athletic department in Division I, in large part because of its robust menu of NCAA-sanctioned sports.
That streak could be in serious jeopardy after next year by losing critical pieces of the athletic department.
So to think that a school like Stanford could cut a program like men's volleyball doesn't leave anyone on strong footing in the sport, Olmstead admits. The idea that BYU could drop his team, for reasons that include the global pandemic, is "way above my pay grade," he admits.
So, too, are the reasons.
"I just don't know," he said. "But I trust that we've got an outstanding leadership group that is on top of everything going on right now. It would be their No. 1 priority to figure out what is next; I know they are doing that right now."
×
Related Links