PROVO — Zach Eschenberg admits he misses it.
The BYU senior outside hitter has grown accustomed to the 5,000 fans that cram into the university's Smith Fieldhouse for every game day, creating one of the best environments in collegiate volleyball nationally.
But as the COVID-19 continues to plague the country, with restrictions still in place on mass gatherings a year after his first attempt at senior season was unceremoniously canceled, the fieldhouse was awfully quiet when the Cougars hosted Mountain Pacific Sports Federation rival UCLA last week in a two-match series that ended with a split for both teams.
Dealing with that new normal of playing during a global pandemic was probably the biggest difference between the first match — a 3-1 loss — and the second night – a 3-0 sweep. Playing with senior setter Wil Stanley didn't hurt, either.
"It was definitely different," said Eschenberg, the third prong of the Cougars' multitiered attack who averages 2.4 kills per set alongside Gabi Garcia Fernandez (4.0) and Davide Gardini (3.6).
"The fieldhouse just gets this electric feel when you have 5,000 rocking fans, and it's easy to feed off that energy. To be there without that was almost unnerving, because of what we're used to," Eschenberg continued. "The fans that were there did a great job. But we had to create our own energy more so on the court and the bench, and I thought it was one of the biggest changes we made from Thursday to Saturday. The team energy Saturday was so much better."
The top-ranked Cougars (1-1) will host No. 7 Pepperdine (2-0) as they continue their conference-only schedule Friday and Saturday, and coronavirus restrictions will once again limit the gathering to family members and a handful of close invited guests.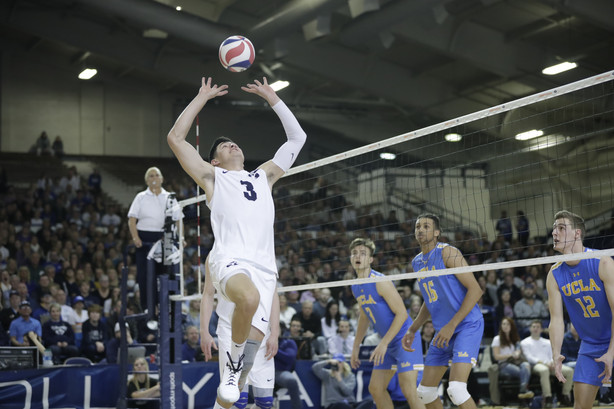 But even with those restrictions, there's a silver lining — especially for the Waves, who were picked to finish second in the league by MPSF coaches.
Due to COVID-19 restrictions in the state of California and Los Angeles County, Pepperdine is unable to allow any fans for its home matches at Firestone Fieldhouse. Similar restrictions applied when they played their second match of the season at Concordia Irvine.
But the MPSF — which consists of teams in California, Utah and Arizona — defers crowd restrictions to local and state regulations instead of an overarching conference policy. Similarly, a handful of Gonzaga supporters made the trip to the Marriott Center for Monday night's much-anticipated men's basketball game with the No. 1 Zags — a game that nearly doubled previous attendance limits to a few hundred, arena officials told KSL.com.
So when the Waves traveled to Provo ahead of their top-10 matchup, BYU head coach Shawn Olmstead had an idea: Why not invite Pepperdine's family — parents, wives, and other close or immediate family members — to attend the match?
Utah restrictions don't allow for large crowds in the Smith Fieldhouse, but the 5,000-seat venue is large enough to accommodate a few socially distanced family members to attend both men's and women's volleyball matches (for now), so the Cougars have been taking advantage of it.
"We'd love to have opposing players' guests," Olmstead said. "We were ecstatic that any parents would be able to come to Salt Lake City and watch their sons play this weekend."
Pepperdine outside hitter Spencer Wickens thanked Olmstead and the Cougars for the accommodation during a weekly video call with the media, as did head coach David Hunt.
Hunt, the fourth-year head coach who led the Waves to an MPSF regular season and tournament title in 2019, also had another reason to thank Olmstead, one of his colleagues and close friends in the profession for several years.
With the two sides preparing to face off this week, Olmstead committed one of the cardinal sins of friendship on Sunday, Hunt's birthday.
"I forgot to text him," Olmstead said, "so I felt like I owed it to him."
So the BYU coach delivered a box of cookies from Crumbl to the Waves' hotel Thursday night in Provo, and the gift was waiting for Hunt when he arrived. He was still extolling the sweets during Friday morning's press call, though he did share briefly with his director of volleyball operations.
"One of our assistants tried to steal one," Hunt joked, "and I said, 'No, no, no!' They've got to earn those cookies."
The Cougars have high expectations for 2021, a year after the coronavirus disrupted a season where they appeared to be among the favorites for a national championship.
Those kinds of expectations aren't disappearing at BYU, where the returning senior class of Eschenberg, Stanley, and fellow graduate senior Miki Jauhiainen all returned for one more run at a championship alongside the rest of the teammates.
But the Cougars also know what it takes to get to the end of a season that runs through April, as well as conference tournaments and the NCAA championships, scheduled to be held May 6-8 at Ohio State.
"One thing I really like about our team is that while we work toward a big end goal, we still focus on volleyball as a match-by-match basis," Eschenberg said. "We have to play well against UCLA or Pepperdine or GCU.
"Sure, everyone put a lot of hype around last season. But now last season is over. We're 1-1 in conference, and we're going to continue to play really good teams. If we focus only on winning a national championship, I feel like that would be really distracting. Right now, it's just focusing on playing Pepperdine, a really good team that has a lot of heart."
On the Air
No. 1 BYU (1-1) vs. No. 7 Pepperdine (2-0)
Friday, Feb. 12 and Saturday, Feb. 13
First serve: 7 p.m. MST
TV: BYUtv (Jarom Jordan, Steve Vail)
Streaming: BYUtv.org
Series: Pepperdine leads, 34-32
×
Related Stories