SALT LAKE CITY — It's already known that Utah will soon have two new state parks, but is it possible that it could add one more?
Gov. Spencer Cox and Lt. Gov. Deidre Henderson Tuesday ceremoniously signed a pair of bills. They signed HB257, which designed Utahraptor and Lost Creek state parks, and HCR13, a bill that called for Utah State Parks to look into the feasibility of making Bridal Veil Falls in Provo Canyon a state park or state monument.
Both bills passed during this year's legislative session and were already signed into law by Cox and Henderson last month. Tuesday's ceremonious signing was more of a celebration of both bills passing than official business.
"We do these ceremonial signings to draw attention to some things that are really important for the people of the state of Utah, and we feel like these two bills are very critical to our future," Cox said, standing at a podium with a 136 million-year-old megablock of Utahraptor fossils collected from Grand County behind him.
"We care deeply about this beautiful state where we live," he added. "We have a Legislature, as well, that cares deeply about preserving and protecting these lands so that future generations can enjoy them."
Since the bills were already signed, Utah Division of State Parks officials have already gone to work planning out the futures of the two new parks set in stone. Jeff Rassmussen, the director for Utah State Parks, told KSL.com that construction for new facilities at Utahraptor State Park in Grand County and Lost Creek State Park in Morgan County is expected to begin later this year.
Details are still in the works in terms of Utahraptor State Park's size near Dalton, Grand County. State Parks officials said Tuesday that the park will be between 7,000 and 8,000 acres in size, but the agency was still finalizing the lease and purchasing agreements with the Utah Division of Forestry, Fire and State Lands and the School and Institutional Trust Lands Administration before an official size is determined.
Rassmussen added that the agency has also started evaluating possibilities for Bridal Veil Falls that it believes will be ready to share with the Legislature as early as this fall.
Why you may want to wait to visit Utah's newest state parks
Utah state parks officials say they are thrilled about two new areas joining the state park system; however, they are also urging people to refrain from planning their trips right now until they can get the necessary infrastructure in place to handle more visitors.
"There's a lot of work to do for both of these parks," Rassmussen said, pointing out that both locations have few facilities. "We're doing everything that we can to get things geared up and ready to go so we can get a project bid out and get construction equipment on site and start moving dirt by the end of the year."
Rassmussen said officials have been "scared to death" that the new bill would attract many more visitors to the area before the infrastructure was in place to handle them. Even before the bill, both were growing in popularity because the Utahraptor State Park land is located adjacent to Arches National Park and Lost Creek State Park offered some water recreation activities.
Both locations' growing popularity meant both were attracting visitors despite really only having "primitive" camping and recreational options and some vault toilets for people coming in, Utah State Parks officials said. Now that it has the funding from the state, Rassmussen said both locations will be able to handle crowds in the future.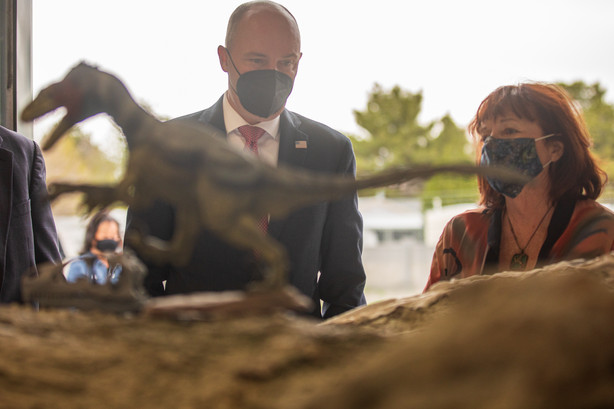 The plan is to add more modern campgrounds, restrooms, a park visitors' entrance station, as well as trailheads for off-highway vehicles and mountain bike trail systems for Utahraptor State Park, as an example. But that's going to take some time, which is why Rassmussen said visitors likely won't see new facilities and infrastructure until "mid-to-late" next year.
"The bill was passed and, yeah, it's exciting. We created two new state parks but please don't come to these sites right now because they don't have the facilities to support the amount of visitation that's coming to them," he said. "Give us a chance to get the roads built and the entrance stations and the restrooms and campsites and all that great stuff that comes from our state parks and then come and visit next year when we're ready to go."
What's next for Bridal Veil Falls?
In many ways, HCR13 was a fallout from the drama that unfolded within the Utah County Commission late last year. The commission ultimately voted to approve a conservation easement for the land following a developer's bid to purchase over 20 acres of land by the waterfall.
Through that, the resolution was created to see if it was possible to turn it into a park or monument. Rassmussen added it could also end up as "some other form" of state recreation management site.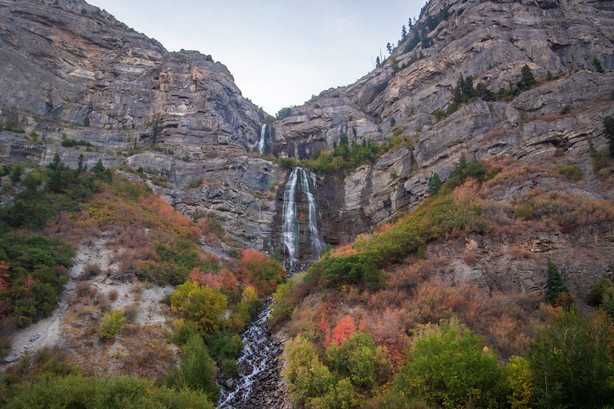 That process has already started. Rassmussen said the division started asking for bids for a contractor to help study the feasibility for any state involvement. The agency also landed a company that will work with them on the feasibility study.
"As we work through that process, we'll be meeting with Utah County, who owns the land right below the falls, Provo City … and we'll be working with the conservation easement group that holds that easement, as well as all the other stakeholders that are involved in that area," he said. "We want to get input from the general public as well about what they feel the best future for that area is."
He added that Utah State Parks currently expects to provide the Utah Legislature two or three possible options during an interim legislative session in October or November. Those options could include new facilities, but it's worth noting that any decision made by the Utah State Parks or the Legislature would have to align with the conservation easement, which was set to preserve access to Bridal Veil Falls and its natural beauty.
Another key detail that Rassmussen added is that the state has asked Utah State Parks to not create a fee for people coming to Bridal Veil Falls if it does end up in the agency's hands.
"They want to make it a free area and it really makes sense because of the (Provo River Trail) system that's going through there," he said.
More than recreation
The bills signed Tuesday go beyond recreation. Cox, Henderson and other state leaders were given a brief tour of fossil samples collected on the land where Utahraptor State Park will be. That includes the megablock, where scientists continue to make fossil discoveries.
Utah Geological Survey officials said in February that the massive 9-ton megablock produced what's now believed to be the oldest raptors in the world.
"From a paleontology perspective, I don't know if most Utahns know how rich the resources are that we have," Cox said, adding how over 100 new dinosaur species have been discovered in Utah in the past three decades.
Gov. Cox and Lt. Gov. Henderson checking out the utahraptor megablock that was found in Grand County and is still being researched #utpolpic.twitter.com/YiCq9WYNN4

— Carter Williams (@cwilliamsKSL) April 13, 2021
The Utahraptor became the official state dinosaur in 2018.
The site is also where a Japanese isolation camp was located in the 1940s, adding historic significance. Senate Minority Whip Jani Iwamoto, D-Holladay, pushed for the state park also with the home that there would be resources to remember those sent there.
She said Tuesday that she had just returned back from a trip at the site, which she said was important for its prehistoric and historic history.
"This has been kind of a journey and I'm so happy that this came to fruition," she said.
×
Photos
Related Stories