Estimated read time: 3-4 minutes
This archived news story is available only for your personal, non-commercial use. Information in the story may be outdated or superseded by additional information. Reading or replaying the story in its archived form does not constitute a republication of the story.
Editor's note: This article is a part of a series reviewing Utah and U.S. history for KSL.com's Historic section.
SALT LAKE CITY — Scientists believe they have many more Utahraptor fossils than they originally believed from a 136 million-year-old sandstone "megablock" that was first discovered in Utah two decades ago.
The new research also indicates that the raptors found in Grand County are the oldest in the world, officials from the Utah Geological Survey said Thursday. The block was originally believed to be 125 million years old, according to the agency's website.
It was preliminarily believed that a 9-ton megablock, which was originally found at Arches National Park in 2001, contained the bones of at least one Utahraptor, 10 juveniles and three babies. But after further research over the past year, they now believe they will find more than double the amount of dinosaur remains.
Over the past year, they have already collected an additional baby Utahraptor, the partial skull and skeleton of a juvenile Utahraptor and a complete shoulder of an adult Utahraptor, which was the first time that's ever been discovered. The dinosaurs were preserved well enough that they believe they might be able to recover feather impressions as well.
In addition, the team found the bones of at least two plant-eating iguanodon dinosaurs were also discovered within the massive block. State paleontologists say they now believe the Utahraptor dinosaurs may have been hunting as a pack at a time they got caught in quicksand, buried, preserved and fossilized over the last 136 million years, according to the state officials.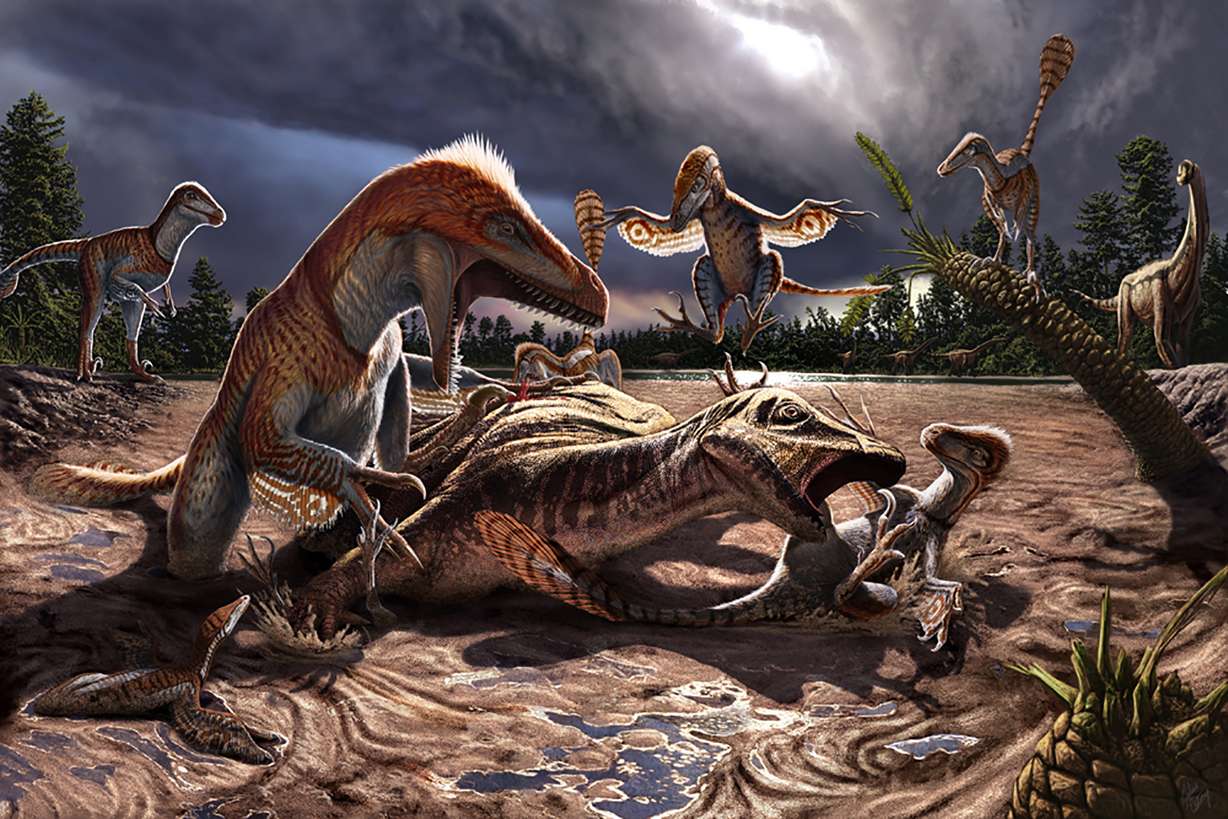 The large mega block of dinosaur fossils were relocated from the Museum of Ancient Life at Thanksgiving Point to Utah Geological Survey Research Center in Salt Lake City in February last year for more research. According to the agency, state paleontologists have already completed over 3,500 hours of fossil preparation on the giant block but that's only about 10% the block so far.
All fossils recovered will be reassembled into a pack of Utahraptor dinosaurs to be displayed at the Natural History Museum of Utah near the University of Utah campus.
The Utahraptor officially became Utah's "state dinosaur" in 2018 through a bill signed by former Gov. Gary Herbert.
Meanwhile, there's a bill that would create "Utahraptor State Park" in Grand County. It once again passed the House of Representatives earlier this week. A similar bill last legislative session passed the House but stalled in a Senate committee regarding the designation of a new state park.
"The cover of 'Jurassic Park' is a Utahraptor dinosaur that was discovered in this area where they've excavated seven skeletons," said, Rep. Steve Eliason, R-Sandy, the sponsor of the bill, during a floor hearing Monday.
The new bill would also create Lost Creek State Park in Morgan County for water recreation purposes. The bill was sent to the Senate Natural Resources, Agriculture, and Environment Committee for review Thursday.
×
Photos
Related stories
Most recent Historic stories