Estimated read time: 6-7 minutes
This archived news story is available only for your personal, non-commercial use. Information in the story may be outdated or superseded by additional information. Reading or replaying the story in its archived form does not constitute a republication of the story.
SALT LAKE CITY — Two Salt Lake County sheriff's deputies shot outside the Salt Lake County Jail on Saturday are both expected to survive, said Sheriff Rosie Rivera.
The man who shot the deputies died after an exchange of gunfire with one or both deputies, the sheriff's office confirmed. The investigation into who fired their gun and how many times will be part of an ongoing investigation by the county's officer-involved critical incident protocol team.
Both deputies were shot in the face and critically injured on the lawn near the parking lot for both the sheriff's office building and jail complex on the corner of 3300 South and 900 West, while doing a routine check of the campus.
One deputy was grazed on the cheek by a bullet and was expected to be released from the hospital by Saturday afternoon.
"We're very fortunate that he is able to go home. He had a bullet that grazed right through his cheek. He has quite a bit of damage on his face, but he's coherent. I can tell you mentally it's tough on both of them and they have a lot to go through," Rivera said.
The second deputy was shot in the eye and was scheduled for surgery Saturday. Rivera said that deputy has a long road ahead of him, but "we do believe he is going to survive."
"We're just fortunate they weren't killed," the sheriff said after visiting both deputies at the hospital Saturday. "Right now, we just ask for the community to pray for our deputies and all of our sheriff's office family. It's a tough time."
The names of the deputies were not released Saturday.
The incident began just before 10:30 a.m. when two deputies were working as part of the campus security team at the sheriff's office and Salt Lake County Jail complex. They came across a man near the front of the sheriff's office headquarters.
"It happened on the north side of the parking lot on the grass area," Rivera said, an area where people sometimes like to sit or sleep.
"The deputies were just going up to him to check on him," she said.
After making contact with the man, there was "some type of altercation," according to the sheriff.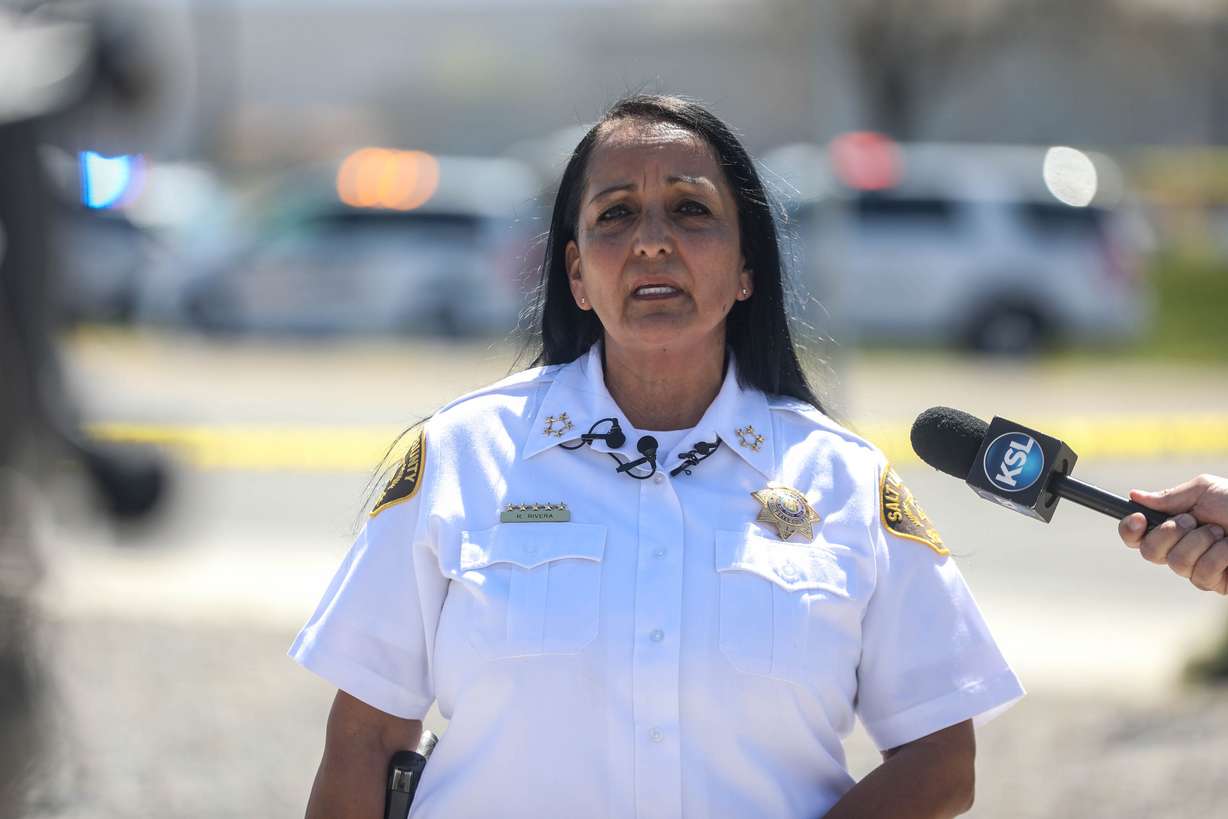 "As the deputies approached, the man produced a handgun and began to fire. At least one deputy returned fire. Additional deputies responded quickly to render aid," according to the sheriff's office.
Officers from Unified police, South Salt Lake police and West Valley police also responded to the scene and the deputies were rushed to a local hospital.
The families of both deputies gathered to be with their loved ones at the hospital. A chaplain was also sent to the hospital to comfort the families and peer support members were working with other deputies shaken by the incident.
"It's something that you don't really expect will occur on Saturday morning. So it's tough. We do have peer support and we have our peer support team already responded," Rivera said. "This is just shocking. It's devastating to law enforcement as a whole."
The sheriff noted that law enforcement has become more dangerous, even for deputies who are just checking on people sleeping on the grass in front of the sheriff's building or waiting for a bus to find out if they're OK.
"The environment for law enforcement right now is extremely dangerous, and we know that," she said. "Anything can happen in any instance."
Rivera said she has received numerous calls from other law enforcement agencies, including outside Utah, offering their assistance and condolences, as well as from the governor's and mayor's offices.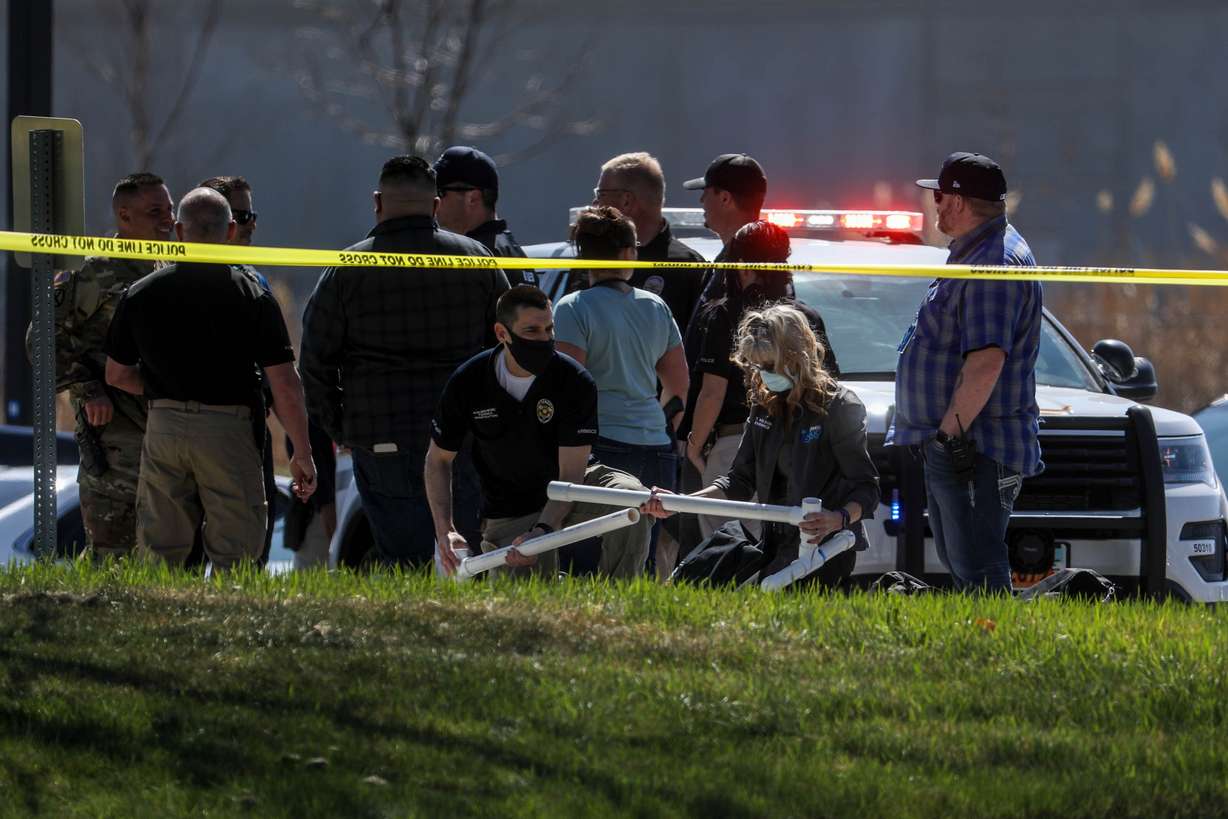 "Such an awful tragedy outside the Salt Lake County Jail today. Abby and I are praying for the two deputies fighting for their lives," Gov. Spencer Cox said in a prepared statement.
Salt Lake County Mayor Jenny Wilson tweeted, "My thoughts are with the deputies who were injured in a horrific shooting this morning near the Salt Lake County @SLCOMetroJail. All of us at @SLCoGov are grateful for the sacrifice that law enforcement makes each day. Our hearts and hopes are with the deputies and their families."
Sen. Mitt Romney tweeted, "Ann's and my hearts are heavy with reports of two Salt Lake County deputies shot and hospitalized. We join them and their families in prayer and hope."
Ann's and my hearts are heavy with reports of two Salt Lake County deputies shot and hospitalized. We join them and their families in prayer and hope.

— Senator Mitt Romney (@SenatorRomney) April 10, 2021
Rep. Chris Stewart joined the condolences on Twitter, saying "My thoughts and prayers are with the two Salt Lake County Sheriff's deputies who were tragically shot and hospitalized today. All of Utah stands with them and their families in hopes of a full recovery."
Utah Attorney General Sean Reyes added in a statement," Please join our prayers for these brave officers and their families. Their sacrifices are unmeasurable and unimaginable."
Numerous police agencies from across Utah also tweeted messages of condolence and support.
"Our thoughts and prayers are with the two Deputies involved in today's shooting outside of the Salt Lake County Jail," the Utah Highway Patrol tweeted.
The Diocese of Salt Lake City also offered support for the deputies on Twitter.
"Our prayers for these deputies and their families. The sacrifices they make to keep the public safe should not be exacerbated by our state obsession with gun possession at the expense of human life."
Rivera said 3300 South between 700 West and 900 West would remain closed for a "significant" amount of time on Saturday. Likewise, the Salt Lake County Jail would remain on lockdown according to department protocol as the investigation is conducted.
Rivera asked anyone who might have seen the incident or have information about it to contact the sheriff's office.
"The Salt Lake County Sheriff's Office is strong. We're very proud of who we are. We're a strong family and we'll make it through this. It's just tough right now," she said.
The identity of the deceased gunman, a man believed to be in his 30s, had not been confirmed as of Saturday afternoon. Based on the number of items he had with him, Rivera said investigators believe he was homeless.
The sheriff called Saturday's confrontation "shocking" because of how rare incidents like this — right outside the doors of the sheriff's own building — are. But she said at the end of the day, the members of the sheriff's office will be OK.
"We'll always survive, but sometimes getting there is tough. And we have a long road for that. This is shocking to our community and to South Salt Lake's community and everybody that has anything to do with our jail," Rivera said. "Law enforcement sticks together in this type of thing. It's tragic, but we'll be OK and it could have been a lot worse."
Contributing: Alex Cabrero, KSL TV and Wendy Leonard, Deseret News
×
Photos