ROY — Utah leaders on Thursday continued to look forward to the end of the COVID-19 pandemic and beyond as a record number of new vaccinations were reported and the spread of the disease continued trending downward.
Utah's number of COVID-19 cases increased by 487 on Thursday, with three more deaths, according to the Utah Department of Health. Another 46,011 vaccinations were reported, which is the highest number ever administered in a single day, according to state officials.
Gov. Spencer Cox also announced that for the first time since the beginning of the pandemic, zero Utah counties are at the high transmission level for COVID-19 under the state's transmission index system. Beaver and Emery counties moved from the high transmission level to the moderate level, meaning that all counties in the state are rated at either the moderate or low transmission level.
"This means that everything that we are doing here in Utah … is absolutely working," Cox said at a Thursday news conference.
The state also made progress on stipulations of Utah House Bill 294, which is also known as the COVID-19 "endgame" bill. The legislation requires that all state and local Utah health orders related to the pandemic end on the day that the state's 14-day case rate is less than 191 per 100,000 people, the seven-day average of COVID-19 intensive care unit usage is under 15%, and 1,633,000 prime doses of the COVID-19 vaccine have been allocated to Utah.
The state's 14-day case rate average is 181.1 as of Thursday, the first time it's been reported under HB294's threshold. The seven-day COVID-19 ICU usage average, which has been under the threshold for several days, is 10.4% Thursday. However, 920,515 prime doses of the COVID-19 vaccine have now been allocated to Utah; well under the threshold set in the bill, according to health officials.
Cox said a record-high 106,000 prime vaccine doses will be allocated to Utah next week, mostly driven by a 40,000-dose increase to the state's allocation of the Johnson & Johnson vaccine.
"We've known from the very beginning the vaccines are the quickest way to end this pandemic," Cox said.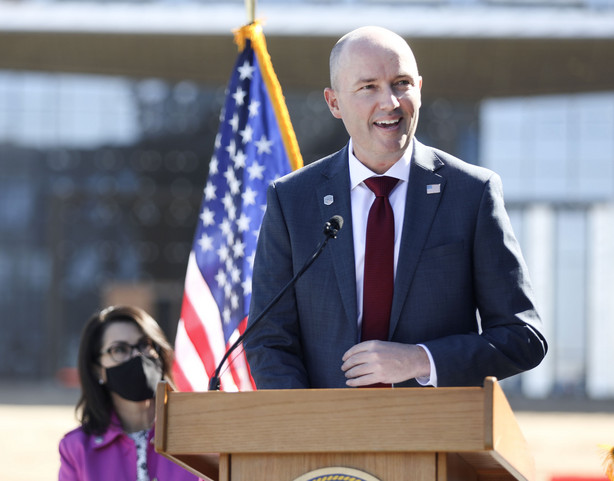 Though the statewide mask mandate will end by April 10 as required by HB294, masks will still be required in K-12 schools and at gatherings of 50 or more people. Private businesses will also be able to require masks in their establishments and have been encouraged to do so, Cox said.
Utah state employees have been informed that masks will be required in their workplaces through the end of May, the governor added. As employers, state leaders felt they had a responsibility and duty to protect their employees from the spread of the disease by continuing to require masks, he said.
The governor, Lt. Gov Deidre Henderson, and Utah Department of Health state epidemiologist Dr. Angela Dunn provided a COVID-19 pandemic update at a news conference Thursday where they also announced a grant program designed to help employers get more Utahns back to work.
Henderson announced details of a $15 million grant funding cycle through her office's Learn and Work program. Cox also announced an executive order that directs state agencies to create more programs that will help people get back to work.
The Learn and Work program will provide funding for training programs for unemployed, underemployed and vulnerable workers in Utah, according to Henderson.
Henderson and Cox made the announcement at the Northrop Grumman facility in Roy. Beth Pitts-Madonna, vice president of human resources for Northrop Grumman Space Systems, and Greg Manuel, vice president and general manager for the Strategic Deterrent Systems Division of Northrop Grumman also spoke at the event.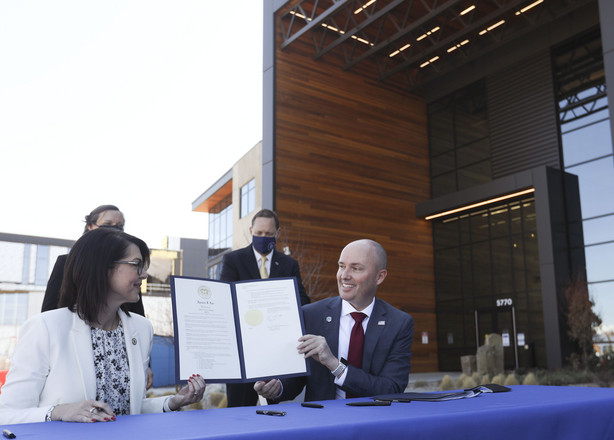 ---
Watch the replay of Thursday's news conference below.
---
Demand for COVID-19 vaccines still high, officials say
State leaders have been prepared to deal with vaccine hesitancy among Utahns, but demand for the vaccine has remained high throughout the state's rollout, Dunn said.
There have been very few reports of serious side effects from the vaccine, and no reports of deaths from the vaccine, she added.
"This is truly amazing," Dunn said.
About 84% of Utahns ages 70 and over have now received at least one dose of the vaccine, and about 82% of Utahns 65 and older have had one dose, according to Cox.
A Centers for Disease Control and Prevention study recently concluded that vaccines prevent about 95% of COVID-19 cases, Dunn said. Vaccines are also known to be very effective against severe disease and hospitalizations, health officials say.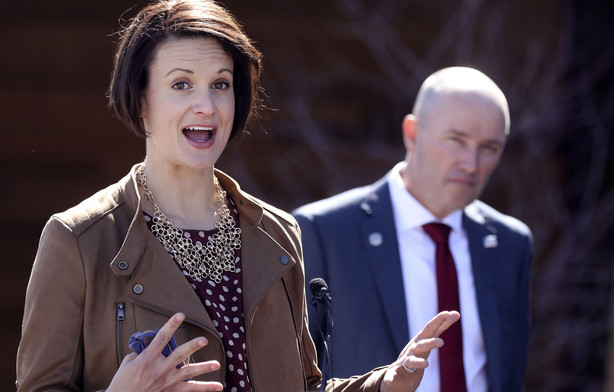 Several "breakthrough cases" of COVID-19 have been reported in Utah, Dunn said Thursday. A breakthrough case of COVID-19 is one that is diagnosed after someone is considered fully vaccinated, or at least two weeks after they have received their final vaccine dose, Dunn said.
A total of 97 breakthrough cases have been reported in Utah so far, amounting to about 0.02% of the 521,686 Utahns who are fully vaccinated, she said.
The vaccine has mostly prevented severe illness in those breakthrough cases, Dunn said. In one instance, there was a cluster of 15 breakthrough cases diagnosed in a long-term care facility, but none of the 15 people who tested positive for the disease showed symptoms, she added.
Five of the people who had breakthrough cases were hospitalized, Dunn said. However, all five were older adults who had underlying health conditions, and it's not yet clear if they were hospitalized due to their underlying conditions or due to COVID-19, she added.
New COVID-19 cases
The state now estimates there are 9,489 active cases of COVID-19 in Utah, according to the health department.
The rolling seven-day average number of positive cases per day is now at 411, state data shows. The positive test rate per day for that time period reported with the "people over people" method is now 6.8%, down from 7.6% last week, according to Dunn. The positive test rate per day seven-day average calculated with the "test over test" method is now 3.4%, down from 3.8% last week, she added.
There are now 136 COVID-19 patients currently hospitalized in Utah, including 50 in intensive care, state data shows. About 67% of all intensive care unit beds in Utah are occupied Thursday, including about 70% of ICU beds in the state's 16 referral hospitals. About 54% of non-ICU hospital beds are now occupied, according to health department data.
A total of 1,410,214 vaccine doses have been administered in the state, up from 1,364,203 Wednesday. There are now 925,628 Utahns who have received at least one vaccine dose, while 521,686 are fully vaccinated, state data shows.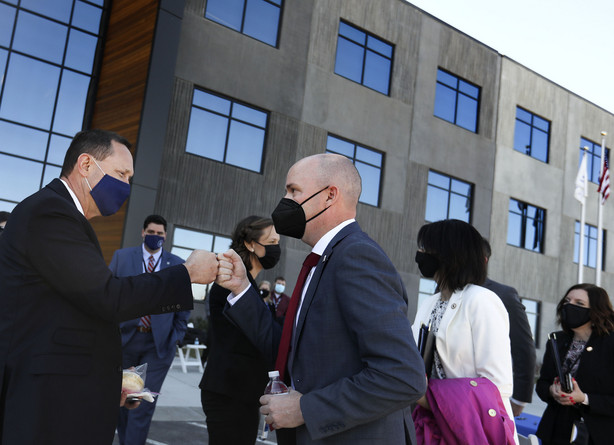 The new numbers indicate a 0.1% increase in positive cases since Wednesday. Of the 2,394,649 people tested for COVID-19 in Utah so far, 16.1% have tested positive for COVID-19. The number of COVID-19 tests conducted since the beginning of the pandemic is now 4,254,688, up 18,760 since Wednesday. Of those, 7,661 were tests of people who hadn't previously been tested for COVID-19, state data shows.
The three deaths reported Thursday were:
A Salt Lake County man who was between the ages of 65 and 84 and was hospitalized when he died
A Washington County woman who was between the ages of 65 and 84 and was hospitalized when she died
A Weber County woman who was between the ages of 65 and 84 and was hospitalized when she died
Thursday's totals give Utah 386,128 total confirmed cases, with 15,554 total hospitalizations and 2,125 total deaths from the disease. An estimated 374,514 Utah COVID-19 cases are now estimated to be recovered, state data shows.
Daggett, Garfield, Juab, Piute, Rich and Wayne counties are now at the moderate transmission level under the Utah transmission index system. All other Utah counties are now at the moderate transmission level.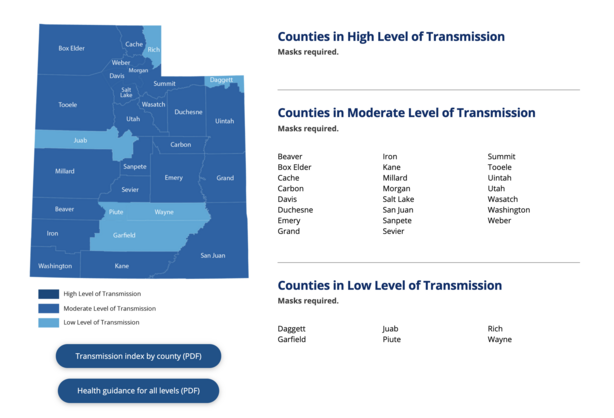 ---
Correction: A previous version of this story stated that less than 5,000 prime doses of the COVID-19 vaccine need to be allocated for House Bill 294 to trigger the end of Utah state and local health orders. A total of 920,515 prime doses have been allocated to Utah as of Thursday, so over 700,000 prime doses are still needed to trigger the end of the health orders under HB294.
×
Photos
Related Stories