Estimated read time: 11-12 minutes
This archived news story is available only for your personal, non-commercial use. Information in the story may be outdated or superseded by additional information. Reading or replaying the story in its archived form does not constitute a republication of the story.
SALT LAKE CITY — Utah has been largely successful at avoiding a Japanese beetle infestation for decades, especially compared to most of the country; however, state agriculture officials warn that the invasive pest is making rounds across the Wasatch Front after it was first discovered again in 2019.
That's why experts and officials with the Utah Department of Agriculture and Food revealed last week its expanded Japanese beetle eradication plan in Utah after the species was caught in four of the state's counties last year.
Officials with the agency are also asking for residents to be vigilant about a bug that causes hundreds of millions of dollars in annual agriculture damage costs.
The pest was confirmed to have returned in Utah when 43 Japanese beetles were detected between Salt Lake and Davis counties in 2019. The total number then grew to 139 through Salt Lake, Davis, Utah and Weber counties last year.
While it grew overall, state agriculture officials reported a 58% decline in Japanese beetles within a sliver of Salt Lake County last year following a pesticide treatment plan. That's why they are proposing to extend that plan in 2021 that includes new eradication efforts within spots of Davis, Utah and Weber counties, where populations grew last year.
In all, about 379 acres of land within those four counties would be part of a Japanese beetle treatment plan this year. State officials will increase beetle traps to find if the beetle is spreading elsewhere within the counties it was detected in.
Property owners have until April 9 to present the Department of Agriculture and Food an affidavit making their properties exempt from insecticide application treatment.
While populations are low, officials and experts argued during a virtual open house Thursday that it's a situation best solved early.
The return of the Japanese beetle in Utah
The Japanese beetle, which is native to Japan, was first detected in the U.S. in New Jersey 105 years ago. The species has since spread to most of the continental U.S. over the past century, especially areas east of the Rocky Mountains, but that's changed in recent decades.
Joey Caputo, a state entomologist, explained that the Rockies provided a natural barrier that helped the species from entering the state, but that can only go so far. That's why, in the 1990s, officials began regulations and a detection program for plants brought into the state because it's believed that's the only way the beetle could establish a population in Utah.
Ten years after that program was created, the first Japanese beetle in Utah was detected by a Utah State University-Extension agent. It prompted a Japanese beetle extermination program near the Orem area the following year. The Utah Department of Agriculture eliminated the beetle population in 2012 and declared an eradication success of two years of no traces of the species after that.
The species was then detected again two years ago and analysis found that the beetles found in Salt Lake and Davis counties weren't tied to beetles discovered in Utah County during the mid-2000s.
Last year, over 100 beetles were collected in locations across parts of Salt Lake, Davis, Utah and Weber counties. It's not enough to consider the species as infesting the state, but it was enough to widen a plan to eradicate the species in the state.
Why Japanese beetles pose a problem
Much like any other invasive species, the Japanese beetle poses problems in the U.S. because it has few natural predators and its plant prey doesn't have many defenses.
"It does not harm animals or people, but it can be very devastating to the plants that it eats," Caputo said.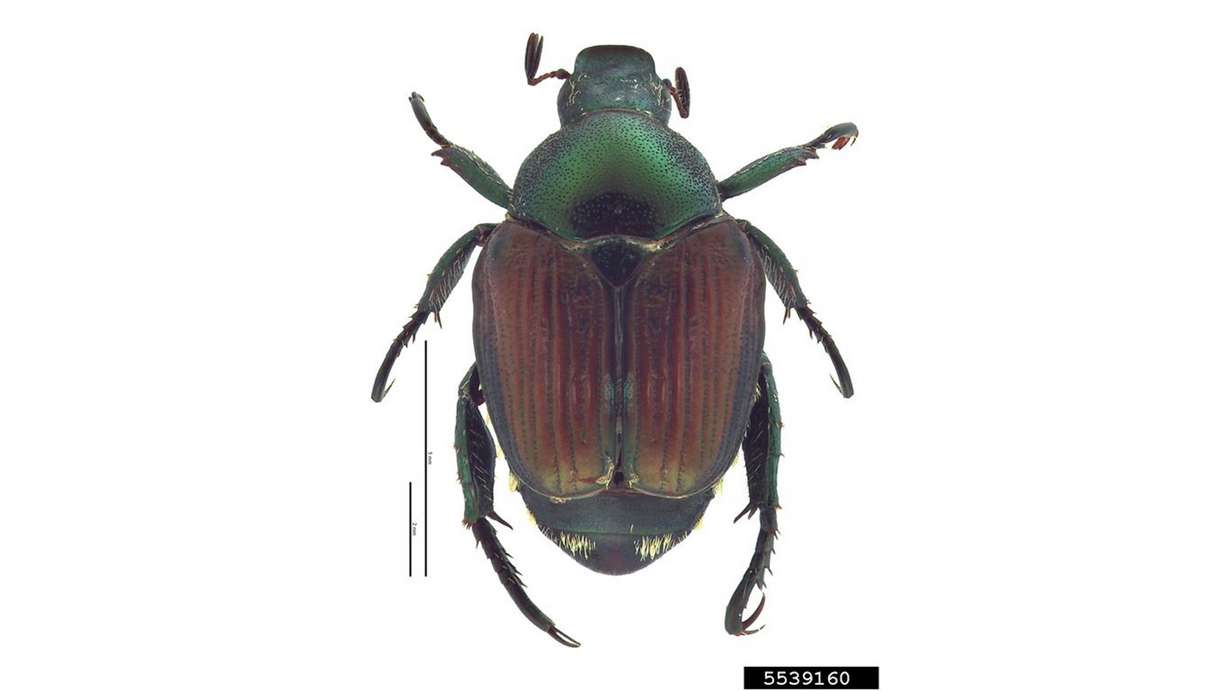 He explained that Japanese beetles attack plants in both of its life stages. First, underground grubs feed on turf roots in the fall not long after they spawned by the end of summer. They may continue to feed on roots up until late fall before they become dormant in the wintertime.
"The results, due to this feeding, is similar to drought stress in some cases because there's no water or nutrients going to the leaf plates, so you'll get patchy dieback, yellowing of the grass as well as — with severe infestations — grass that rolls up like a carpet," he said.
In spring, they return to eating roots before they develop into a beetle that emerges from the ground in June. An adult beetle feeds on nearly all of a plant's above-ground parts, such as leaves, flowers and fruit.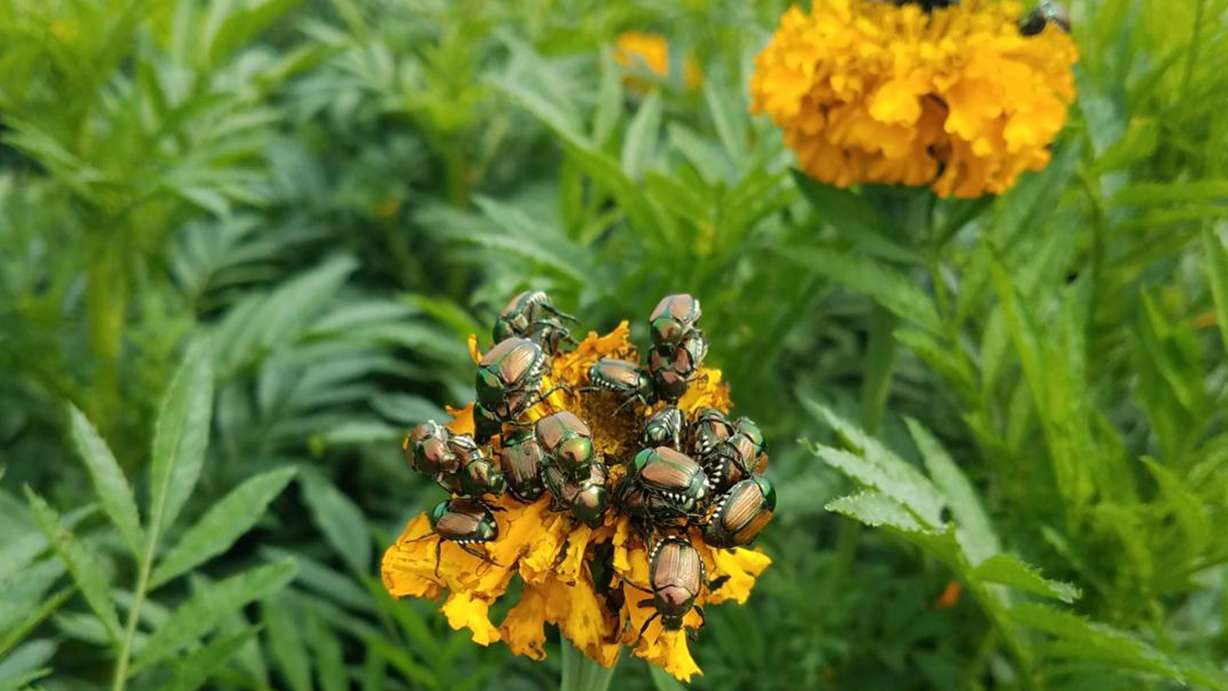 Roses are especially vulnerable but they aren't alone, Caputo said. There are over 300 known plant species it feeds on, from fruit-producing trees to vegetable plants to all sorts of flowers.
"Many of these are popular plants that people like to grow here in Utah, as well as economically important ones," he added. "This insect has the potential to do damage to our fruit-growing industry in the state."
Per the Utah Department of Agriculture and Food, the pest results in about $460 million in annual control and damage replacement costs across the U.S. If Japanese beetles took over the state on a wider level, experts said they could pose significant harm to the state's agriculture community.
A pair of undergraduate researchers from Westminster College conducted a study on Japanese beetle impacts that was presented at the Virtual Undergraduate Research Conference last year.
Their results found Utah's efforts to quarantine the bug cost the state about $60,000 annually, but the costs of abandoning those efforts were more alarming. The study found that more widespread Japanese beetle species could result in 6 to 10 bushels per acre lost in a 2027 estimate, which would result in $1.3 million to $2.1 million in damages based on 2019 prices.
It also found that it could result in anywhere from $131.8 million to as much as $352.4 million in urban turf repair costs. That's why they recommended that the state continue to maintain its quarantine protocols.
Treatment plan working in Salt Lake County but beetles are on the move
After 43 Japanese beetles were found in the state two years ago, the Department of Agriculture began work on its second eradication plan.
Tackling the issue is tricky because it's difficult to control the species once it is above ground. That's why they try to contain it while it's in a larvae stage because it's easier to control the species that way, Caputo said.
Crews went to sites in Salt Lake City, South Salt Lake and West Valley City last year. Mark Hillier, a compliance specialist for the Department of Agriculture and Food, said they were able to get a 58% reduction in Japanese beetles within that area following the treatment plan.
"We're also seeing about an 80% reduction in acres that we were going to be treating in 2021, which shows us the eradication efforts we had were highly successful in Salt Lake County," he said.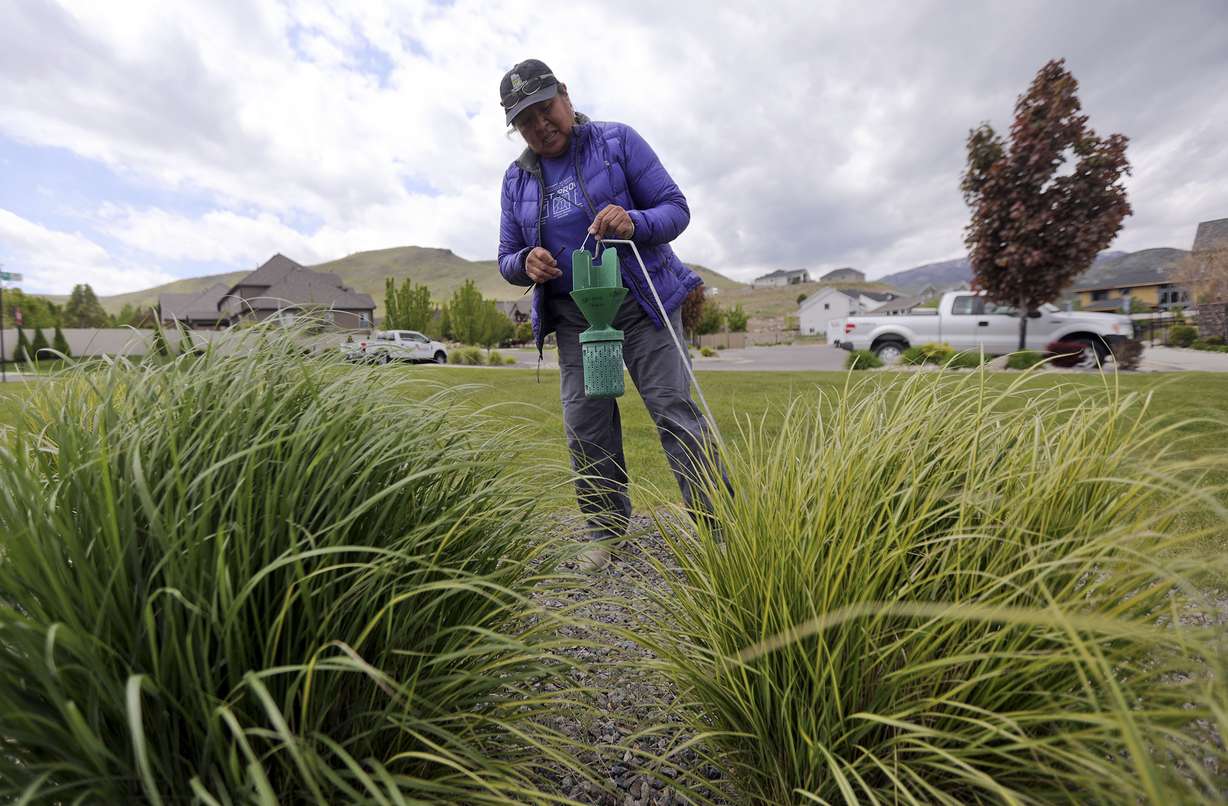 The department proposed a plan to conduct another round of treatment for Japanese beetles near the Roper Railyard and the Granite School District building in South Salt Lake, as well as the Intermodal Hub and spots in the far west parts of Salt Lake City.
While the treatment program appears to be working in Salt Lake County, the beetle made its way to other parts of the state and its population grew in Davis County, where no treatment was done in 2020. That's why the department is now looking to expand its efforts this year to other areas of the state.
For instance, nearly 50 Japanese beetles were captured in Centerville in Davis County. More than three dozen came from the same trap location, which was positioned near Centerville City Hall. It was the location of the most caught beetles last year, Hillier said.
Another 12 were caught in various traps located in Kaysville in Davis County, and one beetle was captured in Farmington and Westpoint apiece. There were also five beetles detected last year in traps by the Traverse Mountain area of Lehi and three more in Provo within Utah County. The department said 18 beetles were caught in Weber County.
The 2021 treatment plan would extend from Salt Lake County to the two other counties beetles emerged from. The locations in Davis and Utah counties include:
65 acres in Centerville
84 acres in Kaysville "east" near U.S. Highway 89
55 acres in Kaysville "west" near Davis High School
35 acres in Provo's Franklin neighborhood
16 acres by Traverse Mountain in Lehi
88.6 acres combined within Ogden and South Ogden
Exact maps of the pesticide treatment can be found on the department's website. A form for a private landowner to prohibit the application on their land can be found here. The form needs to be signed by a physician and be submitted either in person to the department's headquarters (350 N. Redwood Road in Salt Lake City), by mail or by email by April 9. All three of those addresses can be found at the bottom of the form.
Treatments are currently scheduled to begin later in April and last into May. That's also when the department will install more traps.
Crews would use a pesticide called Acelepryn on land identified by the most Japanese beetle detections, said Kristopher Watson, a state entomologist and manager of the Utah Department of Agriculture and Food's Insect and Pest Program. State officials said it was selected because it has proven to be affected and has low toxicity for humans and pets, as well as pollinators and most wildlife.
"We plan to have our own use inspections from our pesticide enforcement," he said. "They will conduct their use inspections, ensuring that everything is followed in accordance with the labels, laws — that we're meeting all the required restrictions that come with it."
Dr. Michael Weirda, assistant professor at Utah State University-Extension and director of the Pesticide Safety Education Program, said the pesticide is something that can be purchased by anyone. It's not harmful to humans or domestic animals when used correctly, he added.
It's also a product that shouldn't be applied to water because of potential harm to water-based animals, he added.
Meanwhile, experts have pointed to pesticides as one of the reasons for a rapid decline in bee and butterfly populations in recent years. Acelepryn has been proven to be safe on honeybees but it's still unclear what applications might do for ground-nesting bee species long-term, said Amanda Barth, the rare insect conservation coordinator for the Utah Department of Natural Resources.
Still, she explained that it's difficult to eliminate a pest like the Japanese beetle while also keeping pollinators safe if that pest has established a home in the state. That's why she argued handling the issue early is a more favorable approach from that environmental standpoint.
"That means for insect conservation's purposes in Utah, a quick targeted approach to Japanese beetle eradication is the ideal approach," she said. "And since Japanese beetles are so tricky to get rid of, it's vital to tackle this now and try to minimize the collateral damage to any native or vulnerable species, and really isolate impacts to target species."
In addition to pesticides, the state would add more "high-density" traps near where beetles were captured over the past two years to see if that shows where populations are growing in the state. The state maintains over 2,000 sites across all 29 counties in the state every year just in case the species is detected; when a new location is found, they plant dozens of new traps around where that new spot is located.
Watson said that it's possible for the state to do nothing about the growing cases of Japanese beetle but that could lead to dire consequences.
A beetle infestation could result in a double-whammy for people like Jeff Rowley, a tart cherry grower in Utah County. The state is one of the leading producers of tart cherries and the Japanese beetle could threaten that as well as other produce in the state if the bug reaches more farming locations, he said.
"It can damage the trees; it can reduce production, but it also makes it so we have to spray more pesticides to keep the (pest) population down so we can have a good product," he said. "And right now, we're fighting to keep those pesticides as low as possible because of the standards for sales and the (maximum residue limits) … and if we have to continue to use different pesticides, that will make it so we won't be able to meet those (goals)."
×
Most recent Utah stories