PROVO — In a few months, or maybe even weeks, Josh Wilson will be the most popular Wilson on BYU's campus as the rising sophomore linebacker fits back into the rotation of what head coach Kalani Sitake believes to be his deepest unit in the program, ahead of the 2021 season.
Maybe Josh Wilson even got used to being the biggest Wilson over the past few weeks of spring ball.
But when older brother Zach returned to Utah last Tuesday from his Southern California retreat, where he's been working out with former BYU star John Beck and getting ready for the NFL draft, the younger Wilson took a back seat.
No offense to Josh Wilson; the former BYU signal-caller and top-10 vote receiver for last year's Heisman Trophy just has a shot at being the highest-ever draft pick in BYU history. After declaring a year early for the draft, Wilson's name is shooting up mock boards, with ESPN's Mel Kiper Jr. still predicting the 6-foot-3, 210-pound Corner Canyon product to go No. 2 overall to the New York Jets (if the Jets can work a trade to jettison Sam Darnold, that is).
So Josh Wilson's time will come — he just needs to enjoy the last few weeks with his older brother before sending him off to the NFL.
And that's no problem for him; Josh is Zach Wilson's biggest fan. Not even the hype surrounding upcoming draft stock can get in between the two brothers.
"It's really cool," Josh Wilson said this week when asked for what may have been the 750th time about his brother. "Knowing him my whole life, I can say I expected no less. He's always been at the top of everything, and he's always believed in himself. I think he works harder than a lot of people.
"It's really cool seeing all of this finally come together. He's gone through a lot, and I'm glad that hard work is finally paying off."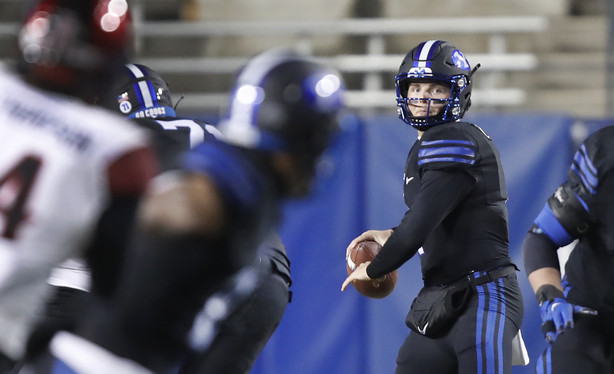 Zach Wilson will return to BYU for Friday's pro day. Fans won't be allowed to attend the Cougars' first pro day since 2019 due to COVID-19 protocols (nor will local media), but the event will be televised by BYUtv and the NFL Network.
Zach Wilson won't be alone in working out for every all 32 teams in the National Football League, either.
While the majority of eyes will be on the former Corner Canyon star who threw for 3,692 yards and 33 touchdowns with just three interceptions as a junior, leading the Cougars to an 11-1 season and top-15 national ranking, BYU — and Zach's former teammates — will take full advantage of the spotlight.
Fourteen players from last year's roster will work out in front of a bevy of NFL scouts and team personnel Friday, including Wilson, who will only throw to recently recovered tight end Matt Bushman, longtime friend and teammate Dax Milne, and former Cougar wide outs Micah Simon and Aleva Hifo.
"It's definitely cool to be doing it all together," Zach Wilson told BYUtv after he returned to Utah Tuesday. "We have all these scouts and GMs, and I know it's a big benefit for those guys to prove something.
"With the COVID year last year, a lot of guys got screwed a bit. I hope I can help them get their year back, make them look good, and they can make me look good."
That group — along with graduated senior defensive back Isaiah Armstrong, wide receiver Batchlor Johnson, safety Austin Lee and defensive back Beau Tanner — will finally get a shot at the NFL. A year after the COVID-19 pandemic canceled the Cougars' original Pro Day, those guys will give the NFL another shot.
With no NFL combine scheduled, Friday will be the first, and possibly only shot many of those players have to make an impression and find a spot on an NFL roster next year.
So while Zach Wilson will attract the cameras and the spotlight, Pro Day may be even more important for those players, as well as projected draft picks Brady Christensen and Chandon Herring on the offensive line, and nose tackle Khyiris Tonga, to name a few recently departed seniors.
Hyperbole aside, it's hardly a stretch to say 2021 may be BYU's biggest Pro Day ever. Certainly, with 20 players set to run, jump, lift and work out for scouts, the sheer volume of measurements will be among the biggest in recent BYU history.
"Last year, I said we had a lot of NFL guys on our roster. I still believe that," Sitake said. "Some of them will have an opportunity to get drafted or do free-agent contracts and make teams this season. Then the next guys will step up, and we'll keep having guys develop.
"Hopefully this will be the biggest Pro Day to date — and then next year, it will be even bigger."
The Cougars had a run of four consecutive seasons with at least one NFL draft pick snapped last year, in large part due to the pandemic and an inability for teams to work out prospective picks.
Make no mistake: BYU probably wasn't going to have anyone selected in the first round from last year's seniors. But the lack of in-person workouts and visits was known to drop several players by at least a round or two, and any potential late-round selections — players like Hifo, Simon and Lee, for instance — were pushed down to free agency.
Indeed, Hifo signed a free-agent contract with the Kansas City Chiefs after the draft. The 5-foot-10 receiver with a 4-41 40-yard dash hit the COVID-19 reserve list around the end of training camp and was waived, but briefly re-signed with the Chiefs as a potential special teams and practice player later in the season.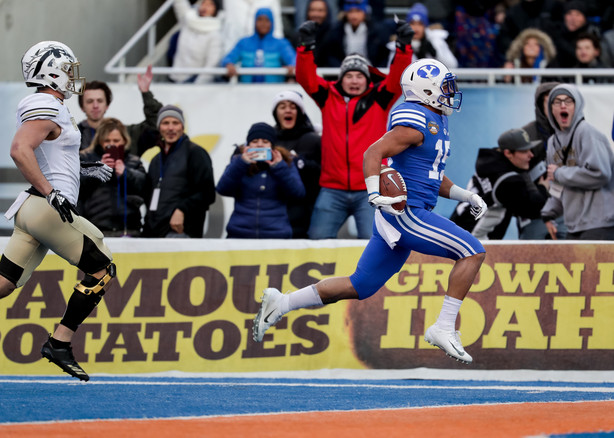 But BYU hopes to break a much different streak this season: the Cougars haven't had multiple draft picks since 2009, when Austin Collie was selected in the fourth round by the Colts and Fui Vakapuna was a seventh-round addition by the Bengals.
The Cougars officially had two selections from the 2010 draft, when tight end Dennis Pitta went in the fourth round to Baltimore, but running back Harvey Unga's seventh-round selection by Chicago was tabbed via the mid-summer supplemental draft instead of the annual April rite of passage.
That 2009 class was also the last time BYU has sent multiple offensive players to the NFL through the draft — though several high-profile former Cougars in the Pros have come via free agency, a la potential Saints starting quarterback Taysom Hill — a streak that stands to end this year, as well, with Zach Wilson's projection and consensus All-American Christensen being rated among the top left tackles in the draft.
Sending as many players to the NFL as possible has been a priority "from day one" for Sitake and his coaching staff, even as he has juggled multiple offensive coordinators and assistant coaches.
"I want to get guys in the NFL," Sitake said. "I think the league needs our guys, and we have guys who can go out and have success. Even guys who have been injured, we need to find a way to get them back on track … and to make teams."
---
BYU Pro Day
Friday, March 26
TV: BYUtv, NFL Network
Start time: 10 a.m. MDT
2020 BYU Players
DB Zayne Anderson
TE Matt Bushman
OL Brady Christensen
DL Zac Dawe
DL Bracken El-Bakri
DB/LB Kavika Fonua
OL Chandon Herring
OL Tristen Hoge
LB Isaiah Kaufusi
WR Dax Milne
DL Khyiris Tonga
DB Troy Warner
DB Chris Wilcox
QB Zach Wilson
Former Cougars
DB Isaiah Armstrong
WR Aleva Hifo
WR Batchlor Johnson
DB Austin Lee
WR Micah Simon
DB Beau Tanner
×
Photos
Related Stories