PROVO — The NFL's pre-draft season has been mostly put on hold to try to stem the tide of the COVID-19 pandemic.
But that doesn't mean business as usual won't eventually return to sports (hopefully), and that means there's a brand-new draft class trying to put its best foot forward in hopes of finding that one team that falls in love with them prior to April 23.
Count former BYU wide receiver Aleva Hifo as one of them.
Pro days have been cancelled across the country, including at BYU, but the 5-foot-10, 187-pound wide out from Menifee, California recently took part in a multi-athlete pro day in Colorado conducted by a former area scout for an NFL team. And Hifo showed at least one thing he can bring to a potential pro career: he's fast.
Hifo ran a 4.41 40-yard dash during the pro day, as captured by his agent and longtime representative of BYU football players Evan Brennan during a makeshift regional combine for NFL hopefuls over the weekend.
Former Fresno State tight end Jared Rice was also on hand in Colorado, where he put up a 7.06-second L-drill in front of a former Bills scout. Other participants included Montana State defensive end Bryce Sterk, Western Michigan tight end Giovanni Ricci, and Northern Colorado quarterback Jacob Knipp, who is rated one of the top small-school (FCS) quarterbacks in the 2020 class by Draft Diamonds.
The off-campus pro day was hosted by Landow Performance, an Englewood, Colorado-based training facility that brought in former Bills scout Brad Forsyth to document each skills test.
For comparisons, top wide receiver target CeeDee Lamb of Oklahoma posted a 4.50 40 at the NFL scouting combine, Boise State's John Hightower ran a 4.43, and Washington's Aaron Fuller — who boasts a comparable 5-foot-11 frame to Hifo — had a 4.59, according to official NFL reports.
Utah cornerback Javelin Guidry, a heralded U.S. track and field speedster, and Alabama's Henry Ruggs III were the top skill-position prospects at the combine with a 4.29 and 4.27 40, respectively. Other top performers included Louisiana Tech safety L'Jarius Sneed (4.37) and Auburn cornerback Javaris Davis (4.39). Hifo's time of 4.41 would've ranked sixth among receivers.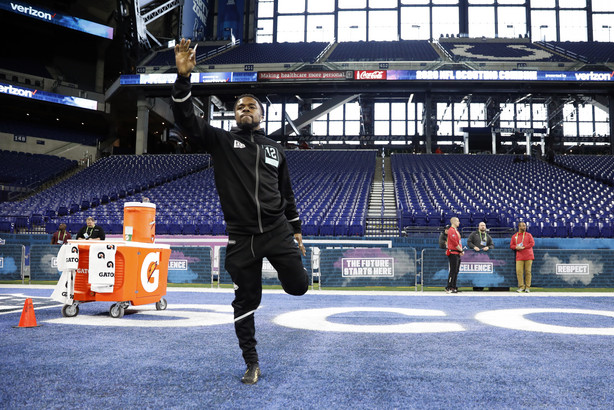 Of course, pro day measurements and scouting combine numbers can vary significantly. Even when around 30 scouts are available at an on-campus pro day, "official" 40 times are usually an average of what each scout times on his stopwatch.
Obviously Hifo's time isn't going to make the same kind of waves as Southern Miss wide receiver Quez Watkins, who turned heads with a 4.35 40. But those measurements, plus his 1,336 career yards and seven touchdown catches — plus the now-famous touchdown pass he threw as a junior in a 24-21 upset over Wisconsin — could get Hifo a few phone calls over the next few months.
×
Related Stories