INDIANAPOLIS — As BYU waited to find out its first-round opponent for the NCAA Tournament from Thursday night's First Four, the Cougars were quietly winning the hearts of basketball fans around the country — without playing a game.
A pair of BYU videos went viral, thanks to nothing more than dumb luck and circumstance, a team videographer embedded inside the hotel, and the power of social media. It was a perfect storm — for everybody but a reserve guard from Kayesville.
When the Cougars tip off Saturday night against UCLA (7:40 p.m. MDT, CBS), they always expected to have a large, passionate fanbase behind them. But they may have a few more people knowing their story and calling their names.
All it took was for Jesse Wade to get stuck in an elevator for nearly an hour.
"Never did we think we would have intros for COVID testing or Jesse getting stuck in an elevator and breaking the door open," BYU senior guard Alex Barcello said. "But my mind just goes to 'that's who we are.' We're trying to have fun with everything, and make the most of this situation.
"We're definitely trying to make this as memorable as we can. Growing up as a little kid, that's all we did in March. If you were a basketball player, this is all you're doing, 24/7 in March. It's such a fun experience, and now we're getting to live through it. So we definitely want to make the most of it."
Wade, the former Davis High sharpshooter and Gonzaga transfer, was on his way to join the team for dinner Wednesday night, but he was running late. There's plenty of downtime inside the NCAA's "controlled environment" at the team hotel, so it's easy to see why everyone isn't constantly together.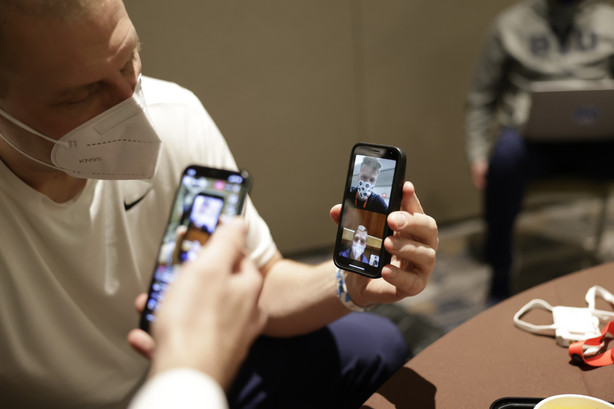 So when the rest of the group was finishing dinner — a few had even gotten up and finished early, Pope look around and didn't see his reserve guard. He looked to the table next to him, and asked Brandon Warr about it.
The Westminster transfer forward pointed to a phone, where a few guys were chatting over FaceTime — from an elevator.
Wade was stuck. He didn't know exactly where.
"I thought it was hilarious," Pope recalled. "Understandably, Jesse was semi-concerned for his situation. Then we realized we had to get him out."
The Cougars rushed upstairs and started banging on each elevator door, while Wade would listen to the pipes to find the rescue party. Eventually, they discovered that he was stuck between the sixth and seventh floors, and the whole crew — led by the fearless Richard Harward — sprinted to the elevator bay to pry Wade loose.
"We got it open," Barcello said.
A good strength coach proved even more vital, and the Cougars made good use of coach Erick Schork's training as they united to pry the elevator doors apart just enough for Wade to crawl out.
"We actually started with the wrong one, but when we peeked through a crack in the middle elevator, you could see Jesse in there," Pope said. "The guys went full Coach Schork to get him out.
"It took a while. It wasn't easy, but they got him out."
Scariest moment of my life but I knew the boys had my back 😂 @BYUbasketballpic.twitter.com/SWl21RFHCr

— Jesse Wade (@jessewade10) March 19, 2021
After the rescue, the team watched film on UCLA, where they further dived into a Bruins team that snapped a four-game losing streak with a come-from-behind 86-80 victory over Michigan State.
In that game, UCLA's leading scorer Johnny Juzang (14.0 ppg, 4.1 rpg) suffered a right ankle injury while leading his team from a 14-point deficit to topple the Spartans. Jaime Jaquez Jr. added 27 points in the win, the third-most points by a UCLA player in their tournament debut, and the most since Reggie Miller dropped 32 in 1987.
But the comeback win also taught something to BYU, which watched with the rest of America as each of the First Four games saw teams rally to win: this is March, and in March, you can't give up.
"It's win or go home, so everything's on the line," Barcello said. "No team wants to go home. Everyone is battling to get that win, to come back,"
Saturday is win-or-go-home time for the Cougars, and they'll be among the last teams in the tournament to tip off their one-game season.
Win, and they'll move on to Monday's second round. Lose, and they'll join the 32 other teams in the bracket (including Utah State) making an early departure from the Indianapolis bubble. Everything's on the line.
"Nobody likes to lose," Barcello said. "But at the end of the day, one of the two teams has to go home after the game. That's what makes this March Madness: it's one game, moving on to the next. Everyone has a shot.
"You've got to be prepared to battle and lay it all out on the floor."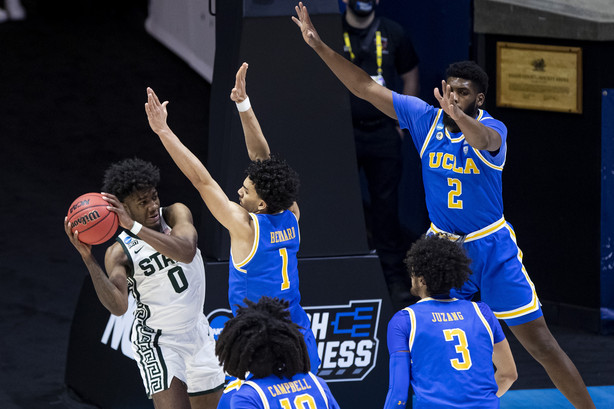 NCAA Tournament — first round
Saturday, March 20
No. 6 BYU vs. No. 11 UCLA
Hinkle Fieldhouse, Indianapolis
7:40 p.m. MDT, CBS
×
Photos
Related Stories