BLOOMINGTON, Ind. — Neemias Queta clearly didn't want to answer the question, even if it is a fair one.
Just moments after Utah State's 65-53 loss to Texas Tech in the opening round of the NCAA Tournament, several reporters tried to ask the 7-foot Portuguese center if he had any intentions of returning to Logan for his senior season after the Aggies' 20-9 finish.
It's a fair question — Queta has been a projected NBA draft pick since he burst onto the scene as a freshman in 2018-19, when he averaged 11.8 points and 8.9 rebounds en route to earning Mountain West freshman and defensive player of the year honors.
He's increased those averages each season since, including during a 20-9 junior campaign when he averaged a double-double at 15.1 points and 10.0 rebounds.
But he wasn't thinking about any of that. His mind was focused on several other numbers, like 22 turnovers, or Texas Tech's 28 points off them, or a a 4-of-19 effort from 3-point range.
So the fair question caught him a bit off guard.
"I really don't know," Queta said. "I couldn't tell you. We just lost a tournament game … I just know I need to get better."
Fair enough. But if Friday is Queta's final game in Utah State uniform — and there are plenty of indications to support that it was — he showed why.
Queta didn't have his best offensive game against Texas Tech (18-10), which clearly designed a game plan to contain the Benfica product and Portuguese national team member from Barreiro, Portugal. He scored just 11 points on five field goals, made 1 of 2 free throws, and took just eight shots.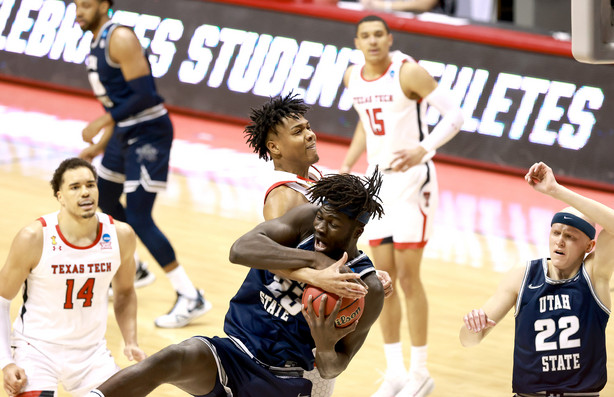 But it's what Queta did when he wasn't a scoring threat that showed why his future prospects remain high — even if not with the Aggies.
Queta has a long career in basketball ahead of him. On Friday, he pulled down 13 rebounds — his 16th game with a double-double this season. He blocked seven shots, including six in the first half.
And then, when the Red Raiders double-teamed him or did just enough to frustrate him offensively with 6-foot-7, 257-pound VCU transfer Marcus Santos-Silva, he dished out six assists — just one off his season-high.
In short, Queta showed that he's a complete package, a big man who averaged 3.2 blocks per game while shooting 56% from the field. And when he couldn't do that, he averaged 2.5 assists per game — an increase of more than half-a-dime from his sophomore season.
"We lean on him heavily," Utah State coach Craig Smith said. "He's a star player, and your star players have to deliver when — especially when — the pressure is on, and he did. And he's done that all year. He's taken the onus upon himself and the guys believe in him to do that and be ready to go."
Perhaps more impressively, Smith added, is that Queta does what he does while averaging more than 29 minutes per game. On Friday, he played 39½ minutes, picked up just two fouls and had just five turnovers with his six assists.
"Not many centers you roll out there for 39 minutes, and that's not necessarily fair to him, but he's earned that," Smith said. "He's just playing at such an elite level.
"He's always been a guy that loves to play, but he's taking his game (up) — not only his game on the floor but his mentality and the way he approaches the game, his level of consistency. We know exactly what we're going to get out of Neemi every day, in practice, in walkthroughs, on the game floor, in March Madness. He's been a huge anchor to our program, going to three straight NCAA Tournaments. Obviously his accolades speak for themselves. But that dude gets beat up. He takes a pounding every night."
Texas Tech coach Chris Beard called Queta "a future pro," and admitted he was the focus on the Red Raiders' game plan. He did it in a way to highlight Santos-Silva and the Raiders' defensive game plan drawn up by defensive-minded assistant Mark Adams.
But he also — if even unintentionally — paid Queta the highest of compliments with that scout.
"Queta is a really good player, and he gives us all sorts of challenges inside," Beard said. "He's a really good player down low. He can hit the 15-footer, and you've got to guard him. We were just trying to work our game plan, and swarming the ball to guard the shooters.
"It's a really tough matchup, but we got it done."
After arriving in Logan as a freshman ahead of Smith's first season, Queta — who was listed as 6-foot-11 and 240 pounds back then — added more than 10 pounds of muscle and learned to use his frame to guard without fouling.
In 29 games as a junior, Queta fouled out just once — and he's accrued four fouls just twice since Jan. 25. During the Aggies' 1-3 start to the season, he played 25 minutes or more in every game, including a regular-season high 39 in a loss to BYU.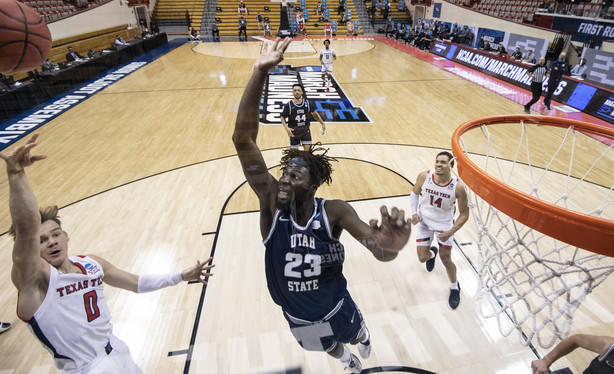 If anyone deserves credit for Utah State's turnaround that included an 11-game winning streak, second place in the Mountain West and an NCAA Tournament berth for the third consecutive year, it's Queta.
But his favorite part of the year wasn't the win streak, the turnaround, or coming one win away from a third-straight conference tournament title.
Queta's favorite part of the season was watching his team work — and how the Aggies got better.
"We learned a lot from each other this year. We also grew a lot," he said. "We didn't start the year how we wanted to, but we were really young and played some of the worst basketball I've seen from us. It really was rough to start the year, but we stuck together. We learned a lot. We just kept showing up to practice, and … we really became a family over here."
Adding to the question of Queta's return is how he complimented his teammates coming back next year. He noted the youth of the team — the Aggies had just two seniors in 2020-21 — a year after losing Utah State all-timer Sam Merrill to the NBA draft following four standout seasons, but didn't immediately commit to coming back, either.
When asked directly, he told a reporter: "I really couldn't tell you."
"You never know who is coming back, who is getting recruited here," Queta explained. "But I know for sure one thing: Coach Smith has the right culture here, and I know the Aggies are going to compete for another Mountain West championship. That's what we do."
×
Photos
Related Stories