BLOOMINGTON, Ind. — It turns out when you eliminate turnovers, the game of basketball becomes surprisingly easy.
Utah State did that easily enough against one of the best defenses in the Power Five early in its NCAA Tournament first-round opener Friday afternoon.
The second half was a different story.
Mac McClung had 16 points and three rebounds, and Texas Tech scored 22 points off 28 turnovers to help the Red Raiders ease past Utah State 65-53 Friday at Simon Skjoldt Assembly Hall in Bloomington, Indiana.
Kyler Edwards added 12 points, six rebounds and four assists; and Kevin McCullar supplied 10 points, seven rebounds and three assists for Texas Tech (18-10).
"They're an elite defensive team, and we knew that coming in," Utah State coach Craig Smith said of Texas Tech, which advanced to face Arkansas in Sunday's second round. "The two things we thought coming in — valuing the ball and making good decisions at a high level — you have to do that to have a shot at winning. Tonight, that was our Achilles' heel.
"That's been an issue for us this year, with some inexperience in our backcourt. I thought we did a good job in every other facet; we made them earn everything."
Utah State hasn't won a tournament game since 2001, and Friday marked the seventh consecutive appearance without a victory — including two under Smith, who also led the Aggies to the Mountain West Tournament title in 2020 before the NCAA Tournament was shut down by the COVID-19 pandemic.
Justin Bean had 13 points and eight rebounds to lead Utah State, the second-place team in the Mountain West that clinched a spot in the NCAA Tournament for the third time in as many years under Smith.
Neemias Queta added 11 points and 13 rebounds for his 16th double-double of the year — a top-five mark nationally — to go along with six assists and seven blocks. Marco Anthony had 11 points and four assists for the Aggies (20-9).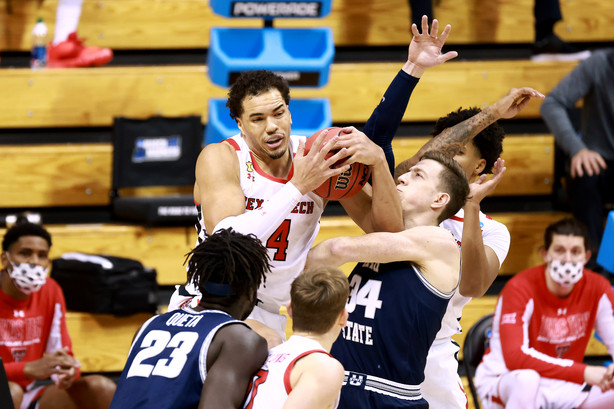 Utah State did not commit a turnover from the 4:44 mark of the first half to the 1:03 mark, and they outscored the Red Raiders 10-3 down the stretch to take a 26-23 edge at halftime.
So what did they do out of the break? Committed a turnover just 19 seconds in. The Aggies expected that; less expected, though, was assisting on 13 of 22 made field goals, shooting 11 of 27 from the field in the second half, and making just 3 of 11 3-pointers after the break.
"They're a team that knows how to swarm the ball," Queta said. "I was just trying to get what they were giving me. Whenever they were doubling me too hard, I was just trying to find my open teammates.
"I just tried to go get a bucket, but I felt like they did a pretty good job containing me. I've just got to get better."
Terrence Shannon Jr. scored 8 of his 10 points during a 16-2 run, and the Red Raiders regained control with McCullar's 3-pointer with 13:06 on the clock. Meanwhile, Texas Tech opened the half scoring on nine of its first 13 field goals, assisted on seven of them, and drained a pair of 3-point bombs for good measure en route to a 43-35 lead with 11:42 to go.
The Red Raiders had two separate runs of 8-0 during a 20-4 spurt to take a double-digit lead into the final 10 minutes and never let up in sending the Aggies home early in Smith's second tournament appearance as head coach.
"That's a well-coached team with some really tough players," said Texas Tech coach Chris Beard, who called Utah State "one of the most disciplined teams in the country." "We knew they wouldn't beat themselves, so we were going to have to be very aggressive.
"They had an outstanding season. We were very lucky, and I have a lot of respect for all of those players."
The Aggies shot a respectable 44% from the field, but were just 4 of 19 from 3-point range. Brock Miller was 2 for 7 from deep, and Rollie Worster was 2 for 5 as both finished with 6 points.
"It's almost as agonizing as the turnovers," Smith quipped. "But not quite."
After shooting just 28% from the field before the break, the Red Raiders shot 56.7% in the second half, held the Aggies to a 15-15 stalemate on the glass, and blitzed Utah State 11-0 in transition.
Turnovers were present before the break — against a team that averages 16 per game, one might expect them to be. But Utah State did plenty to stay ahead of the Texas-based school.
Alphonso Anderson, the Mountain West sixth man of the year for Utah State, capped a 10-0 run with a bucket that put Utah State up 10-5 with 14:39 left in the first half. The Aggies shot 67% from the field in the first five minutes, and held the Red Raiders scoreless for over four minutes en route to the early advantage.
But Texas Tech, which entered the game averaging 16 forced turnovers per game, had half that number by the under-8 media timeout — including six during a 7:10 span when the Red Raiders used a 7-2 run to force a 12-12 tie with 7:29 remaining. It was a game plan based on Utah State's offense, Beard said, and came with a significant amount of risk — make the turnover, but occasionally give up the open shot.
The risk wasn't paying off in the first half. But eventually, it came.
"It was a game plan based on our respect for Utah State. We really felt like we had to be an aggressive team," Beard said. "We were willing to take some chances."
"We really didn't want to get into a one-possession game with Utah State."
Marcos Santos-Silva gave Tech a 14-12 lead just 19 seconds later, and the Red Raiders stretched the run to 19-2 before Anthony stopped the bleeding with a bucket to keep the Aggies within 5 at 19-14 with 5:39 to play.
Despite the turnovers, the tight play, and the full-court press midway through the first half, the Aggies shot 48% before the break and took a 21-20 lead on Bean's shot with 2:47 to go until halftime, using a 12-1 run late in the half to take a 26-23 advantage at the break.
Bean had 10 points and eight rebounds at halftime to lead Utah State, which had 13 turnovers but shot 28 percentage points better than the Red Raiders and outrebounded the Big 12 foe 23-13 to take the lead. Queta was limited to just 4 points — but added four rebounds, three assists and six blocks at the half for the Aggies, who out-blocked Texas Tech 7-2.
But Utah State couldn't hold on to the second half, and missed for the second time in three years on a chance for a March Madness upset of a Power Five opponent.
"We felt disappointed, because we wanted to really win," Queta said. "But it is what it is; we all know how far we came, and we're proud of how hard we fought. Texas Tech was a really good team, and we knew we would have to play our best to get a win today. At the end of the day, they just outplayed us."
×
Photos
Related Stories