INDIANAPOLIS — It's been a unique ride for each of the 68 teams reporting for the 2021 NCAA Tournament, which will be played out across downtown Indianapolis and several college and professional venues in Indiana.
And that's before the ball is tipped, or you're running for your life, a shooting star (thanks, Luther).
Just hours after the 11th-seeded Utah State team found out it was playing No. 6 Texas Tech in a first-round matchup in Bloomington, Indiana, for example, the Aggies left their hotel room in Las Vegas for a charter flight and to be poked, prodded and tested for the coronavirus while under strict quarantine rules in their downtown Indianapolis hotel room.
The NCAA has been clear to not define the tournament setting as a "bubble" — like the one the NBA and WNBA played in last summer to crown their champions — but as a "controlled environment" less defined by location than by rigorous testing standards, while still maintaining limited outside interactions.
Each team was tested as soon as they arrived — early Monday morning for BYU, for example — and quarantined in their hotel room for 24 hours before being tested again. NCAA protocols require seven consecutive days of negative test results before play can begin, though teams can practice in between, if they receive multiple negative tests, in the meantime.
Before Thursday's First Four games, the NCAA said it had conducted more than 9,100 tests and only received eight positive results for COVID-19 among Tier 1, Tier 2 and Tier 3 personnel. At least one of those positive tests is known to be an official who has been sent home, along with five other referees who went to dinner with the one that tested positive Tuesday — a dinner that ran counter to NCAA protocols.
The tests do not include Virginia, the reigning champions from 2019 who have not reported to the main campus. The Cavaliers are scheduled to arrive Friday after quarantining following a positive test that forced their withdrawal from the ACC Tournament last week. Like each other team, they must undergo two rounds of testing and quarantine before potentially being allowed to practice Saturday morning ahead of a Saturday night tipoff against Ohio in Bloomington, Indiana.
This is why the Aggies never returned to Logan after last week's Mountain West Tournament — not even for a day to do laundry.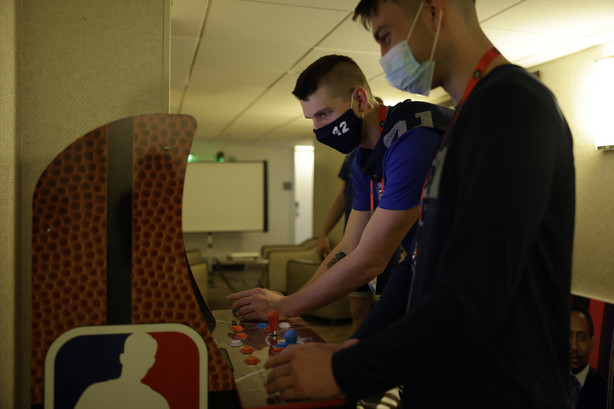 "We knew we were a bubble team, and the NCAA asked us to stay here," Utah State head coach Craig Smith said Sunday. "The NCAA is flying a plane in here, and we're leaving in a few hours.
"Our bags are packed, and we packed for a couple of weeks. Some of our guys even did laundry."
The Cougars, who will face UCLA on Saturday after the Bruins came back from a 14-point deficit to edge Michigan State 86-80 in overtime, flew from Provo to Indianapolis on Monday morning and went through a similar routine. After a daylong quarantine, they got into the practice gym Tuesday and practiced for the first time at historic Hinkle Fieldhouse on Thursday.
Between practice, schoolwork and trying to scout an opponent — or, in BYU's case, two of them — there hasn't been much time to get bored.
"We're planning to be there for a while," said BYU center Matt Haarms, who is making a sort of homecoming after playing three years at Purdue University in West Lafayette, Indiana. "That initial week will be a long time, and we get just two hours on the court a day. I've got to find a way to spend the time.
"Maybe I'll ask people (on social media) for some good Netflix suggestions, because I know I'll have time for it."
That doesn't mean teams aren't allowed outside, or even that it's "all basketball, all the time." The Cougars (20-6) spent the end of Wednesday's practice checking out the giant bracket on the side of the J.W. Marriott, posing for family photo-style pictures atop the parking garage, and the NCAA has set up an outdoor space at Victory Field (the nearby home of the Triple-A Indianapolis Indians) for games like badminton and volleyball.
The entire time — including in practices — players and coaches are also required to wear microchips tracking their movement for contact tracing purposes.
Alex Barcello and Richard Harward rekindled a rivalry on a throwback version of NBA Jam through a classic arcade game in the hotel Wednesday, and each player received a copy of John Thompson's autobiography, "I Came As a Shadow."
"We're going to try to get out of quarantine and have some fun with it," Barcello said. "We've talked about hide-and-seek, laser tag in the hall, maybe MarioKart. We're going to have some fun with it."
Not every off-court activity was planned, though. BYU guard Jesse Wade was stuck in an elevator for 40 minutes while teammates and coaches FaceTimed him to keep him from breaking too many things in the claustrophobia-unfriendly space.
I'M OUT 😂 40 minutes feels like a lifetime when you're trapped inside an elevator. All I can say is that if you think I had it bad in there...you should see the elevator door after the boys got me out... 😂 @BYUbasketballhttps://t.co/f5BhMT60QS

— Jesse Wade (@jessewade10) March 17, 2021
"It's brutal," Wade told his coach, Mark Pope, during one call before later adding, "Forty minutes feels like a lifetime when you're trapped inside an elevator. All I can say is that if you think I had it bad in there .... You should see the elevator door after the boys got me out."
Speaking of dinner, NCAA vice president of basketball Dan Gavitt told media Thursday that additional food options have been delivered to teams over the past few days. While the association is making sure to account for at least two meals per day per team, they've also received additional help from Wendy's, which brought in a food truck to deliver more than 1,500 burgers and chicken sandwiches; Buffalo Wild Wings, which served 61 teams over three days, including more than 19,000 wings in one night; and Pizza Hut, which has delivered 665 pizzas, 208 family-size pasts and 465 breadsticks.
"That's a lot of food for hungry student-athletes," Gavitt said, according to ESPN.
Still, each team — including the Cougars and Aggies — is cognizant that the week is more than a vacation at a four-star resort. It's a business trip.
BYU is back in the tournament for the first time since 2015, and the Cougars have won just one tourney game since Jimmer Fredette's Sweet 16 run in 2011. Similarly, the Aggies are making their second appearance under third-year coach Smith (while also clinching a bid for the canceled tournament in 2020) — but haven't won a game since 2001.
Friday's game against the Red Raiders is an opportunity. But it's far from a certainty, and definitely won't be easy, to break that streak for the 4-point underdog Aggies.
"The initial scout is 'take a lot of Tylenol,'" Smith joked during his pregame Zoom call Thursday. "Because they are a very, very good team.
"We're excited for the challenge, though. What an excellent opportunity for us."
NCAA Tournament — first round
Friday, March 18
No. 6 Texas Tech vs. No. 11 Utah State
Assembly Hall in Bloomington, Indiana (11:45 a.m. MDT, TNT)
Saturday, March 19
No. 6 BYU vs. No. 11 UCLA
Hinkle Fieldhouse in Indianapolis (7:40 p.m. MDT, CBS)
×
Photos
Related Stories