SALT LAKE CITY — Researchers have known for some time about the dangers of different kinds of air pollution, but a new study published by researchers in California further highlights the medical concerns from poor air quality tied to wildfire smoke.
The study, which was published in Nature Communications last week, was conducted by researchers at the University of California-San Diego. They analyzed 14 years of Southern California hospital data along with particulate matter data from the same time frame and found that respiratory hospitalizations increased anywhere from 1.3% to 10% during higher counts of particulate matter from wildfire-specific events. That's compared to 0.67% to 1.3% during higher counts of particulate matter not tied to wildfire smoke.
"Our findings indicate that wildfire-specific PM2.5 can cause a greater impact on respiratory health than PM2.5 from other sources," the researchers wrote in the study. "Wildfires have the potential to greatly and suddenly increase PM2.5 concentrations often surpassing safe limits and reaching levels qualified as hazardous by the Air Quality Index. Such sudden increase in PM2.5 caused by wildfire smoke can thus particularly affect vulnerable populations such as children and the elderly."
The results of the study weren't completely earth-shattering for researchers who study air quality. Utah experts in the field said this week that it adds even more evidence of the threats caused by wildfires and poor quality. The problem, however, is that those threats seem to be becoming increasingly worse every year.
Wildfire smoke and your health
Air quality from all sorts of pollutants is already a subject several researchers at the University of Utah are working on. They've also looked into studies from other researchers since it's a topic that can be very close to home.
Dr. Cheryl Pirozzi, a physician and pulmonary specialist at the University of Utah, explained that most studies conducted so far have looked at the short-term effects of wildfire smoke exposure. They have found links between exposure and increased deaths from any cause; it's also resulted in stronger effects on people with asthma than other types of pollutants.
"It's been associated with an increased risk for various types of respiratory disease, particularly emergency department visits or hospitalizations for respiratory disease — especially asthma or COPD (chronic obstructive pulmonary disease) and respiratory infections," she said. "It appears wildfire smoke increases susceptibility to respiratory infections. There was one study that showed specifically an increased risk for influenza infection."
Pirozzi added that other effects include links to lower birth weight in children, or preterm birth. That's in addition to other impacts from wildfires themselves.
Wildfire smoke is something that can be hard to avoid, as well. A study conducted by University of Utah researchers published last month found that wildfire smoke could seep indoors and cause indoor air quality levels to become about 78% of outside levels. Particulate matter during an inversion event fared better for indoor air quality even if it wasn't perfect either. The study found that indoor air quality levels were about 30% of outdoor levels during bad inversion days.
Related:
Dr. Daniel Mendoza, a research assistant professor in the U.'s Department of Atmospheric Sciences and an adjunct assistant professor of internal medicine, said that researchers don't really have definitive answers as to why some particulate matter sources can result in different effects than others. It's one of the key areas many researchers in the field are still working to tackle.
Mendoza's study on wildfire smoke indoors highlighted that wildfire smoke was better at infiltrating HVAC systems and other filters meant to keep air clean indoors. It's built on the theory that particulate matter may be about the same size but not the same structure.
"We have started to quantify different types of PM2.5, or fine particulate matter, and they all — we suspect — have different biological effects," he said. "We have one of the groups that are just wildfires."
Utahns are quite familiar with particulate matter from pollution caused by industrial sources such as vehicles; however, Mendoza said other groups could include dust or even from smoke coming off the grill. That's on top of pollens and other biogenic allergens that are also close to that range.
Ultimately, PM2.5 just refers to the size.
"What it's composed of can very wildly affect us," he added. "This is something that we're still (trying to figure out). … That's something where we need to start establishing: What are the potential differences and why would they be there?"
That's why it's still not clear why wildfire smoke could be unhealthier than pollutants caused by machinery. Pirozzi said the current theories mostly point to the source of the smoke.
"Wildfire particulate matter comes from the combustion of biomass, and it's thought to have more oxidated and pro-inflammatory components. And for that reason, it probably has more greater potential to cause inflammation and oxidated stress in the lungs than particulate matter that comes from other sources," she said. "But I think it's not fully understood."
Aside from the new UC-San Diego study, she pointed out there have been studies in animals that also suggested that wildfire smoke was more toxic.
Meanwhile, the researchers of the new UC-San Diego study argue that their study showed the importance of air quality policies.
"Our conclusions point to the need for air quality policies to consider the variability in PM2.5 impacts on human health according to the sources of emission," the researchers wrote.
Why the problem could be growing
While the UC-San Diego study focused primarily on Southern California, Utah researchers are quick to point out that its findings can be relevant for many other communities.
California wildfires still play a vital role in air quality for states east of it, including Utah. It's not uncommon to have smoky, hazy summer skies in the Beehive State due to wildfires along the Pacific Coast.
"We're still downwind from California; so if California and the Pacific Northwest has a big fire season, regardless of whether we have a lot of local fires or not, we will still feel the impacts of that," said Dr. Derek Mallia, a research assistant professor of atmospheric sciences at the University of Utah.
He said that's resulted in growing poor air quality trends throughout the U.S. and in Utah during the summer months, especially.
Then there are threats in-state. For example, air quality sensors picked up wildfire smoke deemed hazardous for anyone close to the Pole Creek Fire in 2018. Many researchers are still sifting through the goldmine of wildfire smoke data collected by those sensors, including Mallia himself.
"Just because of our mountains, we're going to be more prone to potentially more degraded air due to local fires, but also to regional fires," he added.
One growing problem, experts say, is that wildfire seasons are growing longer, and the size of fires is also increasing.
The number of acres scorched by fires in the U.S. last year broke all records since the National Oceanic and Atmospheric Administration began tracking the data more closely in 1983. More acres burned means more smoke in the atmosphere.
To be clear, wildfires have existed in the region since, well, the beginning of time. But there are a few reasons why they've started to grow in size in recent years. Mendoza pointed out that campaigns to prevent wildfires in recent decades have been wildly successful — but that's increased the "stock" of land that could burn.
Then there are changes in climate that researchers have seen over the year. Mallia said records continue to show less snowpack in the mountains and warmer overall temperatures in recent decades, which effectively dries up forests quicker during the summer seasons and makes them more prone to wildfires.
The number of fires reported in the West really started to rise in the 1970s. It's especially spiked over the past decade.
"We've seen just a number of records being broken," he said.
Mallia pointed to California as the best example of this. Four of the state's five largest fires on record were reported last year alone. That includes the August Complex Fire, which became the first fire to reach over 1 million acres burned, according to the state's records. All of the top five fires in size occurred within the past three years, and all of the top 10 fires on record occurred within the past 20 years.
Utah's 2020 fire season was active, but none of the fires last year was as large as anything seen along the Pacific Coast. That said, there are signs that the 2021 fire season could as dangerous.
Just last month crews battled a human-caused brush fire at Zion National Park that sparked well before the fire season normally begins. Most of the state is also listed as being in either an extreme or exceptional drought, which carried over from 2020. In addition, snowpack levels remain below average through the snow season so far.
If these conditions continue throughout the spring season, then there's a stronger likelihood of land prone to wildfires.
Future research
As Utah researchers acknowledged, there are still many unknowns tied to air quality. It's already been a popular topic for Utah researchers given the yearly inversions and wildfire threats inside the state. There's also more research on the way.
Mendoza said the state has "the world's densest and best" air quality platform. He's the leader of a project that uses sensors on TRAX trains to observe air quality throughout Salt Lake County. The program has helped show more localized trends in air quality.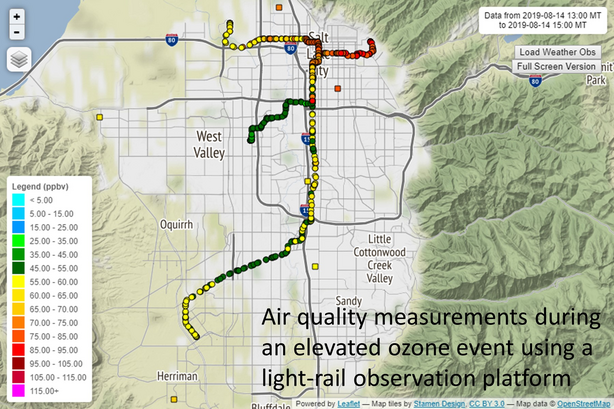 The program will be extended to include sensors on three electric buses, as well, by July.
The sensors will also be updated to collect black carbon, which includes wildfire smoke and diesel combustion, so researchers can investigate the differences of the various particulate matter molecules.
All of it could help us better understand why wildfire smoke acts differently than other forms of pollution.
×
Related Stories