PROVO – As COVID-19 vaccine appointments filled up Monday for Utahns age 65 and older, health departments also prepared for March 1, when those age 18 and older with certain medical conditions will be eligible to get a shot.
"We were waiting for the opportunity to come," said 68-year-old Gary Naylor from Eagle Mountain. "This is the first chance we've had to get it."
Naylor and his wife were among many in line at the Utah County Health Department Monday, filling their appointment to get their first dose after Gov. Spencer Cox announced last week that those age 65 and older would immediately be eligible to get the vaccine.
The announcement was welcome news in Utah County where in recent weeks health officials had noticed a decline in the number of appointments in the 70+ group.
"My wife and I haven't had (COVID-19), so I think it's important that we do our part and see if we can make it better for all of us," Naylor said.
Those 65 and older joined health care workers, first responders and K-12 teachers and staff who have already been offered the vaccine. Last week's winter storm in part of the country slowed the distribution to an extent, delaying shipments of doses. On Monday, the TriCounty Health Department tweeted that there were no appointments available because of the weather.
Following county developments on the vaccine rollout today. No vaccine appointments available this week in TriCounty. #ksltvhttps://t.co/eVc5id7I0B

— Matt Rascon KSL (@MattRasconKSL) February 22, 2021
On March 1, the state is expected to open vaccine doses to those 18 and older with certain medical conditions. And behind the scenes, health departments are gearing up for another wave of appointments.
"Yes, we absolutely do anticipate a much larger number," said Aislynn Tolman-Hill, spokesperson at the Utah County Department of Health. "At this point, it doesn't look like we're going to be requiring anyone to come in with a doctor's note or any medical records."
Instead, both Salt Lake and Utah counties told KSL on Monday they would be going off the honor system.
"Let's let them have their chance," Tolman-Hill said, speaking of those with underlying health conditions. "Everyone will have their chance eventually. Let's do the right thing. We are asking people truly to go on the honor system here. And to think of others as well."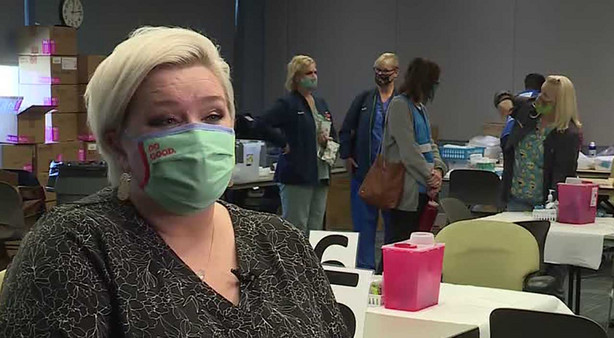 After getting his second dose, Naylor looks forward to spending time with his dad who is 94, and his children and grandchildren.
"They've given us the tools that we need to control what happens in our future. If we don't take advantage of them, shame on us," Naylor said, when asked about why he decided to get the vaccine. "If we do take advantage of them then things will be better for all of us. And that's the way I feel."
According to the Utah County Health Department Website, those 18+ with any of the following medical conditions will be eligible starting March 1:
Asplenia including splenectomy or a spleen dysfunction
Body Mass Index (BMI) of 40 or higher (this is also called Class III or severe obesity)
Chronic heart disease (not hypertension) including chronic heart failure, ischaemic heart disease, and severe valve or congenital heart disease
Chronic liver disease including chronic hepatitis B or C, alcohol-related liver disease, primary biliary cirrhosis, or primary sclerosing cholangitis or hemochromatosis
Cancer diagnosed within the last 5 years that began in the blood, bone marrow, or cells in the immune system. This type of cancer is called hematologic cancer (such as leukemia, lymphoma, and multiple myeloma).
Cancer diagnosed within the last 1 year that didn't begin in the blood or bone marrow. This type of cancer is called non-hematologic cancer. (excluding basal and squamous cell cancer diagnoses)
Immunocompromised state (weakened immune system) from blood, bone marrow, or organ transplant; HIV; long-term use of corticosteroids; or other medicines that weaken the immune system
Neurologic conditions that impair respiratory function, including cerebral palsy, Down syndrome, epilepsy, motor neuron disease, multiple sclerosis, myasthenia gravis, Parkinson's disease, progressive cerebellar disease, and quadriplegia or hemiplegia
Receiving dialysis for severe kidney disease
Receiving immunosuppression therapy
Sickle cell disease
Severe chronic respiratory disease (other than asthma) including severe chronic obstructive pulmonary disease, fibrosing lung disease, bronchiectasis, or cystic fibrosis
Solid-organ transplant recipient
Stage 4 or stage 5 chronic kidney disease
Stroke and dementia (Alzheimer's, vascular, or frontotemporal)
Uncontrolled diabetes with an A1c of 9% or higher
You don't need to get a doctor's note to schedule your vaccine. We will only receive enough vaccine for those who are eligible with these conditions right now. Please wait your turn. These individuals are at the very highest risk of hospitalization and death from COVID-19 and we need to make sure they receive the vaccine as soon as possible.
Patients who do not meet these criteria need to wait until those at highest risk have been vaccinated.
×
Photos
Related Links
Related Stories