Estimated read time: 5-6 minutes
This archived news story is available only for your personal, non-commercial use. Information in the story may be outdated or superseded by additional information. Reading or replaying the story in its archived form does not constitute a republication of the story.
SALT LAKE CITY — A noticeably big team in the guard-oriented West Coast Conference, Loyola Marymount started four players against BYU that measured 6-foot-6 or bigger.
In every way, Cougar bigs Matt Haarms and Caleb Lohner measured up.
Haarms had 21 points, five blocks and three assists, and Lohner added 18 points, seven rebounds and two assists as BYU rolled to a 88-71 win over LMU Saturday afternoon at Gersten Pavilion in Los Angeles.
Brandon Averette added 14 points and five assists for the Cougars (17-5, 8-3 WCC), and Alex Barcello supplied 15 points, five rebounds and three assists.
"Clearly, we've got to get way better. But right now, at this point in the season, I am so proud of this group," BYU coach Mark Pope told BYU Radio. "You have 17 guys contributing, a rotation of 9 or 11, and guys have to do so much extra to make it function.
"But these guys are really making it work."
Ivan Alipiev had 22 points to lead LMU (11-7, 6-4 WCC), and Kelli Leaupepe added 15 points, six rebounds, two assists and one glorious mullet for the Lions.
But the biggest force in the post was the 7-foot-3 Haarms, whose five blocked shots were the most since the graduate transfer moved to Provo from Purdue for his final year of college basketball.
"Getting that dominant lead early, being up 22 in the first half, felt really good," Haarms told BYU Radio after his team finished true road play at 7-2 on the season. "I think it's really good, especially with an early game like today. Everything was just a little disrupted, but our guys did a great job of coming in with energy. I woke up in the middle of the night, thinking where am I? ... but everyone was awake, alert and ready to go today."
The win propelled BYU up nine spots in Ken Pomery's predictive ratings, to No. 18 nationally.
The biggest key to a jump like that? The emergence of Haarms down the stretch, even as a fifth-year senior from a power conference.
Haarms had 12 points and four blocked shots in the first half, and the two BYU bigs combined to score 22 points on 6-of-9 shooting, grab seven rebounds and post five blocks — before halftime.
During the Cougars' 10-day break before their final road trip, coaches pointed to three areas of improvement — and at the top of that list was physicality.
Haarms took that personally, Pope said. But over the past two games, the Purdue transfer has 29 points, nine rebounds and five blocks after being held scoreless and with just one rebound in an 82-71 loss to No. 1 Gonzaga.
"He got called out a little bit. But he's really embraced it," Pope said of Haarms. "He can still get way better. But if you compare his physicality tonight to what he displayed against Gonzaga, it's lightyears different. He's taken this idea of getting better every day, and he's been courageous enough to face the issue."
Meanwhile, Lohner continues to come into his own. Just two days removed from a career-high 19 points and nine rebounds, the 6-8 freshman from Dallas by way of Wasatch Academy went for double figures for the seventh time in his freshman season.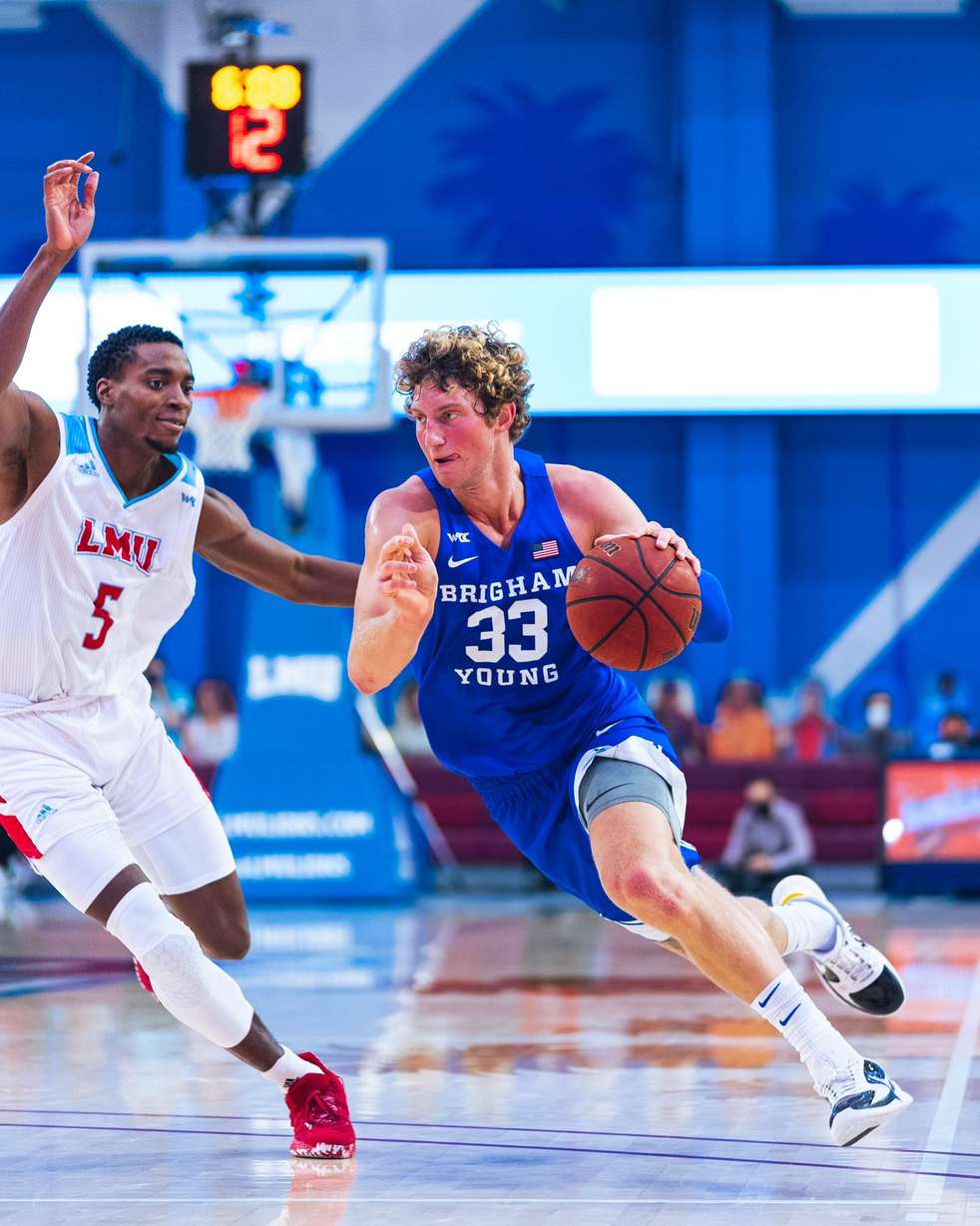 "I'm really proud of him," Haarms said of Lohner. "That's a guy I've tried to mentor through the year, and I talked to him about some things he needs to improve on; late fouling out, we can't have him do that in a tournament game.
"He's playing great, but he still has some things to work on. I can't wait to see where he is 2-3 years from now."
LMU was the hottest team in the West Coast Conference not named Gonzaga, having won four straight after Thursday's 68-63 win at San Francisco with only six healthy, scholarship players. But the Lions were also playing their fourth game in eight days, and injuries compounded to limit LMU's roster in the first season of former Taylorsville High star Stan Johnson.
The beginning was more impressive considering LMU started four guys who stand 6-6 or bigger — anchored by 7-3 center Mattias Markusson.
The Cougars shot 62% from the field in the first 10 minutes, assisting on five of eight made field goals with just one turnover. Contrast that to the Lions, who had five turnovers with just one assist (on three made field goals) at the under-12 timeout.
BYU's lead swelled as high as 26 points in the first half, when the Cougars held LMU to 28.6% shooting, forced 10 turnovers with three steals, and never trailed.
BYU pushed the lead as high as 30 in the second half before LMU used a 15-0 run late in the game to pull back.
"I think guys just thought the game was over," Haarms admitted candidly. "They still had all their starters in. That's a sign of a mature team. But we also got sped up a bit, and they caused some takeaways.
"We definitely have to work on some stuff."
BYU closes the regular season Thursday and Saturday against San Francisco and Saint Mary's. Tipoff against the Dons is scheduled for 7 p.m. MT on CBS Sports Network.
"It doesn't get easier from here; it just gets harder. But that's what you want.
"We're going to enjoy this, drive in the bus and let the sun wash over us before we fly home and get back to work," Pope said. "It's massive pressure, but great teams earn massive pressure. Very few teams get to do that right now, where every game means so much. But I'm excited for it."
×
Related links
Related stories
Most recent BYU Cougars stories