PROVO — Believe it or not, it was just one year ago that BYU pulled off a monstrous upset of then-No. 2 Gonzaga, the last time the Zags tasted defeat, in a remarkable senior night for Yoeli Childs, Jake Toolson and the rest of BYU's talented senior class of 2020.
It took Gonzaga 3 minutes, 10 seconds, and a 15-2 start to make sure that didn't happen again.
Sophomore star Drew Timme had 20 points and 13 rebounds, and freshman Jalen Suggs poured in 24 points, five rebounds and three assists to help No. 1 Gonzaga stiff-arm the Cougars' bid for consecutive home upsets, 82-71, late Monday night at the Marriott Center.
Andrew Nembhard added 15 points and three rebounds for the Zags, and Corey Kispert added 13 points and three assists in Gonzaga's 14th consecutive conference victory.
Suggs, a 6-foot-4 freshman from West St. Paul, Minnesota, who was the highest-rated recruit to sign with Gonzaga, is that good. So, too, are the Zags.
Gonzaga is the No. 1 team in the country. BYU is the No. 2 team in the West Coast Conference, which postponed games involving five teams last week and moved up the Zags' previously scheduled regular-season finale in Provo to Monday.
𝓹𝓸𝓮𝓽𝓻𝔂

📺 @espn@ZagMBB | #WCChoopspic.twitter.com/KPXiUVTwTh

— WCC Basketball (@WCChoops) February 9, 2021
The Cougars (15-5, 6-3 WCC) didn't help themselves much, either.
Alex Barcello led BYU with 20 points and five assists. But the Cougars were outscored 40-28 in the paint and outrebounded by the Zags 36-35, including 27-6 on the offensive glass. Gideon George added 5 points and two rebounds.
Gonzaga limited Matt Haarms to 0 points and just one rebound and one assist, effectively neutralizing most of BYU's post.
The Zags also forced 19 turnovers, converting them into 26 points, and bullied the Cougars in the post. Caleb Lohner had 9 points and eight rebounds to lead the BYU forwards, and Richard Harward was limited to 2 points and five rebounds before fouling out.
"You turn the ball over 19 times against Gonzaga, the game's going to get really hard," BYU coach Mark Pope said. "And that's what we did."
Barcello attributed Gonzaga's length and athleticism — all five starters measured 6-5 or bigger, including the 6-7 matchup problem Kispert — to the turnover problems.
"They're very athletic, very quick, good at reading (the ball)," he said. "They're just a good team in gaps, they're athletic, and I think they use that to their advantage."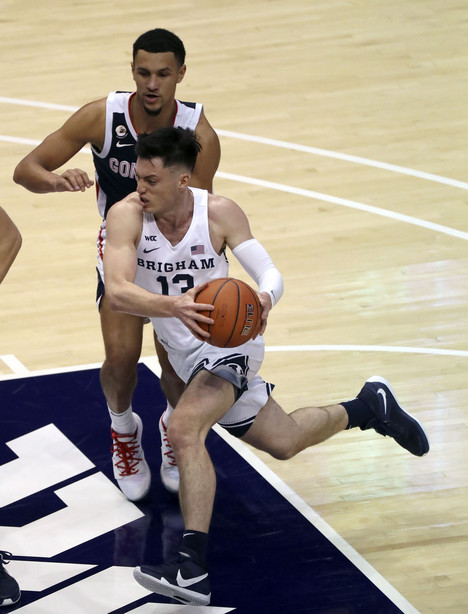 Brandon Averette added 14 points and six assists for the Cougars, who assisted on just 14 of 28 made field goals — including 10-of-16 in the second half.
But that start — that poor start — hurt.
Gonzaga (19-0, 10-0 WCC) forced four turnovers during a 15-2 start, a defensive force one might expect from the top-ranked team in the country.
It wasn't just the Zags' defense that propelled the quick start. BYU made just one of its first six field goals, and missed several open looks before Barcello made just the Cougars' second field goal with 15:36 left in the half.
BYU settled after the poor start, but the damage was done.
"I thought we responded really well," Barcello said. "We started hitting cutters, not making those mental mistakes, and crashing the glass harder. We gave up some early O-rebounds on that run, and we started crashing harder. We started playing more physical, started hitting dudes, and making more shots.
"I thought we responded really well. We just all wish we would've kept that fight throughout that second half."
🔥👌#BYUhoops#MACU3pic.twitter.com/Ucc7nzXcOo

— BYU Basketball (@BYUbasketball) February 9, 2021
Just as Averette's bucket capped a run of 4 of 5 possessions with points to pull BYU within six, the Zags responded with a 7-0 spurt to pull away again. Pope played nine games in the first eight minutes to try to find a rotation of consistency against Gonzaga.
To be clear, Gonzaga's flashes were simply better than BYU's flashes. But the Cougars had them.
Barcello drained a 3-pointer that barely beat the shot clock with 8:14 left — a three that sent a loud roar through the few hundred fans in attendance — and the Cougars held Gonzaga to one field goal in the final 3:04 of the first half to take some momentum.
The spurts just weren't enough.
"I thought our driving lines were outstanding," said Pope, enumerating several things he liked. "Our high ball screen actions were really, really good. Alex did an unbelievable job of being forceful, and Spence Johnson did a great job on the wing.
"It was light years ahead of when we played at the Zags, for sure. I felt a lot better at that. I thought we saw some flashes of positivity at times, and then at times, it felt like we weren't even close. That's what good teams do to you."
Barcello had 12 of BYU's 31 points en route to a 41-31 halftime deficit. But the BYU senior was the only Cougar with more than two made field goals.
Gonzaga, meanwhile, had five players with multiple field goals, led by Timme's 12 points and six rebounds for a squad that outrebounded BYU 21-18, outscored the Cougars 20-12 in the paint and limited BYU to four assists on 12 made field goals before the break.
BYU got within single digits three times in the second half, including Averette's fastbreak bucket that capped a 9-0 run to pull within 78-69 with 13 seconds left. But Gonzaga held them off every time, and never trailed.
BYU's next game Thursday against Saint Mary's has been postponed due to COVID-19 concerns within the Gaels' program, in addition to Saturday's previously scheduled home tip against San Diego. The next game on the Cougars' schedule is Feb. 18 at Pacific, which just moved its postponed Jan. 2 game against Portland to Thursday.
×
Photos
Related Stories