SALT LAKE CITY — The June sucker, a fish species endemic to Utah Lake and the Provo River, will come off the endangered species list next month two decades after the species neared extinction.
The U.S. Fish and Wildlife Service announced late last month that the June sucker would be downlisted from endangered to threatened beginning Feb. 3. The decision is viewed as a major win for a species that had fallen to a wild spawning population estimate of just 300 in 1999.
"This is a historic moment for one of Utah's few remaining native fish species. We have been working hard and it has taken a tremendous amount of coordination, planning and methodically tackling elements that needed to be addressed," said Mike Mills, local coordinator of the June Sucker Recovery Implementation Program, in a statement about the decision earlier this month.
While no longer endangered, a Fish and Wildlife report regarding the official decision to downlist points out that the "primary regulatory mechanism for protection" of the species is still intact. That means that it's still illegal to intentionally harm, harass, kill, capture or possess the species. Individuals studying the fish to continue to help its recovery are exempt from handling the fish species.
"The (Endangered Species Act) will continue to provide protection to the June sucker after downlisting to threatened status, for as long as it remains on the list," the report states.
The June sucker was placed on the endangered species list in 1986 after its wild spawning population dropped below 1,000, the final Fish and Wildlife ruling document notes. By 1999, it was viewed as critically endangered and a species recovery plan was finalized.
The federal agency began raising June suckers in hatcheries in the 1990s so they could be stocked in Utah Lake. The June Sucker Recovery Implementation Program — which consists of local, state and federal groups — began in 2002. Both sought to help bring population numbers back to strength.
By 2017, more than 800,000 June suckers had been stocked since the time stocking began. A 2018 Fish and Wildlife report found that an estimated 3,500 June suckers were spawning annually as of 2016. It adds that overall species populations were likely higher than that.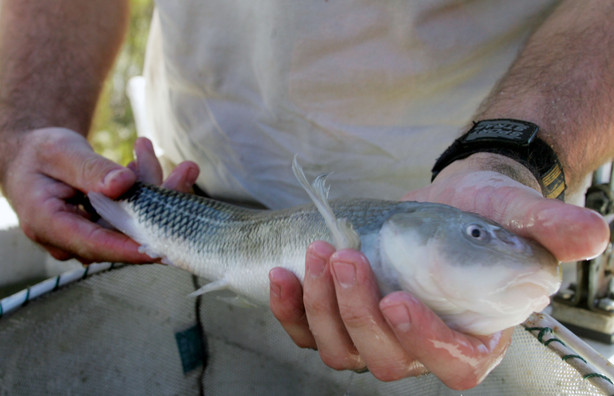 A 2018 field study also found about 19% of a 39-fish sample size captured at Utah Lake showed signs they had originated from the lake and weren't a part of stocking programs. While researchers weren't sure of those fish's origin, they wrote the finding indicated there was an "unknown number" of June suckers spawning than was accounted for in estimates.
"These results indicate that successful natural reproduction and recruitment are occurring, although the exact location and conditions that contributed to this successful natural recruitment are not known," the Fish & Wildlife report states. "Additional analysis of June suckers of unknown origin is planned within the next several years to determine the level of natural recruitment occurring in Utah Lake."
The Fish and Wildlife Service proposed that species be moved to threatened in 2019. It came after recovery program partners worked to remove millions of pounds of carp, a June sucker predator fish, from the lake. The Utah Lake Commission's goal was to remove 32 million pounds of carp. More than 29 million pounds have been removed since 2010, according to the June Sucker Recovery Implementation Program.
Officials added that program partners worked to secure over 20,000 acre-feet of water to keep water flowing to Provo River and Hobble Creek, which are important Utah Lake tributaries.
Even though the June sucker will move to threatened, the Fish and Wildlife Service report points out that there are still current and future risks for the June sucker.
In addition to carp, white bass populations and a recent illegal introduction of northern pike to the lake will continue to pose potential problems for future June sucker populations, the agency wrote.
"The white bass population in Utah Lake could consume as many as 550 million fish of various species throughout the course of one year," the report states. "However, it appears that restored habitat with complex aquatic vegetation provides the June sucker with effective refuge from white bass."
Climate change is another threat. The report stated that "degraded habitat and water quality/availability" and urbanization of the area added to nonnative species predation as issues for June suckers. Those were all issues that went beyond the scope of plans to save the fish species.
The agency wrote that continued urbanization, for example, will impact water resources. Warming temperatures and less water may impact the food supply for June suckers.
"(E)xisting regulatory mechanisms do not adequately address these threats," the report noted. "The June sucker also faces a future threat of climate change, which may exacerbate other existing threats. These factors may act cumulatively on the species."
Nevertheless, the June Sucker Recovery Implementation Program celebrated the Fish and Wildlife Service decision. Members of the agencies that help with the program say it showed the progress made in just two decades.
"Utahns find ways to listen, collaborate and address trade-offs, seek alignments and act. It's what many call 'The Utah Way.' This is what happened with the JSRIP," said Chris Keleher, director of recovery programs for the Utah Department of Natural Resources.
Program leaders added that the June sucker downlisting to threatened won't change the program's main objectives.
"The work being done by the JSRIP not only is good for the June sucker and its ecosystem that it depends upon, but it is good for other species in the area and for humans," Keleher added. "The lake and its ecosystem touch people in so many ways. Utah Lake has a great legacy and with wise stewardship; it can be a great resource for generations."
×
Related Stories