Estimated read time: 3-4 minutes
This archived news story is available only for your personal, non-commercial use. Information in the story may be outdated or superseded by additional information. Reading or replaying the story in its archived form does not constitute a republication of the story.
SALT LAKE CITY — Utah Gov. Spencer Cox made a cameo Thursday in the Senate trial of former President Donald Trump.
House impeachment manager Rep. Ted Lieu, D-Calif., showed a Jan. 11 clip of Cox on "Good Morning America," saying, "People have to be held accountable, and yes, that includes the president."
Lieu showed brief clips of five Republican governors denouncing Trump's actions that led to the deadly Jan. 6 insurrection at the U.S. Capitol.
Also, Sen. Mike Lee, R-Utah, met with Trump's defense lawyers, while Sen. Mitt Romney, R-Utah, talked more about Capitol Police officer Eugene Goodman directing him away from danger during the riot.
The statement Lieu used from Cox was only a snippet of his interview with "Good Morning America" a week after he was sworn in as Utah's new governor.
Cox said it would be "good for the nation" if Trump were to resign. He said if he had a vote on impeachment, he would have to look at all the evidence but said, "I would very much consider it."
"People have to be held accountable, and yes, that includes the president. It includes everyone who played a role in what we saw in one of the darkest days in our nation's history," Cox said.
CNN's Manu Raju reported that Lee, Sen. Ted Cruz, R-Texas, and Sen. Lindsey Graham, R-S.C., met with Trump's lawyers Thursday. Senators act as jurors in impeachment trials.
"That's very unusual. I'm surprised to hear that," Sen. Ben Cardin, D-Md., told CNN. Cardin said senators will have a chance to hear from Trump's lawyers and ask questions during the trial, "but it seems a little strange to have separate meetings with counsel."
Related:
Lee's office did not respond to a request for comment. Lee worked behind the scenes with Trump's legal team in the former president's first impeachment trial.
Lee has said the trial is unconstitutional, and is among a majority of Republicans who have signaled they will vote to acquit Trump.
Trump lawyer David Schoen said that the senators were "very friendly guys" who just wanted to make sure they were "familiar with procedure" as the defense prepares to make its case Friday, according to CNN.
When asked if it's appropriate to meet with senators during the trial, Schoen said, "Oh yeah, I think that's the practice of impeachment."
"There's nothing about this thing that has any semblance of due process whatsoever," he added.
Raju tweeted that Romney was asked if he is leaning toward convicting Trump.
"I'm keeping an open mind and will wait until both sides have had a chance to take their cases forward," the senator said.
Raju also asked Romney how his family reacted after seeing the video released yesterday showing Goodman redirecting him in a Capitol hallway as insurgents breached the building.
"I don't think my family or my wife understood that I was as close as I might have been to real danger, and they were surprised, and very, very appreciative of officer Goodman and his being there," Romney said.
Romney also reiterated he was headed to his Capitol hideaway after getting a text from staff warning that protestors had breached the building.
"And as I started going down that hall, officer Goodman said, 'Hey, go back in. You're safer in the chamber," Romney said.
House impeachment manager Diana DeGette, D-Colo., also mentioned Utah in her presentation to the Senate. She displayed a slide showing the costs associated with the Capitol riot and afterward, including $480 million to bring as many as 25,000 National Guard troops to Washington, D.C, for the presidential inauguration and through mid-March.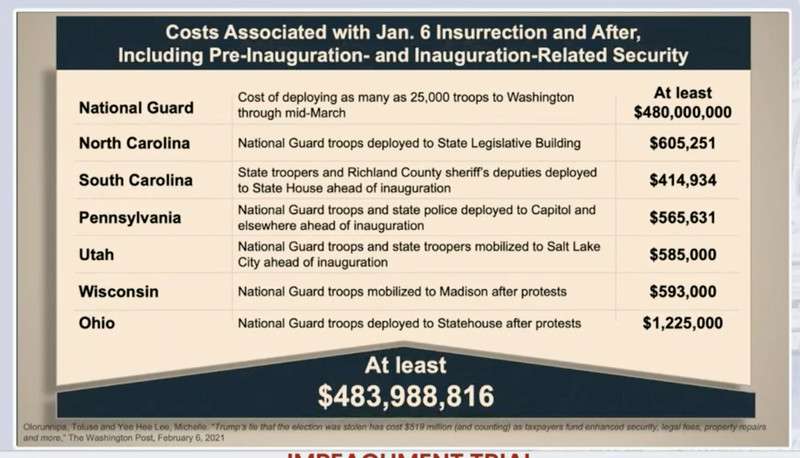 ×
Related stories
Most recent Utah stories