Estimated read time: 7-8 minutes
This archived news story is available only for your personal, non-commercial use. Information in the story may be outdated or superseded by additional information. Reading or replaying the story in its archived form does not constitute a republication of the story.
SALT LAKE CITY — Public safety officials said they had "a very good plan" and "monumental" coordination ahead of Sunday's announced protest at the Capitol, which in the end amounted to a smattering of small groups demonstrating.
State and local law enforcement officers and Utah National Guard members far outnumbered protesters on the grounds of the Utah Capitol complex on Sunday.
About a dozen armed demonstrators stood together on the lawn near the south entrance as the protest began around noon. The gathering grew slightly bigger, but was mostly over around 2 p.m., never coming close to drawing the 500 to 1,000 or more protesters that police and political leaders were worried about.
Salt Lake City Police Chief Mike Brown was at the Capitol Sunday and said careful planning helped ensure the safety of all involved.
"We had a very good plan, we executed that plan and that plan has done just exactly what we needed it to do," Brown said. "Provide public safety for the Capitol and anywhere else in the city."
One man with a bullhorn said the show of force by police and National Guard members was overdone for what he said was intended to be a peaceful gathering.
"The fear-mongering is taking this country in a downward spiral," the man said. "This is a joke."
A moment later he added, "we do not support the dictator Donald Trump in office. ... This is the easiest state of emergency I've ever witnessed."
One man, who declined to share his name but identified himself as a member of the group Bois of Liberty, said their concerns were not based on partisan politics.
"We're in a place right now in our nation where people are worried and there's a big turning point for us when it comes to the types of laws that we see people passing," he told the Deseret News. "And it's not just with the new administration. We've seen a ton of tyrannical laws being passed through Trump's administration.
"And it's never going to end."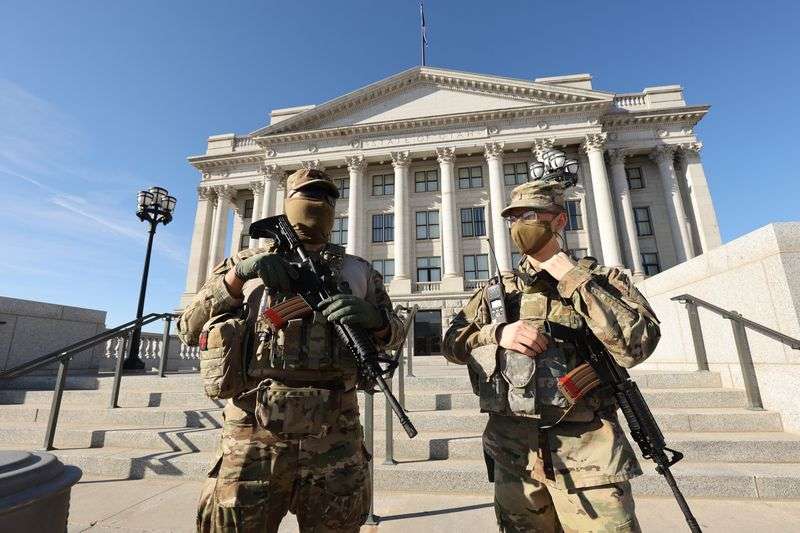 The man also detailed changes he said his group wants to see.
"Abolish police unions, end qualified immunity and we need to pardon our whistleblowers," the man said. "They're exposing corruption in our government and they're being prosecuted. These people should be given medals, not prosecuted and forced to live out their lives in other countries."
A small number of protesters holding signs showing their support for President Donald Trump were also in attendance.
Pete Liacopoulos had a sign calling for the impeachment of U.S. House Speaker Nancy Pelosi, D-Calif., and said the election that was certified for Biden was "not right."
"(I'm) just trying to support Trump because he got railroaded," Liacopolous said. "Something was not right (with the election) and Pelosi was the instigator. Pelosi's on cloud nine now.
"They want so bad to impeach him, but he doesn't deserve that. But what happened to the Capitol in Washington, you shouldn't do that."
Since losing the Nov. 3 election, Trump and his allies have claimed without proof widespread fraud in the balloting process. More than 50 cases were filed in various state and federal courts, including to the U.S. Supreme Court, but no judge has agreed the allegations of significant fraud existed to overturn an election.
A joint statement issued by the Department of Homeland Security's Cybersecurity & Infrastructure Security Agency in December also weighed in.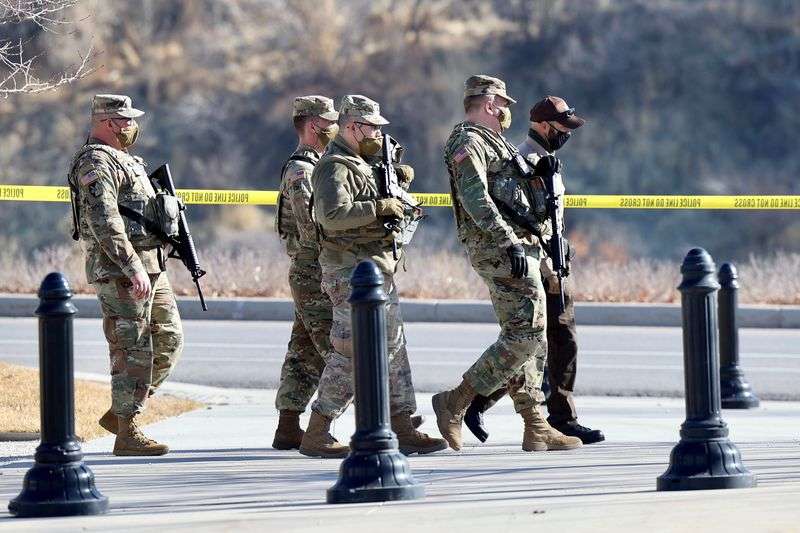 "The November 3rd election was the most secure in American history. Right now, across the country, election officials are reviewing and double-checking the entire election process prior to finalizing the result," the coordinating bodies on election infrastructure and security said.
All 50 states certified their elections to the Electoral College, which verified a Joe Biden electoral victory of 306-232 in December. Biden won the popular vote with 81.3 million votes to Trump's 74.2 million.
Pro-Trump protesters tried to disrupt the final election certification by Congress on Jan. 6, storming the U.S. Capitol and killing a police officer. Members of Congress reconvened after the mob was cleared and affirmed Biden's victory.
By 1 p.m., people recreating and relaxing on the Utah Capitol grounds were about as plentiful as protesters.
One man was lounging on the grass with his wife, two kids and two dogs just a short distance away from where protesters were chatting. He said he and his family were just out to enjoy the unseasonably warm day on the Capitol grounds.
"The weather is so nice," Colin said. "We're not here for anything related to this business."
He also shared his thoughts about the dynamic of the protesters, law enforcement and numerous media members on the grounds.
"Most of this seems like people wanting to be interviewed," he said. "I just wonder if (media) weren't here if they'd just go home."
Shortly after 2 p.m. it appeared those who came to the Capitol to protest had mostly left.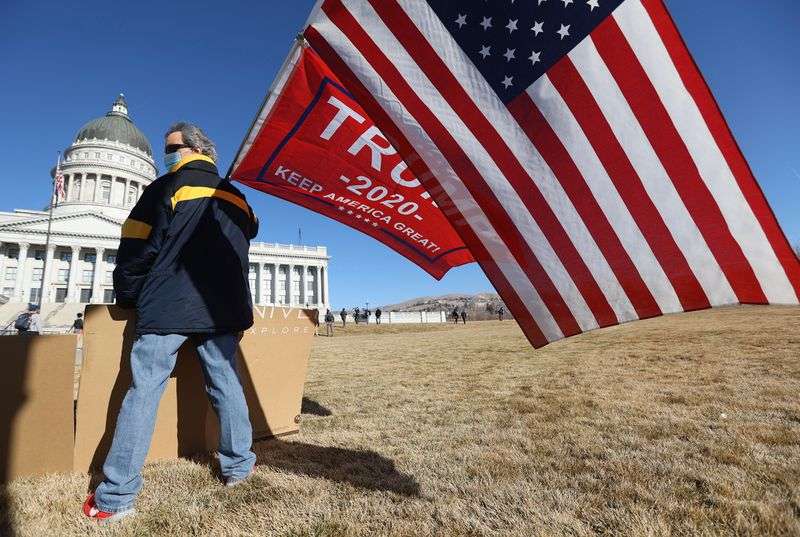 Utah Department of Public Safety Commissioner Jess Anderson said over 250 Utah Highway Patrol officers and other state law enforcement were part of Sunday's show of force as were some 300 Utah National Guard members.
Anderson said it was an unprecedented effort that included collaborating with multiple agencies to ensure that actions like what occurred in the nation's capital last week were not repeated in Utah.
"This is monumental," Anderson said. "We've never done anything like this in the past, ever."
Brown said the Salt Lake Police Department has responded to 288 different protests and marches since last May 30. While Sunday's gathering remained calm throughout, Brown said local, state and federal personnel had prepared for whatever the day may have brought.
"Today we didn't have a huge turnout, but if we did, make no mistake, we had the resources ready ... for whatever may come," Brown said.
Anderson noted that state law enforcers would be remaining vigilant and prepared to respond in the days ahead, leading up to the presidential inauguration ceremony on Wednesday.
"We know for sure there was a clarion call that went out ... to cause disruption from the 16th through 20th," Anderson said. Sunday was the day that appeared to be most focused on actions at state capitals, he added, and predicted protests later in the week were more likely to be focused on the nation's capital.
"We're confident and positive that most of that effort will be focused back east in Washington, D.C.," Anderson said.
Earlier this week, the Utah Highway Patrol said one permit had been issued for an event scheduled to take place from noon-3 p.m. on Sunday. Troopers said they were estimating a crowd of 500-1,500 could participate. On Thursday, the FBI weighed in on what it was expecting.
"At this moment in time, we're not aware of any specific and substantiated threats here in Utah, but we are working very closely, like we always do, with our federal, state and local partners sharing information," said Dave Fitzgibbons, FBI assistant special agent in charge in Salt Lake City.
But, he said, the FBI has a "heightened posture" heading into the weekend and through Jan. 20, Inauguration Day for Biden.
An internal FBI report made public warns of plans for armed protests at all 50 state capitols and in Washington, D.C., ahead of the presidential inauguration, elevating fears of more bloodshed after a deadly siege last week at the U.S. Capitol.
Last week, Utah Gov. Spencer Cox declared a state of emergency on the state Capitol grounds in anticipation of weekend protests.
According to the Associated Press Sunday, more than a third of U.S. governors had called out the National Guard to help protect their state capitols and aid local law enforcement officers. Several governors issued states of emergency, and others closed their capitols to the public until after Biden's inauguration day.
"We respect the right of Utah residents to peaceably assemble as guaranteed in the U.S. Constitution," Cox said last week. "But we draw the line at threats to physical safety or to the Utah Capitol building. No violence of any kind will be tolerated."
×
Photos
Related stories
Most recent Utah stories