SALT LAKE CITY — Despite a few storms to end 2020, Utah's snowpack levels are below average across the state entering the first full week of 2021.
That's not too much of a surprise because 2020 was one of the driest calendar years on record for the state. Utah ended the year with every portion of the state suffering at least a moderate drought and over 90% of it either in an extreme or exceptional drought, according to the U.S. Drought Monitor.
There is more snow coming on the way Monday evening that will provide some help for the situation.
Snowpack levels down to start 2021
Following a rough end to the 2020 calendar, 2021 is off to a bad start when it comes to snowpack levels. All 16 snowpack regions are below average as of Monday morning, according to Natural Resources Conservation Service's Snow Telemetry and Snow Course Data.
Utah's farthest northeastern regions are currently better off than the rest of the state. The Bear River, Raft River and Northeastern Uintahs were listed at 70% to 84% of the average, as of 8 a.m. Monday.
The majority of the state was listed between 50% and 70%, with the Wasatch Front regions of Weber-Ogden and Provo-Utah-Jordan both at 61% of the average. Southwestern Utah had the lowest snowpack totals at 44% of the average.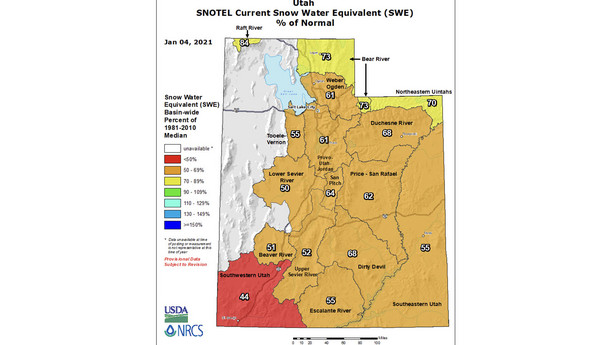 Snowpack is calculated by snow water equivalent, or the amount of water contained within the snow. It factors heavily in Utah's water supply once the snow in Utah's mountain melts every spring. The Utah Department of Natural Resources reports that the state's reservoirs excluding Lake Powell or Flaming Gorge were at 61% capacity on Dec. 1, which was slightly above normal for the time of the year.
2020 was just not a good year for precipitation
Throw in another reason why 2020 wasn't great. It produced the driest calendar year on record in Cedar City and the second-driest in Salt Lake City, according to the National Weather Service.
It's a major reason for the poor snowpack to start 2021.
Cedar City received just 4.8 inches of precipitation during the 2020 calendar year, while Salt Lake City received just 8.98 inches. The agency calculates precipitation data by water year, which runs from Oct. 1 to Sept. 30 every year. The 2020 water year was the 16th driest on record for Salt Lake City.
Cedar City and Salt Lake City are where the NWS Salt Lake City office has its weather stations at to get an understanding of climate in the state.
Both locations are off to poor starts in the 2021 water year. Cedar City has recorded just 0.62 inches of precipitation since Oct. 1, according to weather service data pulled on Monday. That's 2.58 inches below average for this point in the water year. Salt Lake City, on the other hand, is 3.18 inches below normal with 1.33 inches of precipitation recorded since Oct. 1.
In addition to the lack of precipitation, it was another hot year on record. Cedar City posted the third warmest average maximum temperature on record at 68.2 degrees.
At 55.7 degrees, Salt Lake City's average temperature was three degrees above the 1981-to-2010 normal. It also continued a troubling trend in warming temperatures recorded in the state's capital city. According to the weather service's climate records, the five warmest temperatures on record were set in 2012, 2015, 2016, 2017 and 2018. The record remains 56.6 degrees set in 2012.
Salt Lake City maxed out at 105 degrees multiple times in August, which was the hottest August in the state's history.
2020 will be one for the climate record books!
🌵Salt Lake City: 2nd driest year
🌵Cedar City: Driest year
🌡️ Salt Lake City: 6th warmest average
🌡️ Cedar City: 3rd warmest average maximum temperature
🌡️ Saint George: 115F Max Temp second warmest reported #utwxpic.twitter.com/YJc7CxuRsE

— NWS Salt Lake City (@NWSSaltLakeCity) January 1, 2021
As for other cities in the state, the National Weather Service pointed out that 115 degrees is the second-hottest maximum temperature recorded in St. George history. The city ended up with an average high temperature of 79.8 degrees in 2020 with an average temperature of 63.8 degrees and 7.13 inches of precipitation.
Logan finished out 2020 with an average temperature of 49.6 degrees while collecting 12.72 inches of precipitation.
More snow on the way for northern Utah
Meanwhile, there is good news for Utah's northern snowpack regions now. More snow is coming Monday evening.
KSL meteorologist Brett Benson said that a few isolated showers are expected near the Wasatch Front and northern Utah regions Monday afternoon into the evening. A rain-snow mix will be more sustained in the valleys later into the evening.
A cold front pushing through Monday night or early Tuesday morning will turn it over to snow mainly in the mountains before it moves out of the state later Tuesday morning.
❄️ More Snow on the Way! ❄️

Another storm system moves into Utah Monday night/Tuesday morning. Modest snowfall amounts possible across the central and northern Wasatch and Uinta Mountains. Valley locations Ogden north could see 1-2" with SLC seeing less than 1".#utwxpic.twitter.com/TYYnx5bl72

— NWS Salt Lake City (@NWSSaltLakeCity) January 3, 2021
The National Weather Service projected Sunday that the storm will produce 8 to 12 inches of snow at Alta in the Wasatch Front area, as well as Tony Grove and Western Uintas in northern Utah. It also projected 6 to 8 inches at Daniels Summit, 4 to 6 inches at Ben Lomond, 2 to 3 inches at Soldier Summit and the possibility of an inch or two across central and southern Utah mountains.
Benson said models predict another winter storm will arrive at the Wasatch Front this weekend. Full forecasts for areas across Utah can be found at the KSL Weather Center.
×