SALT LAKE CITY — Utah's roller coaster water years took another dip in 2020.
Following one of the best water years ever recorded by the National Weather Service since the agency began tracking Salt Lake City weather in 1874, the 2020 water year produced just 10.96 inches of precipitation — the 16th driest, according to NWS water records.
Sept. 30 was the final day of the water year, which also means Thursday is the first day of the 2021 water year. The weather service's climate data shows that 10.96 inches of precipitation were recorded at its Salt Lake City International Airport location from Oct. 1, 2019, through Wednesday. That's 5.14 inches below the normal — the average from 1981 through 2010 — of 16.1 inches.
What happened in Salt Lake City was indicative of the Wasatch Front and northern Utah.
The National Weather Service's Salt Lake City office has stations in Salt Lake City, Cedar City and Evanston, Wyoming, which showed similar drops in precipitation. Cedar City recorded 7.79 inches of precipitation during the 2020 water year, which was 3.52 inches below its normal. Evanston recorded 4.76 inches, which was 7.37 inches below its normal.
The National Weather Service office in Grand Junction, Colorado, calculated Vernal and Moab data dating back to the start of the calendar year, which represents three-fourths of the water year. Moab was 4.02 inches below normal and Vernal was 2.91 inches below normal from Jan. 1 through Sept. 30, according to its records.
Salt Lake City's 2020 water year got off to a rocky start; it received just 0.49 inches of precipitation October 2019, which was 1.03 inches below normal. By the end of February, it appeared as if the city was heading for an average year of precipitation. Salt Lake City collected 6.32 inches through February, which was just 0.56 inches below normal. At the same time, Utah's mountain snowpack remained about average throughout the winter.
Then spring hit. The city received 2.19 inches of precipitation in March, April and May, which make up Salt Lake City's normally wettest month. The third-driest spring in the city's 146-year-old record resulted in 3.54 inches below the seasonal norm alone.
Although the city did receive an above-average total of 1.90 inches of precipitation in June, the water year closed out with 0.55 inches over the final three months. The weather service tweeted Wednesday that September 2020 — at 0.19 inches — was the 34th driest on record.
At the same time, temperatures heated up in 2020. August 2020 wasn't just the warmest in Salt Lake City's record but also Utah's and the northern hemisphere's hottest August ever.
It's no surprise that drought conditions worsened with hotter temperatures and a major drop in precipitation. The U.S. Drought Monitor listed most of Utah in an "extreme" drought in September.
In its latest report, released Thursday, the U.S. Drought Monitor now lists 87.26% of the state in at least an extreme drought — a jump in 3.3 percentage points from last week's report. The section of west-central Utah in an "exceptional" drought is also growing. About 12.8% of the state is listed in that category.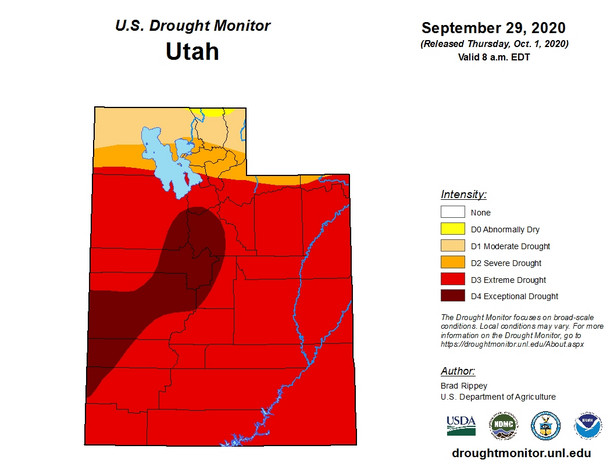 In all, 99.62% of the state is experiencing at least a moderate drought. Nearly all of northern Utah is listed in a moderate or severe drought.
It's unclear how long those droughts will last. Given how turbulent the last five water years have been, it's possible precipitation could rebound with 2021. Here's how the last five Salt Lake City years have appeared in the NWS climate book:
2020: 10.96 inches (16th driest)
2019: 21.65 inches (10th wettest)
2018: 10.50 inches (9th driest)
2017: 18.51 inches (33rd wettest)
2016: 13.45 inches (46th driest)
However, it's just as possible that it could persist for some time. State reservoir levels remained above-average this year, but as drought conditions worsened in September, Marcie Larson, a spokesperson for the Utah Division of Water Resources, told KSL.com that conserving water and making good decisions with water "has to be a part of Utah culture."
"I would just always assume we'll have a drought year than a good snowpack year," she said at the time. "I think drought is inevitable in Utah every single year and it's always touching here."
×
Related Stories