Editor's note: This article is a part of a series reviewing Utah and U.S. history for KSL.com's Historic section.
SALT LAKE CITY — With Christmas a little more than a week away, Utah medical experts are once again warning about the dangers of holiday gatherings.
It's a message they had prior to Thanksgiving and it appears that Utahns rose to the challenge. Dr. Angela Dunn, the state's epidemiologist, said the post-Thanksgiving rise in new COVID-19 cases "not nearly the surge" that medical experts feared heading into the holiday. It was a relief for public health officials.
"What that tells us is that thousands of people, thousands of families across the state of Utah heeded public health advice and changed their Thanksgiving Day plan," said Dr. Eddie Stenehjem, an infectious disease physician for Intermountain Healthcare, during a virtual question and answer forum last week. "That is a testament to our community saying we'll put the health of our communities first."
With community transmission rates still high midway through December, health experts hope the same measures Utahns took for Thanksgiving will be taken for Christmas.
Part of this concern comes from the cautionary tales in history.
What 1918 showed us about gatherings around the holidays
Christmas fell between the second and third waves of the influenza pandemic in America a century ago. As Smithsonian Magazine pointed out, many communities were coming off the horrors of the virus' second wave while some communities were on the cusp of a third wave as the holiday came.
Normal Christmas celebrations were subdued as a result of the pandemic, so there weren't many Philadelphia Liberty Loan parade-like massive superspreader events documented. In fact, those types of celebrations likely resulted in why the holidays didn't result in a massive surge for most communities. Here's what it looked like in Utah.
Salt Lake City placed quarantines between Thanksgiving and Christmas, as noted by USA Today. Those closures were modified midway through to allow churches to reopen for Sunday services. Theaters were allowed to reopen but schools weren't, University of Michigan Center for the History of Medicine's Influenza Encyclopedia noted. The number of new flu cases dropped during that time.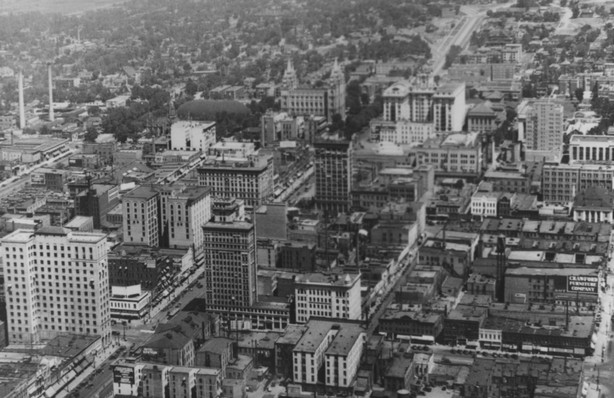 A Deseret News edition from Christmas Eve that year reported that many Utah soldiers were returning from war around this same time and there was a celebration dance to be held at Hotel Utah on Christmas Day "if health regulators permit."
Of course, there's a reason why the state did all of this for the holidays. When World War I ended on Nov. 11, 1918, Utah celebrated with massive gatherings in Salt Lake City and elsewhere.
"The streets are thronged with joy-mad celebrants. The celebration bears a resemblance to an old-time New Year street carnivals, except that it is being carried on a much larger scale," the Deseret News reported that day.
The end result was "predictable," Historian Leonard Arrington wrote, in a 1990 edition of Utah Historical Quarterly. New cases spiked just days after and health officials "felt the need to insist on strict regulation." These regulations included regulating where stores could be open and banned social gatherings. A barber who refused to wear his "flu mask" was even fined $10.
By the time Thanksgiving rolled around, over 500 people had died from the flu already.
The remaining restrictions in the city and all over Utah were lifted after Christmas. Another wave began in early 1919 that produced "disturbingly large numbers in communities around the state" but it wasn't exactly clear what that was a result of, Arrington pointed out.
"Was it the result of people mixing during the Christmas vacation period? Was it the removal of the bans, quarantines, and strict regulations? Or was it a renewed effort of the destructive virus? Whatever the case or causes, a new wave of sickness continued for several weeks," he wrote. "Fortunately, it was not as virulent as the fall epidemic."
There were some other cautionary tales in Utah at this time more closely tied to gatherings around the holidays.
For example, the virus hit Moab hard in the weeks following Christmas. Historian Robert McPherson wrote about how influenza impacted that community for another Utah Historical Quarterly article.
"It was during the Christmas gatherings that a new onslaught of influenza got its start. By January 3, 1919, banner headlines again proclaimed 100 cases of influenza in Moab," McPherson wrote. "A week later the number had jumped to 250. Cold, wet weather encouraged incubation of the disease, causing it to soar again to epidemic proportions."
Its hospital was overrun and doctors realized that a vaccine they were given to administer was "an almost infallible preventive," he added. About two-thirds of the small town of around 750 were quickly infected, according to estimates recorded at the time.
Another cautionary tale came from Panguitch, which had been spared by the pandemic until about Dec. 19. Arrington wrote that it began when a soldier, who didn't know he was infected, returned home and was greeted with a celebration.
"He had been entertained at a party at which many residents were present," Arrington wrote. "The epidemic quickly spread through the whole town."
It was events like these from history that prompted epidemiologists to make their recommendations when they found themselves in a similar situation a century later.
What experts recommend this holiday season
A 27-car parade made its way from a Jewish synagogue in Sugar House to downtown Salt Lake City on Sunday, in celebration of Hanukkah. It was one of the earliest moments that showed how the holiday season will be different this year. That's on top of changes to the Christmas lights display at Temple Square.
What public health experts recommended for Thanksgiving is essentially what they recommend again for holidays in December, Stenehjem said. He added that while new COVID-19 cases were thankfully not as high as health officials had feared, there were still some documented hospitalizations as a result of Thanksgiving gatherings a few weeks ago.
Related:
Once again, the Centers for Disease Control and Prevention listed its recommendations for the holidays, which call for mostly virtual gatherings between different households. For instance, the CDC recommends holding virtual gift-giving sessions, which people can schedule a set time to connect via video calling apps and unwrap presents together, or even make holiday crafts at the same time.
Other recommendations on how to safely celebrate the holidays include:
Hold religious ceremonies virtually if possible
Decorate a holiday scene for which to share the holiday spirit from home. It's advised to also stay at home for family photos.
Drive or walk by holiday decorations to view them "from a safe distance"
Throw any holiday parties online instead of in person. People can even share a holiday playlist for which attendees can listen to together.
Hold a snowman or snow angel contest with neighbors or friends in the community, as long as every household remains at least 6 feet apart while outside.
Reach out to local community service organizations and find out how you can give back. Officials advise people should ask about safety precautions in advance or also see if there are ways to volunteer through "virtual opportunities."
Schedule "virtual visits" to the North Pole or make any visits to Santa at least 6 feet apart while also wearing a mask.
If you hold an in-person party, try to limit the number of guests and hold a "small, outdoor celebration" with family and friends who live in the same community. It's advised that people wear masks both indoors and outdoors and that shouting and singing be limited for any celebration gathering involving multiple households.
The CDC's full holiday recommendations can be found here.
Public health experts say they hope people will once again follow the guidelines to prevent an uptick in new COVID-19 cases — and to avoid some of the misteps made a century ago.
×
Related Stories