SALT LAKE CITY — Wearing a face mask not only helps decrease the spread of COVID-19, but it also helps boost the economy in places with statewide mask mandates in place, according to new research from the University of Utah's school of business.
The study, published Monday by the Marriner S. Eccles Institute for Economics and Quantitative Analysis at the David Eccles School of Business, comes two weeks after Gov. Gary Herbert first implemented a statewide mask mandate as part of the state's response to the ongoing pandemic.
Prior to Herbert's order, mask mandates only existed in certain counties across the state.
The new study found that statewide mask requirements are more effectual than countywide mandates.
"Statewide mask mandates are much more effective at both saving lives and livelihoods," Nathan Seegert, assistant professor with the David Eccles School of Business, said at a press briefing. "They have a much larger effect on the economy; they boost consumer confidence more than these county mandates."
On Tuesday, Herbert extended the mask order that requires individuals to wear a face covering and stay 6 feet apart from those living outside their household.
"When these requirements are put in place, more people are wearing masks and we see an increase in economic activity, which is good for everyone," Seegert added.
For the study, researchers analyzed data from the more than 3,000 counties in the nation and looked at the different mask orders put in place in each state.
The 64-page report found that COVID-19 cases decreased after statewide mask mandates were implemented and consumer confidence and consumer activity both increased.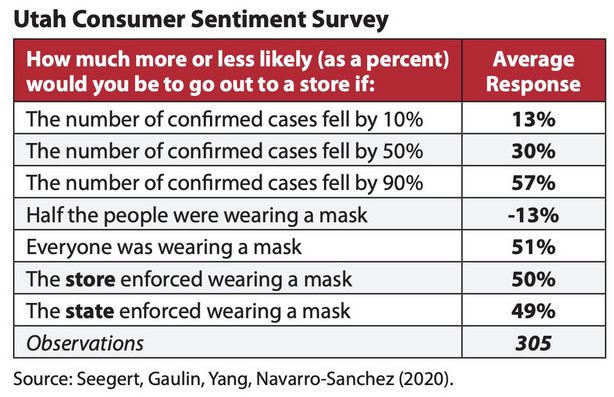 There was some difficulty in studying this type of effect; researchers knew by looking at basic correlations they would see an increase in cases around the time mask requirements were implemented, because the requirements are usually put in place in response to case surges, Seegert explained.
"What the research does is go to great lengths to understand not what happens to cases themselves, but … compare the cases to what would've happened if we had not put a mask mandate in place. What we see is a decline in the cases relative to what would've happened if we did not have these mask requirements in place."
According to a Utah consumer sentiment survey conducted as part of the study, 51% of respondents said they would be more likely to go to a store if everyone wore a mask. Similarly, 13% of Utahns said they would be more likely to go to a store if COVID-19 cases dropped by 10%.
Another 13% said they would be less likely to shop at a store if less than half of the people there wore a mask.
"We now have some significant evidence that health and economics go hand in hand," said Taylor Randall, dean of the University of Utah's Eccles School of Business. "At the core of this relationship is mask-wearing and consumer confidence."
The study found consumer mobility increased after mask requirements were enacted — people tend to shop more if they feel safe doing so, researchers concluded.
Not only did the study show that mask mandates reinforce consumer confidence and mobility, but it also found that consumer spending went up after mandates were implemented.
Credit card activity increased after statewide mask requirements were implemented, whereas counties saw a decrease in consumer spending after county-level requirements went into effect.
Related:
In addition to the economic benefits, several studies have shown wearing face coverings reduces the spread of the novel coronavirus and, in turn, save lives. This is why researchers now say mask-wearing is a triple play: it reduces COVID-19 community spread while increasing consumer mobility and spending.
Now, that triple play seems to only be truly seen when statewide mask mandates are in place, according to the report.
While Utah's economy has suffered since the onset of the pandemic nearly nine months ago, it is still performing better than most states across the country.
"We're fortunate our economy continues to outperform much of the nation," Randall said. "However, over 67,000 Utahns remain out of work."
The state economy is still in decline, and stimulus funds from this spring's coronavirus relief bill have almost all been spent, he added.
"So, even in one of the best performing economies in the nation, I think we should view our economic health as relatively fragile," Randall said. "We've really got to focus on continued vigilance on the health side, but we've also got to continue to focus on protecting our businesses and our economy."
Before this economic research was conducted, it was a fair question to wonder if it was better to leave mask requirements up to local county governments, Seegert said. But now, he said the research shows "very clearly" that statewide mandates had the biggest positive impact on the economy.
While the report studies county data, Natalie Gochnour, director of the Kem C. Gardner Policy Institute at the University of Utah, noted that an economy does not adhere to strict county boundaries. Instead, the state can be divided into six economic regions that better accurately reflect how an economy behaves in those areas. The institute recently released a report with its economic findings.
"Economies are regional in nature, and they cross county lines," she said. "What happens in Salt Lake County, what happens in Utah County, Tooele, Summit, Davis, Weber — this is all part of a single northern Utah metropolitan (region), and so you would see a lot more confidence with state action there than you would in individual county boundary ones."
Since mask wearing was recommended by health officials in early April, Utah has also been home to self-named "anti-maskers," who voice strong opposition to mandates directing people to wear face coverings.
---
We now have some significant evidence that health and economics go hand in hand. At the core of this relationship is mask-wearing and consumer confidence.
–Taylor Randall, dean of the University of Utah's Eccles School of Business
---
For the majority of the pandemic, and without a federal mandate, Herbert repeatedly declined to implement a mask mandate and instead called upon Utahns to do their part and wear a mask without a rule in place. But with the recent surge of cases in the state — the rolling seven-day average number of positive cases per day is now at 3,349 as of Monday and 545 people are currently hospitalized — Herbert said Utah was at a breaking point.
Last month, the state changed its COVID-19 restrictions, evaluating different areas with a risk-level transmission index, with masks required for those in a higher risk of transmission threshold. At the time, Herbert left it up to counties to seek further action if local leaders felt a mask mandate was needed.
Now, even with the new statewide mask mandate in effect for the past two weeks and ample evidence showing masks are effective at limiting virus spread, some still refuse to wear a mask. Protests were recently held at the private homes of Herbert, Gov.-elect Spencer Cox and state health officials in response to the mandate, and others were held over the summer in response to county mandates.
"We're all facing a set of tradeoffs here," Randall said. "If you choose to not wear masks, you're causing the confidence of your community to decrease which means we'll see reduced economic activity. To me, the findings are fairly compelling that if we want to push the boundary, meaning we want to have better health and a better economy during this really critical time, we really should wear masks."
×
Related Links
Related Stories