SALT LAKE CITY — Utah can be divided into six key economic regions that could ultimately help inform economic and policy decisions, according to a new report by the Kem C. Gardner Policy Institute.
The report, released Thursday, comes eight months into the COVID-19 pandemic that has brought devastating impacts to the state's economy.
While the state's economy is still struggling, the overall trend shows recovery is promising. But, there's still a long way to go according to the Road to Recovery Dashboard released by the institute and Salt Lake Chamber in September.
The new report identifies Utah's six economic regions as the following:
Greater Salt Lake — comprised of Salt Lake, Utah, Tooele, Juab, Wasatch, Summit, Morgan, Weber, Davis, Box Elder, Cache and Rich counties
Uintah Basin — comprised of Uintah, Duchesne and Daggett counties
West Central — comprised of Millard, Sanpete, Sevier, Piute and Wayne counties
East Central — comprised of Carbon and Emery counties
Southwest — comprised of Iron, Garfield, Washington and Kane counties
Southeast — comprised of Grand and San Juan counties
Researchers analyzed commuting data to organize the regions as a way to show their labor market activity and movement, according to the report.
Much of northern Utah is captured in the Greater Salt Lake area with 12 of the state's 29 counties. The area encompasses 86% of the state's population and a staggering 88% of all jobs in the state.
Additionally, Salt Lake City "is the undisputed economic center" of not only its region, but also the state as a whole according to the report. It serves as Utah's hub for health care, arts, entertainment, culture, and the center of finance, transportation and government.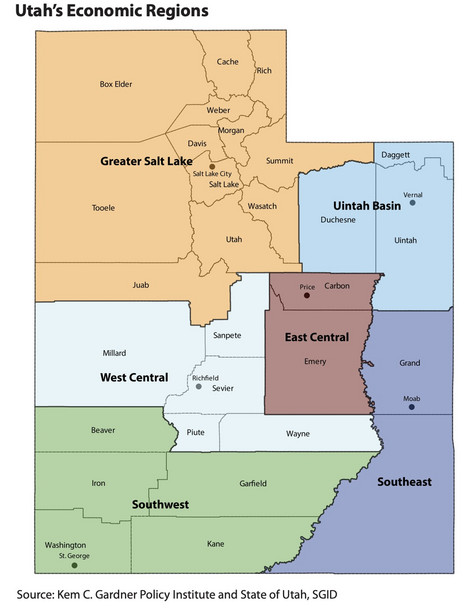 Salt Lake City, Vernal, Richfield, Price, Moab and St. George all serve the center of commerce for each respective region. As opposed to proposed economic regions in the past, the Gardner Institute's six regions group the northern-most counties — Box Elder, Cache and Rich — into the Salt Lake area.
The map can serve as a tool for key decision makers in the state for private and public investing and planning decisions, researchers said.
"Economic activity does not naturally respect political boundaries," Natalie Gochnour, director of the Gardner Institute, explained in a news release. "The best example of this is the county boundary that separates Salt Lake and Utah counties. Workers, customers, and suppliers flow seamlessly across these county lines forming a single economic region."
×