Estimated read time: 14-15 minutes
This archived news story is available only for your personal, non-commercial use. Information in the story may be outdated or superseded by additional information. Reading or replaying the story in its archived form does not constitute a republication of the story.
SALT LAKE CITY — Utah Gov. Gary Herbert issued a statewide mask mandate Sunday night as part of emergency orders directing Utahns to limit social gatherings to their own household to combat the state's current COVID-19 surge.
Three days after Herbert revealed he was meeting with health and legislative officials to discuss the state of the coronavirus pandemic, the outgoing governor released a video message announcing the plan to slow the spread of COVID-19 and increase testing before the upcoming Thanksgiving holiday.
In conjunction with the Utah Department of Health, Herbert issued concurrent executive and public health orders while declaring a new state of emergency.
"We must do more, and we must do it now," he said. "This is about much more than just mandates. This is about personal responsibility."
Both orders, which go into effect Monday at 1 p.m. MT, and will remain until at least Monday, Nov. 23, represent the governor's widest measures of reform to date as Utah hit an all-time high in the spread of the virus, including new cases and hospitalization rates, in the same week.
"I ask you now, and I implore you, to do everything within your power to stop the spread of this disease," Herbert said. "The day will come when we won't have to wear masks or social distance — when we will be able to see everyone we love and care about, and give hugs and handshakes without worrying about unknowingly spreading this disease.
"I hope this day will come sooner rather than later. In the past when we have had natural disasters, we have all come together to give assistance to our neighbors, sacrificing whatever we can to help them out. This crisis is no different. It is time for the divisiveness to end, and for all of us as Utahns to unite in making whatever sacrifice is necessary to help our neighbor and to bring healing back to our state."
The new orders can be broken down into four key requirements:
A statewide mask mandate for all Utahns in public, where six feet of physical distancing is not possible, which will "be extended for the foreseeable future," state officials said. The mandate is enforceable in all business settings, requiring employees to wear face coverings, promoting mask-wearing among patrons, and posted signage to the same effect. Any business that fails to do so will be subject to fines, the order says.
Limiting casual social gatherings to household-only through the length of the order.
A two-week hold on all extracurricular activities, including athletic and intramural events, with the exception of intercollegiate athletics and practices, and games and training associated with high school championships that follow instructions for testing and limited crowd sizes.
Mandatory weekly testing for COVID-19 by all higher-education students in public and private institutions who either live on campus or attend at least one in-person class per week, with a plan that must be established as soon as possible but no later than Jan. 1, 2021.
The recommendations follow a week of analysis by Herbert in meetings with Dr. Robert R. Redfield, director of the Centers for Disease Control and Prevention, and Dr. Deborah Birx, who heads the coronavirus response for the White House task force.
In recent days, Herbert has expressed dismay at Utah's surge in coronavirus cases; on Sunday, the pandemic hit a record-high seven-day positive test average of 20.6% cases per day. The state also reported a new high of 424 current COVID-19 hospitalizations, bringing Utah's ICU occupancy to a record-high 78.2%.
On Saturday, the United States reported a record increase of COVID-19 cases for the fourth consecutive day, according to Reuters, with over 130,000; on Sunday, the U.S. surpassed 10 million cases since the pandemic began.
Monday's order represents a dramatic change to the state's pandemic response, but it also involves several requirements that health care experts have pleaded for, for weeks, and even months.
"We're at a point where we need a big, bold intervention," Dr. Eddie Stenehjem, an infectious disease physician for Intermountain Healthcare, said last week, when he added that ICU bed occupancy was up 130% from where it was at the end of 2019. "Us, from the health care, pleading to the public to say 'Look at our ICU, look at our hospitals, look at these suffering patients' has not worked."
Masks have been proven to be the cheapest and easiest way to help slow the spread of COVID-19, Herbert said in Sunday's message.
"Masks do not negatively affect our economy and wearing them is the easiest way to slow the spread of the virus," he added.
"We cannot afford to debate this issue any longer. Individual freedom is certainly important, and it is our rule of law that protects that freedom. Laws are put in place to protect all of us. That's why we have traffic lights, speed limits and seatbelts, and that's why we now have a mask mandate."
Limiting gatherings outside the home
While the state has allowed individual cities and counties to limit large public gatherings, and the governor's transmission index has provided recommendations for limiting gatherings in public spaces, Herbert said it's time to do more.
That's why he's limiting even casual gatherings involving anyone outside a person's household for the next 14 days, or the incubation of the virus.
"To make a real difference in slowing the spread of COVID-19 and turning around the dire situation in our hospitals, we all need to do more," Herbert said. "That's why we are restricting casual social gatherings for the next two weeks. This means many of us may have to cancel plans with extended family and friends. This is a sacrifice for all of us. But as we slow the spread it will make all the difference for our overworked health care workers, who desperately need our help."
Anyone who is found to organize large gatherings of people will be fined $10,000 per occurrence, Herbert said, and state officials and prosecutors will hold them accountable. He also said that his office will distribute information about safe gatherings for the upcoming holiday season "in the coming days."
With an eye on a high rate of spread among high school and college-aged students in Utah, Herbert also called on the youth to limit their social gatherings for the next two weeks.
"Students should not gather in social groups outside of regular school hours during the next two weeks, and must be very careful thereafter," Herbert said. "Our data shows that individuals aged 15-24 have not been careful in their casual social gatherings, and that the highest rates of spread are now occurring among this age group."
That same group will likely be among the first to see an increase in testing — even if they don't have any symptoms, health department spokesperson Tom Hudachko told KSL TV. That's the demographic that studies have shown are among the highest purveyors of asymptomatic spread, he added.
"The idea here is to go out and test as many individuals as we possibly can, and find out who these silent spreaders are and essentially remove them from the transmission pool by isolating them during their infectious period," Hudachko said.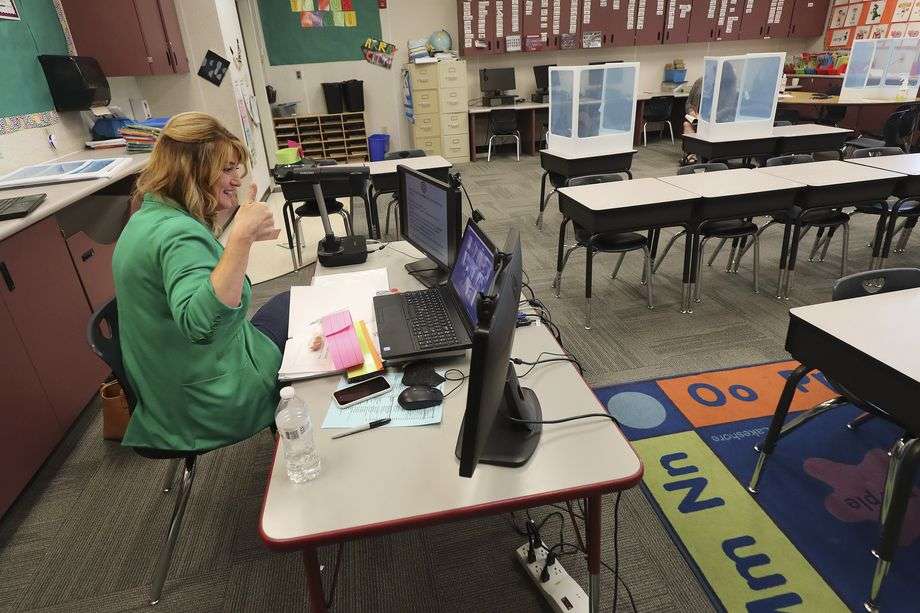 COVID-19 in schools
All K-12 teachers in Utah currently have access to PCR testing through TestUtah. Of the state's 132,621 total positive cases of COVID-19, 7,940 of them have been associated with the 2020-21 school year. That includes 5,977 students, 1,020 teachers and 943 cases classified as "others/unknown," such as school volunteers and non-teaching staff. The state's largest district in Alpine, which encompasses most of the northern half of Utah County, has reported 1,154 cases, including 156 active cases, and the second-largest district in Davis has reported 1,160 cases, with 368 active cases, according to the state's coronavirus dashboard for schools.
Jordan School District in Salt Lake County has reported 1,101 cases, with 217 active cases. Granite School District in Salt Lake County — which has closed down as many as six of the district's eight high schools in recent weeks — has reported 863 cases, with 216 active cases; and Canyons District in Salt Lake County has reported 689 cases, with 148 active cases. Nebo School District, or the southern portion of Utah County, reports the next highest case count with 345 total cases, though just 67 active cases.
"Our schools have done a tremendous job in mitigating the virus in our classrooms and buildings. Utah is also one of the few states that tracks and publishes outbreak data on a public dashboard. These elements have been key in keeping our rate of spread in schools relatively low," Dickson said. "However, we are concerned about the rising rates of spread that seemingly occur outside of the classroom. We believe that adding robust testing of students involved in activities outside of the school day will help identify outbreaks more quickly, allow us to continue in-person learning where feasible, and further protect our school communities."
High school sports
There are currently no plans to cancel or postpone the remainder of the state football playoffs, according to representatives from the Utah High School Activities Association. The organization recently finished girls volleyball championships Saturday, and championships have also been awarded in the remaining fall sports of girls soccer, girls tennis, cross country and Class 1A baseball.
Students involved with football teams will begin testing for the virus more frequently, Dickson told KSL TV.
Beaver and Duchesne will contest the 2A football championship this weekend alongside 3A finalists Morgan and Juab. The championship games for 4A, 5A and 6A are scheduled for Nov. 20-21, with 4A and 5A currently held at Dixie State University in St. George.
While those championship playoffs will be allowed to continue, all winter sport activities and practices, including tryouts and workouts, in boys and girls basketball and boys and girls wrestling, will be suspended until at least Nov. 23, the UHSAA said Sunday night in an email to member schools.
"The UHSAA will communicate with member schools as soon as information is available on protocols and procedures moving forward," the email read, in part. "The safety of students and Utah communities will continue to be paramount to the association and its member high schools."
Intercollegiate athletics will also continue, namely because protocols are already in place for mass testing of athletes, coaches, staff and personnel through the NCAA and other organizations. That means the University of Utah's game against UCLA, which was announced earlier Sunday as moving back a day to next Saturday, will be allowed to go on. Utah State is also scheduled to host Fresno State on Saturday in Logan.
BYU has a bye week, but the Cougars are next scheduled to host FCS-level North Alabama on Saturday, Nov. 21.
UEA says it's not enough
Despite the changes and two-week pause on most extracurricular activities, some education advocates and officials believe the order doesn't go far enough.
"We express appreciation to Gov. Gary Herbert for his call to strengthen measures addressing the rapid spread of COVID-19 in our community," Utah Education Association President Heidi Matthews said. "Unfortunately, the governor's emergency announcement did not go nearly far enough in tackling the serious issues facing students and educators in our public schools.
"As indicated in the UEA statement issued last Friday, Nov. 6, we call on the governor and local school boards to require all public secondary schools in communities of high COVID transmission to adopt at-home instruction. We also call on the governor and school boards to work with elementary schools to find workable solutions to support the health and safety of educators.
"There is a distinct contradiction in calling for limits to social gatherings while our public schools continue with class sizes among the largest in the country.
"Our public school educators simply cannot continue to be ignored in their concerns about social distancing, testing, proper quarantine measures and workload. We have watched as multiple schools shift back and forth from in-person to at-home learning due to outbreaks and quarantines. This cycle is obviously not helping to control the virus spread and, as educators, we can unequivocally state the continual interruptions are not in the best interest of student learning. We believe that continuing in-person learning amid record numbers of COVID-19 infection rates poses an unacceptable level of risk for our students, our educators and our communities."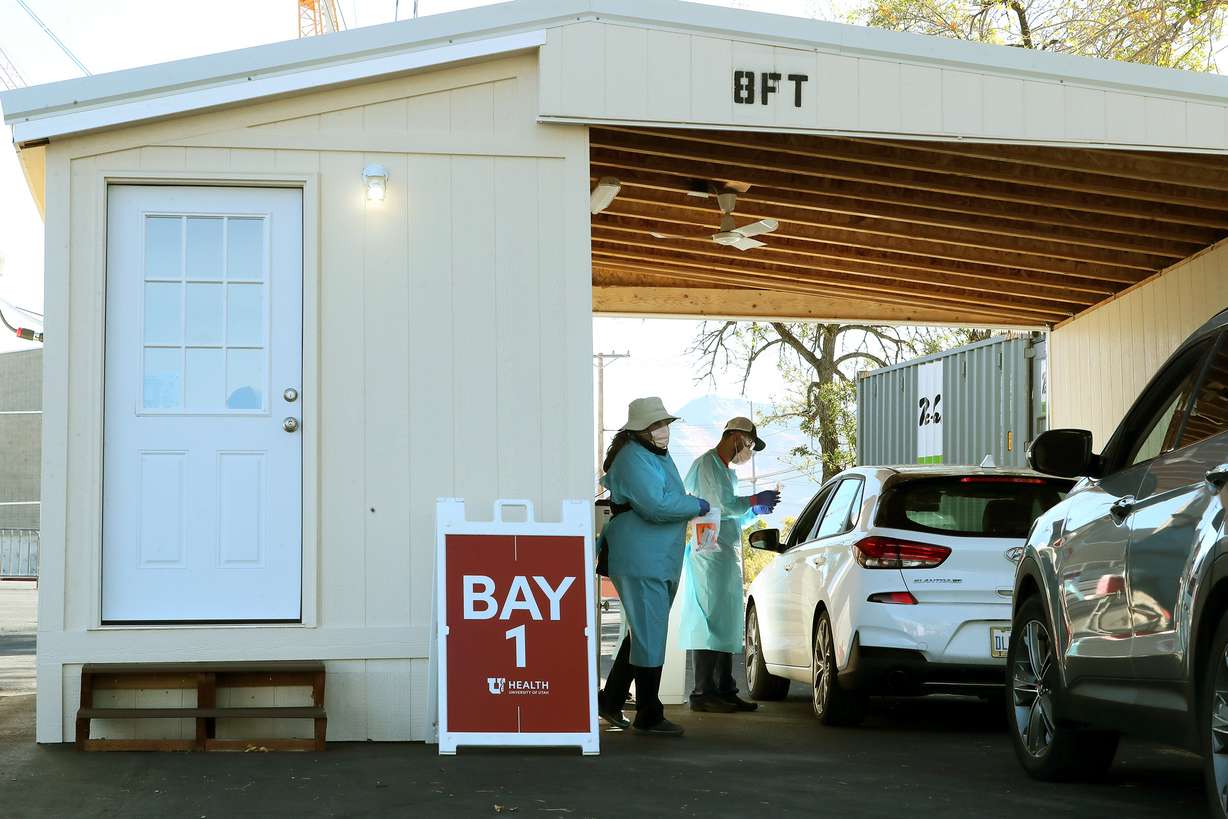 Increased testing
The plan, which follows CDC guidelines in stressing mask-wearing, limiting social gatherings, and testing young populations, has the full support of Lt. Gov. Spencer Cox, who was recently elected as the state's next governor.
"There was a lot we didn't know at the start of the pandemic," Gov.-elect Cox said. "Now we know better what we are up against, and we know more about how to fight it. We know masks work. We know limiting gatherings and maintaining distance from each other works. Our dedicated medical professionals are learning more about which therapeutics work to combat the disease. I am confident that we can beat this, but only if each of us does more. As leaders, we know testing is a critical piece of our response. While we ask Utahns to do some heavy lifting, we're also significantly ramping up targeted testing in age groups that the Centers for Disease Control and Prevention tell us are frequently asymptomatic."
Cox told KSL TV that CDC officials have promised more testing resources and that the state has hired 150 more contact tracers over the past couple of weeks.
"Unfortunately because of the way the testing was rolled out by the federal government we've never had enough tests to do asymptomatic testing or surveillance testing," he said. "When Dr. Birx was here last week she promised us more supplies so that we could do that, that's going to be very helpful. This is what has been done for example by the NBA, the NFL, Major League Baseball. That's how they were able to move forward with their games with surveillance testing, testing everyone. We want to be able to do that with high school sports, we want to do that with our younger population so we can find this virus before it spreads."
University students will be tested weekly for COVID-19, especially if they live on campus or attend at least one in-person class per week. That increased testing will eventually expand to include high school students who participate in extracurricular activities such as athletics, workers under age 35, and high school teachers.
The Utah National Guard will be also deployed to aid in contact tracing efforts as the governor rolls out a new accelerated testing program for asymptomatic individuals, with a focus on college students, students who participate in extracurricular activities, and high school teachers.
Eventually, all people age 35 and younger will have access to workplace testing, since that age group is the most likely to be asymptomatic when testing positive for the virus, the order reads.
Limiting the spread of asymptomatic individuals is key to further hindering the path of the pandemic, said Rich Saunders, executive director of the health department.
"For some time now, we have been able to test anyone with symptoms of COVID-19," he said. "But we know asymptomatic spread is a significant factor in this pandemic and we have to test more than just those who feel sick. Luckily, as the science advances, these tests get less and less invasive."
In supporting the new testing requirement, the Utah System of Higher Education announced Sunday night it would scale up weekly testing on campuses statewide for its 230,000 students.
"We can reach a large portion of Utah's population through our campus communities, and through increased and consistent testing, we can slow the spread of COVID-19 in the state of Utah," state commissioner of higher education Dave Woolstenhulme said. "We are supportive of the requirement to test our students weekly for COVID-19, and we are in the position to make a positive impact."
Utah state epidemiologist Dr. Angela Dunn praised the governor's order Sunday night on Twitter.
"It is time to unite Utah," she said. "You will be saving lives and livelihoods.
"Yes, there are people that think this isn't enough. And some think it's too much. But let's agree on one thing: the lives and livehoods of each and every Utahn matter. We must stand together behind this two-week push. That is the only way it has a chance at being successful."
Salt Lake County mayor Jenny Wilson, who recently won reelection, also praised the new order.
"Salt Lake County and the state of Utah are facing a crisis as COVID-19 cases increase," Wilson said in a statement. "I support state leaders recognizing and enacting stricter measures. We will work together within our communities and with the state to do everything we can to protect our families and our hospitals. It is up to each of us to limit social gatherings and activities for the near future. We can do this. Together we have flattened the curve before, and we are going to do it again."
Contributing: Tania Dean, KSL TV; Jen Riess, KSL.com
×
Related stories