Estimated read time: 8-9 minutes
This archived news story is available only for your personal, non-commercial use. Information in the story may be outdated or superseded by additional information. Reading or replaying the story in its archived form does not constitute a republication of the story.
SALT LAKE CITY — Utah's number of COVID-19 cases has increased by 2,244 on Monday, with four more deaths reported, according to the Utah Department of Health.
The rolling seven-day average number of positive cases per day is now at 3,349, according to the health department. The positive test rate per day for that time period is now 23.6%.
Also Monday, Utah Gov. Gary Herbert announced an updated COVID-19 health order that will take effect Tuesday.
Despite Utah reporting over 2,000 cases again Monday and hospitals being nearly full, Herbert continued to be optimistic about Utah's future, pointing out that state health officials are hoping to begin inoculating Utahns against the novel coronavirus in the next month.
"For the first time in a long while, we're beginning to see daylight at the end of the tunnel," he said.
Health department state epidemiologist Dr. Angela Dunn asked people to remain vigilant and cautious so Utah's hospitals stave off being overwhelmed further.
"It is so essential that we take this opportunity … to not continually increase the burden on our hospital capacity," Dunn said.
---
Utah Gov. Gary Herbert, along with Utah Department of Health interim director Rich Saunders and state epidemiologist Dr. Angela Dunn, and University of Utah David Eccles School of Business Dean Taylor Randall, who is also the economic lead on the state's COVID-19 unified command team, spoke at a news conference Monday morning. Watch the replay of the event below.
---
Updated health order
The state's transmission index system for assessing COVID-19 risk levels for individual Utah counties will resume Tuesday when Herbert's new health order takes effect.
Piute, Rich and Daggett counties will be assessed at the low transmission level, according to the state health department's interim executive director, Rich Saunders. The other 26 counties in Utah will be rated at the high transmission level, he said.
The transmission index was suspended for the last two weeks when Herbert's previous "hard reset" emergency health order was in effect.
The order, which outlawed gathering with people outside one's own household, expires Monday. Herbert announced last week that he would outline recommendations, not mandates, for gathering on Thanksgiving. Therefore, the updated order does not include mandates for how people can gather in their own homes, despite health officials previously identifying casual social gatherings taking place at peoples' homes as a major source of COVID-19 spread.
The state is still strongly recommending that people gather only with those in their own households, practice social distancing, and wear masks, but there are no hard-and-fast, mandated rules for holiday gatherings.
On Monday, Herbert said he was "sensitive" to Utahns who thought the previous health order was governmental overreach. State leaders continue to try to find a balance between protecting public health and maintaining the strength of the state economy, he added.
He continued to emphasize individual responsibility for Utahns to make good choices about stopping the spread of COVID-19.
"We can all do better," Herbert said.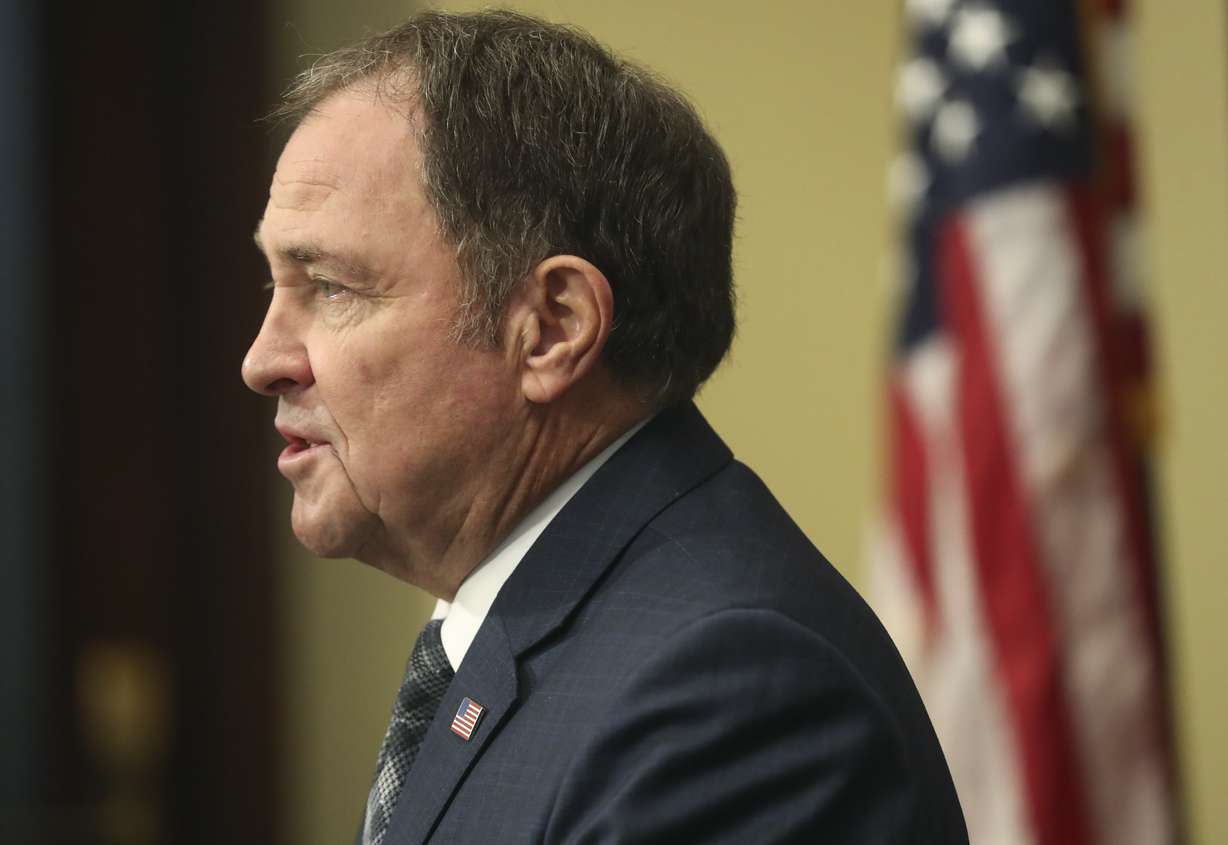 In a statement Monday, Salt Lake City Mayor Erin Mendenhall blasted Herbert's decision to loosen restrictions on household gatherings.
"With new case counts breaking records weekly, daily deaths increasing, and no downward trend in sight, the Governor's loosening of the public health order today is the opposite of what state leadership should be doing right now," she said. "This announcement by the state to relax restrictions exactly where we know the most spread of COVID is happening, is counter to good logic and the data we have."
As part of Monday's updated order, public establishments that host events — such as theaters, sporting venues and other entertainment venues — must require mask wearing and provide for 6 feet of social distancing between household groups, Saunders said.
Health officials still believe that in-person learning at schools is the best option for Utah students, so they are taking precautions to ensure that can continue, Saunders said.
Starting Nov. 30, all participants in school extracurricular activities — including students, coaches and staff — will be tested for COVID-19 every other week, Saunders said. If a participant tests positive, they must sit out all events related to those activities, including sports team practices, until they are finished quarantining, he added.
For club sports, recreational leagues, dance studios and other similar events, event administrators must check symptoms of participants before every event related to the activity, including practices, Saunders said. The health department is also asking that participants be asked if they have been exposed to a COVID-19 case within the last two weeks.
For businesses, the quarantine period has been reduced so that employees who have been exposed to COVID-19 can return to work earlier. If employees have tested negative and have not displayed any COVID-19 symptoms after seven days, they can return to work.
"They're aimed to protect lives and livelihoods," Saunders said of the health order updates.
New COVID-19 cases
The state now estimates there are 61,519 active COVID-19 cases in Utah. The new numbers indicate a 1.3% increase in positive cases since Sunday. Of the 1,352,407 people tested for COVID-19 in Utah so far, 13.3% have tested positive for the disease. The health department reported an increase of 7,462 tests conducted as of Monday.
At 3,349 Monday, the state's rolling seven-day average for new cases remains high across the state, Dunn said. However, the seven-day positive test rate average, while still high, has stabilized somewhat as the state has increased testing, she added. That average is at 23.6% Monday, a decrease from 24.6% early last week, state data shows.
In another effort to boost testing numbers, Dunn announced Monday that Utahns will now be able to schedule a COVID-19 test even if they don't have any symptoms or haven't been exposed to the disease recently. Anyone who wants to be tested will now be able to schedule a test appointment through Test Utah.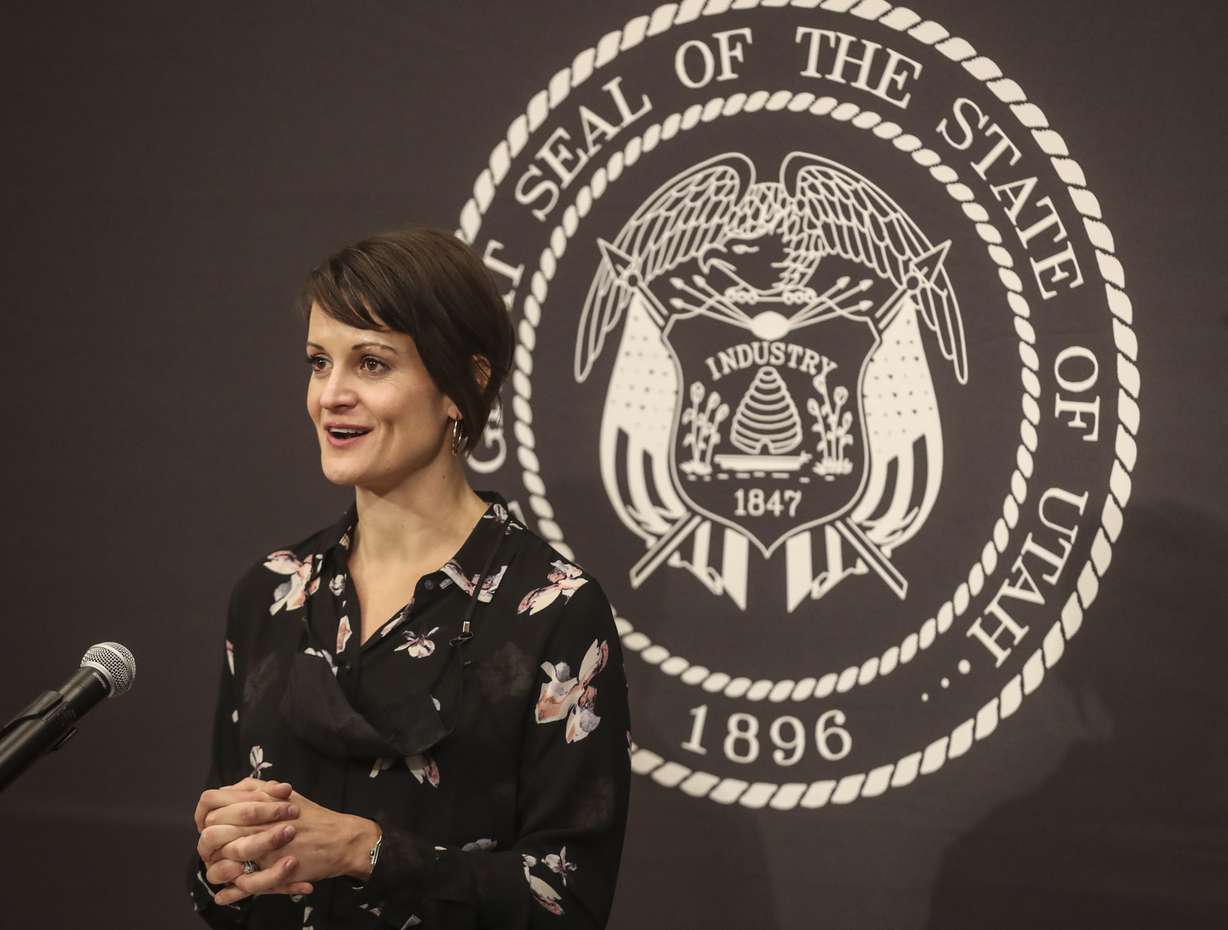 There are currently 545 COVID-19 patients hospitalized in Utah, including 199 in intensive care units, according to state data. About 88% of Utah's ICU beds are filled, including about 92% of ICU beds in the state's referral hospitals, which are the 16 healthcare facilities in Utah with the capability to provide the best COVID-19 care, state data shows.
About 54% of non-ICU hospital beds are filled in Utah, according to the health department.
The four deaths reported Monday were:
A Salt Lake County man who was over the age of 85 and was hospitalized when he died
A Salt Lake County woman who was between the ages of 45 and 64 and was not hospitalized when she died
A Washington County man who was between the ages of 65 and 84 and was a resident of a long-term care facility
A Washington County man who was between the ages of 65 and 84 and was hospitalized when he died
Monday's totals give Utah 179,420 total confirmed cases, with 7,602 total hospitalizations and 797 total deaths from the disease. A total of 117,104 Utah COVID-19 cases are now estimated to be recovered, according to the health department.
Masks stop spread, boost economy, study finds
In addition to stopping the spread of COVID-19, statewide mask-wearing mandates also help boost the economy of states who have them, a new study from the University of Utah has found.
"Mask wearing creates a triple play," said U. David Eccles School of Business Dean Taylor Randall, who is also the economic lead on the state's COVID-19 unified command team.
Wearing masks increases consumer mobility, allowing potential customers to visit more businesses, and in turn, increases consumer spending, Randall said.
"Now that's a pretty big deal," he said.
While Utah has maintained a better unemployment rate through the pandemic and hasn't suffered more severe adverse economic effects of COVID-19 like some other states, Utah's economic health should still be considered relatively fragile, Randall said. Almost all of the federal aid money delivered to Utah through the Coronavirus Aid, Relief, and Economic Security Act, or CARES Act, has already been spent, he added.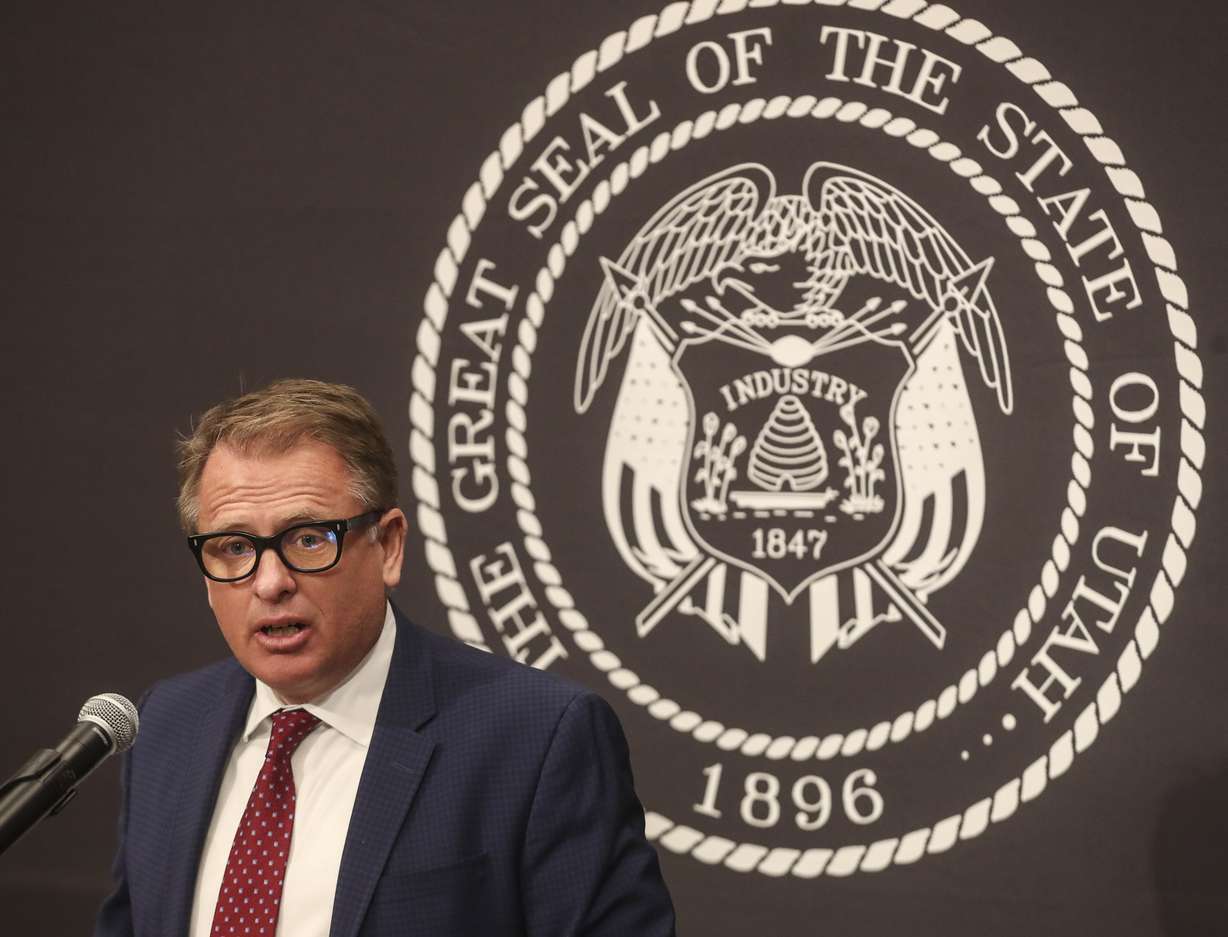 Herbert insisted Monday that Utah is much better off than other states, in terms of both public health and economic strength. But hospitals are filling up, and healthcare facilities likely haven't begun to feel the full brunt of hospitalizations from recent days when Utah has reported 3,000 or 4,000 new cases.
With a COVID-19 case rate of 105.6 per 100,000 people over the last seven days, Utah currently falls in the U.S. Centers for Disease Prevention and Control's worst category for the disease. Utah currently has the 10th-highest case rate in the nation during that time period, according to CDC data.
Herbert said he believes Utahns will choose to do the right thing and follow the state's recommendations, even though he acknowledged that some people still aren't wearing masks despite his repeated, consistent pleas with them to do so.
"We have a plan in place; we believe it will work," the governor said.
Methodology:
Test results now include data from PCR tests and antigen tests. Positive COVID-19 test results are reported to the health department immediately after they are confirmed, but negative test results may not be reported for 24 to 72 hours.
The total number of cases reported by the Utah Department of Health each day includes all cases of COVID-19 since Utah's outbreak began, including those who are currently infected, those who have recovered from the disease, and those who have died.
Recovered cases are defined as anyone who was diagnosed with COVID-19 three or more weeks ago and has not died.
Deaths reported by the state typically occurred two to seven days prior to when they are reported, according to the health department. Some deaths may be from even further back, especially if the person is from Utah but has died in another state.
The health department reports both confirmed and probable COVID-19 case deaths per the case definition outlined by the Council of State and Territorial Epidemiologists. The death counts are subject to change as case investigations are completed.
For deaths that are reported as COVID-19 deaths, the person would not have died if they did not have COVID-19, according to the health department.
Data included in this story primarily reflects the state of Utah as a whole. For more localized data, visit your local health district's website.
Information is from the Utah Department of Health and coronavirus.utah.gov/case-counts. For more information on how the Utah Department of Health compiles and reports COVID-19 data, visit coronavirus.utah.gov/case-counts and scroll down to the "Data Notes" section at the bottom of the page.
×
Photos
Most recent Utah stories