SALT LAKE CITY — Hogle Zoo officials say they have already sold all tickets for "ZooLights" this season, just hours after announcing the zoo's popular month-long event would be free this year because of a state grant.
"SOLD OUT!!! Wow!! We've officially sold out of ZooLights tickets for the season!" officials wrote, in a Facebook post Friday evening.
The zoo announced Friday morning that its yearly holiday celebration would be free due to a grant came from the State Legislature via the Utah Division of Arts & Museums. It allowed Utahns to visit the holiday lights free of charge from Dec. 4 through Jan. 3, 2021 — with the zoo closed on Christmas Eve, Christmas Day and New Year's Day.
While free, guests still had to reserve timed tickets online so the zoo can control the number of guests due to the COVID-19 pandemic. Hogle Zoo spokesperson Erica Hansen said the zoo is currently running on 25% visitor capacity and that won't change for ZooLights.
Within an hour of the announcement on social media, more than 1,500 people were virtually in line on the zoo's website. A few hours later, that number grew to over 7,000. It created a massive backlog throughout the afternoon before the last tickets were sold.
After selling out a month's worth of tickets in one afternoon, zoo officials said they will try to open up spots if they discover not everyone who secured tickets uses them.
"(We'll) be paying very close attention to attendance at ZooLights. If we notice that a lot of people reserve tickets but are not attending, we will be able to open more slots," officials added, in the Friday evening Facebook post. "We did leave some wiggle room. So please be patient and keep checking back."
ZooLights is entering its 14th year. The zoo will be open from 5:30 p.m. to 9 p.m. this year with more than 200 lighted animals and other holiday-themed displays, such as animal-shaped lanterns. Per the zoo's website, admission typically ranges from $7.95 for children and $9.95 for adults.
This is the first year that tickets were free of charge.
"We know that 2020 has been extraordinarily challenging for everyone. Some have been hit hard financially or mentally, and we just hope that this is a way that makes ZooLights accessible to all families," Hansen told KSL.com Friday afternoon. "We just hope they can maybe come and put one last positive spin on the year."
In addition to reducing crowd size, the zoo also has rules aimed to reduce the spread of COVID-19. For example, guests must wear masks while on Hogle Zoo grounds and there is an expectation that households will socially distance themselves from other households. ZooLights will feature appearances from Santa Claus every night through Dec. 23, but guests must remain at least 6 feet apart instead of sitting on Kris Kringle's lap.
The zoo also will not have indoor dining available this year. Guests can buy concessions at walk-up windows within the zoo, according to its website. It says other attractions like caroling or ice carving "may not be available during this year's ZooLights."
Friday's announcement comes as many other holiday traditions have moved online due to the COVID-19 pandemic.
Instead of a lighting ceremony that normally draws in thousands, The Church of Jesus Christ of Latter-day Saints announced last week that its Temple Square property will be closed off to the public. People eager to see the lights can still view them from outside Temple Square.
The church will broadcast a video of sister missionaries giving a tour of the lights display beginning on Dec. 1. Other events normally held during the holiday season will be held virtually, as well.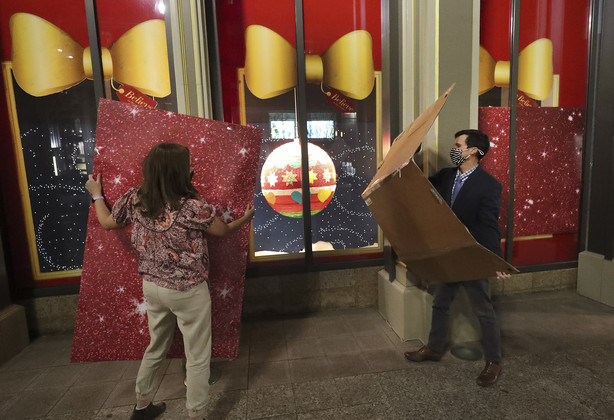 On Thursday, the Candy Windows at Macy's in City Creek Mall were unveiled quietly during a small ceremony in front of media personnel.
×
Related Stories