PROVO — Even without a game, there was plenty for the BYU football program to do over the past 10 days during the Cougars' first sanctioned bye week.
As always, there was the ever-present monster of COVID-19, which has derailed many a team's season to date, so the Cougars had to be careful about testing and keeping a controlled environment in order to finish the season.
There were plenty of injuries to retire and recover, such as a lower leg injury to running back Lopini Katoa, suffered in the fourth quarter of the 51-17 win over Boise State just before the break, that required immediate attention. As always, injuries and rehab took precedence for a lot of players, as did weight training and conditioning for the healthy.
Then there was a "self-scout," or finding the requisite weaknesses and deficiencies to improve before the final two (or potentially more) games of the season, according to quarterbacks coach and passing game coordinator Aaron Roderick.
But in the off-hours, Roderick was even busier on the phone — with NFL scouts and executives, many he's grown to know personally, wanting to talk about this star quarterback Zach Wilson.
Very little of those conversations were about Wilson's arm, his 2,512 passing yards, 22 touchdowns with just two interceptions, or his Heisman Trophy-contending season that has No. 8 BYU off to its best start since 2001 and fourth 8-0 start in program history. They just wanted to talk about Zach Wilson, the Utah native and Corner Canyon alum. They wanted to know what makes him tick.
"I talked to almost every team in the NFL last week on our bye week," Roderick said. "They make their own decisions about his play; that's their job. They've got scouts, and they're good at what they do.
"Most of those guys are asking me questions about what it's like to work with him, how does he interact with his teammates, what kind of leader he is, what are his aptitudes of learning, intelligence, all those things."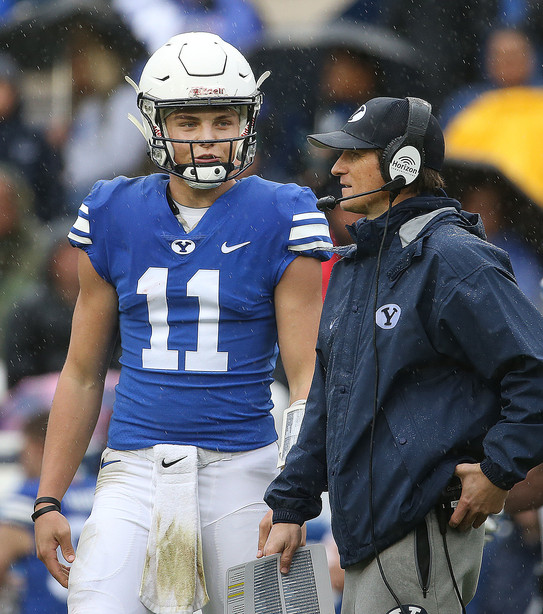 Few are better at describing Wilson than Roderick, too. By the quarterback's own admission, Wilson's position coach knows him better than most.
He's seen him through ups, downs and everything in between — from ascending to the starting role as a freshman to struggling through multiple injuries as a sophomore and the meteoric rise of his junior year. In many ways, Roderick is key to Wilson's success, the young quarterback tweeted last week.
"You'll never see Coach Roderick on the cover of the newspaper or blowing up on social media," Wilson said. "His silent impact on this team, his dedication, scheme and passion are never talked about. Thank you for believing in me and helping me evolve into the QB I've always wanted to be."
Roderick isn't much for social media. The former BYU receiver has a Twitter account and uses other social platforms, mainly for recruiting. Still, he didn't see Wilson's message for a few days.
"But I appreciate it," the one-time Utah co-offensive coordinator added. "It's good to hear that from a player who has been through his own ups and downs. I've still got an inbox full of hate mail from people who didn't want him to be a starting quarterback this year. We've both got a chip on our shoulder this season."
You'll never see @CoachRoderick on the cover of the newspaper or blowing up on social media. His silent impact on this team, his dedication, scheme & passion are never talked about. Thank you for believing in me & helping me evolve into the QB I've always wanted to be. pic.twitter.com/bMwz07sW91

— Zachary Wilson (@zachkapono) November 7, 2020
That season isn't over yet, either. Besides Saturday's home date with FCS North Alabama (1 p.m. MST, BYUtv), the Cougars are also scheduled to host San Diego State on Dec. 12. They may also be able to add another game or two — with even more possible if the Pac-12 follows up on proposed changes to its conference-only scheduling plan — and will wind up in one of ESPN's owned and operated postseason bowl games.
Several projections even have the Cougars in a New Year's Six bowl for the first time since the restructuring of the most prestigious bowl games under the College Football Playoff. If BYU finishes the season undefeated, with at least a 10-0 record, such a conclusion seems likely.
But after the season, one downside of a historic rise is the possibility of players leaving early. If Wilson's current emergence as a first-day NFL draft pick continues, he could be bound for the pros after just three seasons at BYU.
It's a good problem to have in Provo, but it also presents challenges. Roderick and offensive coordinator Jeff Grimes have worked to retool and refinish the Cougars' offense over the past three years, and those adjustments are bearing fruit in 2020.
Still, they'll continue forward and appear to have set up a solid line of successors in Wilson's stead, whenever he decides to move on. That could include backup quarterback Jaren Hall, who Roderick said has been out all season after suffering multiple injuries in his time as a dual-sport athlete with baseball the past two years and is unlikely to make a return before December, at the earliest.
Those plans could also include Baylor Romney, who helped salvage the Cougars' season in 2019, and new freshmen Jacob Conover and Sol-Jay Maiava-Peters.
Conover, the four-star quarterback from Chandler, Arizona, who signed with the Cougars over Arizona State, Alabama and others, returned home from his two-year church mission in Paraguay early due to the COVID-19 pandemic, and he's been leading the scout team every week in Provo — as well as taking practice reps "whenever I can squeeze him in," Roderick said.
"He's learned our whole offense already," the QB coach added. "He knows it very, very well for a guy who has been here for a short amount of time. He was a highly recruited player, and it doesn't take long to see why."
Maiava-Peters arrived in the recruiting class of 2020 as a true freshman from St. John's Prep in Washington, D.C., and has equally impressed coaches in camp with his talent and grasp of the offense.
"He can do things with the ball that no one else on our team can do," Roderick said. "We've got a good group. I'm excited about this group moving forward."
All of which could make moving on — and building from — Wilson just a little bit easier, whenever he decides to be finished.
It could be sooner. It could be later. But eventually, the Cougars will need a new QB1. And his coaches won't stop him, either way.
"Those guys are beginning to talk to us, and coach Roderick deals more with those guys than I do. I can't say enough about the job that he's done with (Wilson), and all of our quarterbacks," Grimes said.
"Typically, what I get are guys who know me and want to get a personal perspective on him. But we're all fielding questions from guys (in the league) this year, and we want to help all of our players who will have an opportunity to move on. We're certainly glad to talk to any of those guys about our guys this year."
On the air
No. 8 BYU (8-0) vs. North Alabama (0-3)
Saturday, Nov. 21, 2020
Kickoff: 1:00 p.m. MST
TV: BYUtv
Radio: BYU Radio, KSL radio 1160 AM/102.7 FM
Streaming: BYUtv.org, ESPN3
×
Related Links