Estimated read time: 13-14 minutes
This archived news story is available only for your personal, non-commercial use. Information in the story may be outdated or superseded by additional information. Reading or replaying the story in its archived form does not constitute a republication of the story.
SALT LAKE CITY — Nathan Rafferty can't think of a more anticipated ski season in his two decades around Utah's ski and snowboard industry.
Utah's ski industry is coming off its longest offseason in history, which began in mid-March after a successful season was cut short by the COVID-19 pandemic. Since then, the state's seven ski areas and 15 resorts began planning for now.
"I think we're as prepared as (anyone)," said Rafferty, who has headed Ski Utah since 2005.
Three ski resorts — Brian Head, Park City Mountain and Woodward Park City — are set to open this weekend to launch the 2020-2021 ski season. Alta Ski Area was set to open Saturday but moved its opening day back to Monday. Many others plan to open in the coming weeks.
This, of course, comes at a time of uncertainty due to a recent uptick in COVID-19 cases in Utah. Gov. Gary Herbert issued a state of emergency earlier this month due to strains on hospital capacity. So far, new policies have allowed Utah's businesses to continue to be open and the state's ski leaders are optimistic they will remain open this season.
Yet, despite the unknowns, there are also signs people are more eager than ever to hit the slopes this winter. For example, Ski Utah reports record web traffic ahead this year's ski season. Resorts and other outdoor places around the states experienced upticks of outdoor visitation away from skiing, as well.
Several of the state's ski leaders gathered online Monday morning to discuss their plans for the upcoming ski season, which they warn will be unlike anything in the past. Utah resorts made many changes ahead of the season so they can stay open through the ski season while keeping employees and visitors safe.
"It's going to feel really different to come to our resort and any of the other resorts (in the state)," said Susie English, assistant director of brand management for Deer Valley Resort, adding that many resorts have devoted time to create videos, blogs and social media posts to prepare skiers and snowboarders for the changes.
How skiers and snowboarders can manage risk
It's tough to ignore the uptick of COVID-19 cases in the state. Utah's COVID-19 positivity rate surpassed 20% this month, which health experts say is an indication of the virus widely spreading.
Given that COVID-19 was responsible for last season's abrupt ending, ski leaders in Utah say they are trying to strike the perfect balance that will allow them to remain open while visitors roam around safely.
"Task No. 1, for us, is going to be the health and well-being of our employees and guests. That is going to be priority No. 1 one for every resort," Rafferty said.
Dr. Sankar Swaminathan, an infectious disease specialist for University of Utah Health, explained that health experts now know how the virus spreads compared to when resorts closed in March. Avoiding proximity to others outside of your household is one way to lessen the risk of contracting COVID-19.
"There is no magic number. We say 6 feet, but 5 feet is better than 3 feet, and 10 feet is better than 6 feet because of the distance the droplets can travel," he said. "You want to try and maintain that distance."
Large groups of different people close together present difficulties because it increases droplets transmitted. Time and ventilation also factor into spread. For instance, if you pass by someone, you're less likely to catch or spread the virus than if you spend an hour with that person. If a room has good ventilation or you're outside, the virus is less likely to remain concentrated in the same place.
That's why face coverings are important. They reduce the spread of particles, as well. Fewer particles while outdoors makes it difficult for the virus to spread. If people follow proper guidelines, Swaminathan said skiing and snowboarding are among the least risky public activities for spreading COVID-19. That said, guidelines don't completely remove risk.
"It's important to remember — and this doesn't just apply to skiing — that there's no such thing as perfectly safe and definitely bad. Everything is a continuum of risk," he added. "What's completely safe is that you stay at home and have all your needs delivered to you and you don't let anyone else in your house that doesn't already live with you."
One of the best ways people can prevent the spread of COVID-19 at resorts — or anywhere — is to avoid going out when they are sick. In addition, anyone who tests positive for COVID-19 is urged to isolate 10 days starting from when their symptoms first occurred. In addition, their symptoms should improve before they head anywhere. Anyone exposed to the coronavirus is still expected to quarantine for 14 days out of precaution that they will spread the virus further.
How COVID-19 will change skiing this season
Change will be a common theme of the 2020-2021 ski season due to the coronavirus. That's why Ski Utah leaders advise those planning to hit the slopes to plan ahead.
As an example of this, the day after many of the resorts shuttered for the season, the state's ski industry leaders formed a group text to figure out each other's plans and needs.
Knowledge of COVID-19 has changed over the months as researchers raced to learn as much as possible about it how spreads and affects humans. Resorts have used this information to form this season's plans. The National Ski Areas Association also published recommendations for resorts all over the country on how to handle this winter, which helped local resorts piece together new protocols.
Davy Ratchford, general manager at Snowbasin Resort, said the Huntsville resort submitted a plan to the Weber-Morgan Health Department months before the season's start and got approval.
"We've taken those (national) playbooks and we've customized them to our individual areas based on the health departments and the guidance we've had throughout the state," he said.
Since the various resorts were in contact with each other, they communicated their different ideas on how to handle business during a pandemic. They created a goal to implement as many of the same practices as possible so that skiers and snowboarders who may rotate to different resorts in the state can expect similar guidelines.
For example, face coverings will be required at all 15 resorts. That was anticipated before Herbert's state of emergency order was put in place that included a statewide mask mandate. Face coverings will be required in all indoor and outdoor spaces except when someone is eating or drinking.
"The ski industry was way ahead of the curve, I guess you could say, in regards to mask wearing," said Mike Maughan, manager for Alta Ski Area. "The industry, as a whole, developed a 'Ski Well, Be Well' pandemic plan and one of the pillars of that plan was that all of the guests that come to ski areas would be required to wear masks when they can't be appropriately distanced.
"So in our lift lines, all of our lifts and indoor spaces, masks have been required. It's been in the ski area's plans from day one," he added, noting that anyone seen without a mask won't be allowed on a ski lift.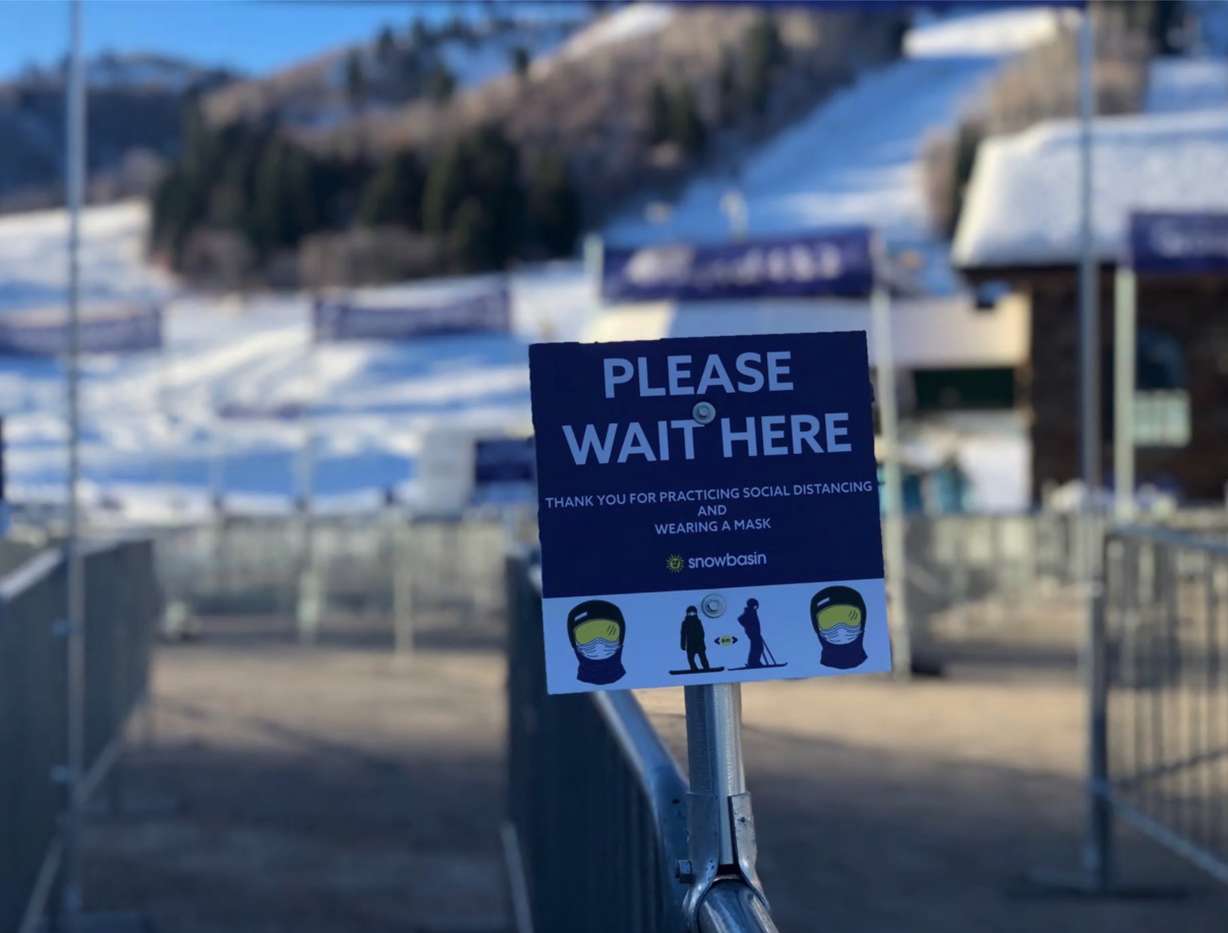 Physical distancing is another standard that skiers and snowboarders can expect at every Utah resort this winter. All 15 resorts will have plans to allow spacing between different parties.
For example, Snowbird will limit the number of people inside its trams to 25, down from its previous limit of 125. Dave Fields, general manager for Snowbird Resort, said the resort tested the practice beginning in the summer and everything worked smoothly. Utah resorts also plan to have increased cleaning and disinfection throughout the day.
In addition, work was done to ensure employees would be safe. Mark Wilder, a spokesperson at Brian Head Resort, said many of the moves were made to space out employees so they can work and eat at individual stations and to limit other interactions that could lead to COVID-19 exposure.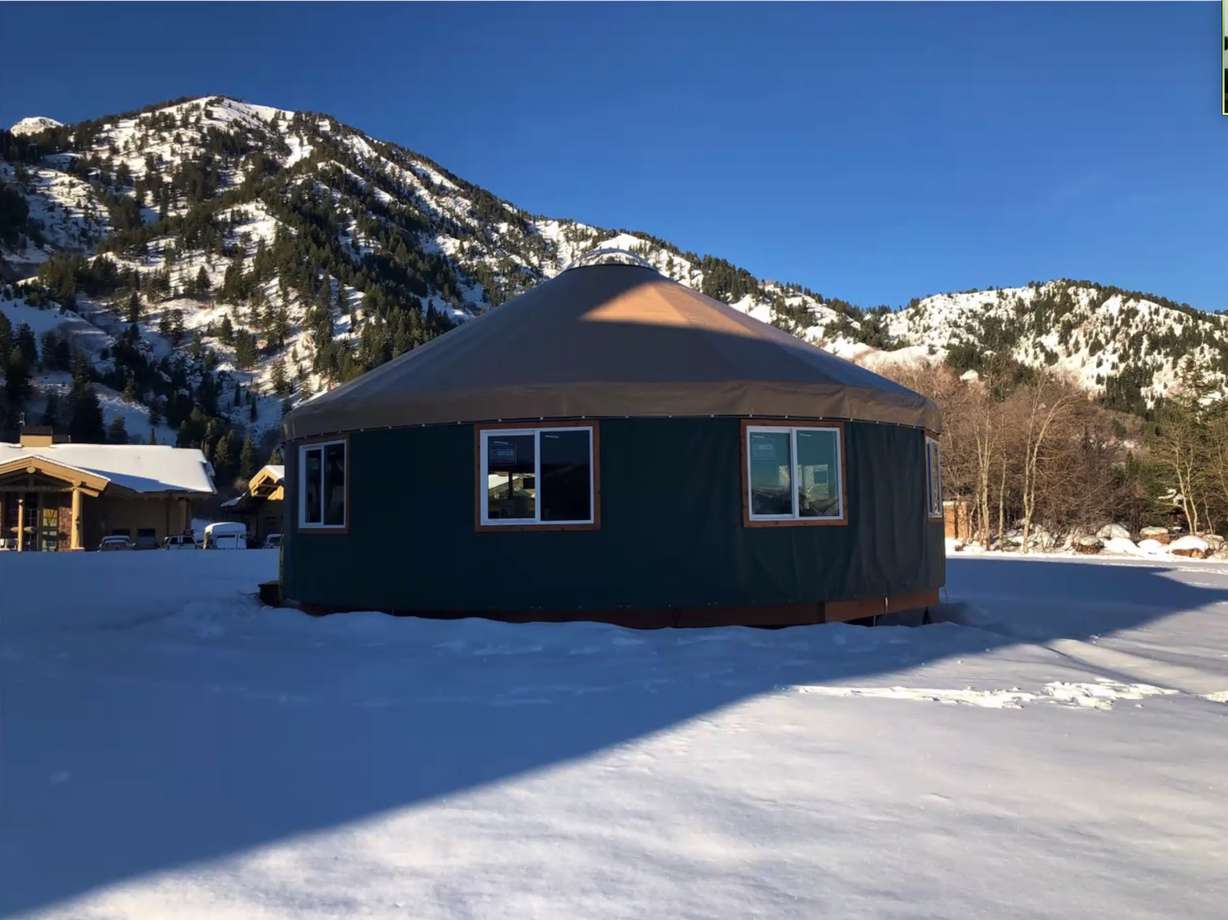 Resorts have also been creative in finding extra spaces for visitors. Snowbasin, for example, added yurts to spread out indoor spaces for guests so they don't overcrowd the resort's lodge. Many resorts also installed outdoor bathroom trailers this year to avoid crowding at indoor bathrooms.
Reservations
Many resorts have decided on reservation systems but for various things. Park City Mountain is currently the only resort that requires all visitors, including pass holders, to reserve a day they plan to ski or snowboard on. Solitude, Deer Valley and Cherry Peak Resort are listed as either to be determined or "not at this time."
Jessica Miller, a spokesperson for Park City Mountain Resort, explained that pass holders can reserve their days at any time. So if they see a storm forecast for a certain day, they can go online and reserve their spot for that day. If, for some reason, they decide they cannot make it to the resort that day, they are asked to cancel at least one day in advance to allow others who might want to ski that day a spot at the resort.
Early season reservations there begin Wednesday. Pass holders can reserve a spot from its opening day Friday through Dec. 7, as well "as priority reservation days" later in the season, such as holidays.
"Most days, for the vast majority, we anticipate everyone who wants to ski will be able to," she said. "The areas that are going to be a little bit trickier are the early season when we do have limited terrain … for the rest of the season, you want to think about holidays, weekends, times that could be more busy. That's why you want to plan ahead early."
Snowbird, on the other hand, requires a parking reservation for anyone seeking to drive to the resort and ski. Reservations aren't needed for anyone dropped off by one of the Utah Transit Authority's ski busses or any other pick up/drop off service.
Solitude Mountain Resort in Big Cottonwood Canyon is one of the resorts that requires lessons and rentals to be reserved in advance. It, along with Brighton Ski, Deer Valley, Eagle Point, Park City Mountain, Powder Mountain, Snowbasin and Snowbird resorts all require lift tickets to be purchased in advance. That's a practice also suggested at Brian Head, Sundance and Woodward Park City resorts.
Powder Mountain Resort implemented a reservation system for food; people can use apps to order food days ahead of their trip to the resort.
Other changes due to COVID-19
UTA announced on Nov. 8 that it would limit the capacity of its ski buses to 20 riders, about one-third of regular capacity. The agency requires riders to wear face coverings and passengers will be encouraged to spread 6 feet apart.
Buses to Snowbird, Alta, Brighton and Solitude in Salt Lake County will begin running on Nov. 29, while buses to Snowbasin and Powder Mountain in Weber County will begin running on Dec. 12, and the Utah County bus route to Sundance will begin running on Dec. 19.
No changes were made to the schedule, but UTA officials said they will monitor ridership to see if there are any adjustments that are needed.
Related:
The Utah Department of Transportation officials, on Monday, revealed plans to address an anticipated high number of vehicles in the Cottonwood canyons due to fewer bus seats and less people carpooling. If resort parking lots are full, authorities will turn travelers around who don't need to be in the canyon.
Other changes at resorts
There are other changes coming to resorts this year unrelated to COVID-19. Ski Utah compiled a list last week. Here are some of the other changes coming to Utah resorts:
Nordic Valley Ski Resort is expected to open its first high-speed chairlift and an expansion project this winter.
Snowbasin relocated its learning area. It also added a new Squirrel trail that allows guests to access the Canyon Rim parking area without needing a shuttle.
New homes and condominiums were built at Eagle Point Resort in Beaver, upping the number of rental available rental units by 20.
Snowbird added a pair of new food trailers to its resort. "Gadzooks" in Gad Valley and "Subie Shack" at Dick Bass Deck.
An expansion of Alf's Restaurant at Alta Ski Area was completed.
Beaver Mountain Ski Area installed a second conveyor lift, which is located at the beginner area above the Little Beaver lift.
Woodward Park City made improvements to its Action Sports Hub.
Expected out-of-state travel
Utah's ski industry is an important asset for the Beehive State. The 2019-2020 ski season generated an estimated $1.55 billion in Utah tourism revenue despite being cut short in March, according to a University of Utah's Kem C. Gardner Policy Institute report released in September. The season was poised to break all state records until the COVID-19 pandemic struck; but even then, the year ended up as the second-best ski season on record.
A huge chunk of that revenue comes from out-of-state visitors — especially from those flying into Utah. And the forecast for visitors to the state remains uncertain. The airline industry continues to struggle as travelers remain wary of flying. The number of people screened at airports fell 60% year-over-year back in March and has remained below 60% in that category since, according to the U.S Travel Association's latest report. It was listed at -66% as of last week.
Meanwhile, the road travel industry has improved greatly from where it was a half-year ago. It was down just 10.6% on Nov. 7, compared to -70% heading into April. AAA Utah issued a report last week that estimated most Thanksgiving travel will be by cars.
Still, Utah's resorts are typically a national and international draw. English pointed out the top flight markets to the area are New York City, Los Angeles, Houston, Atlanta and Dallas during a nonpandemic year. It's still too early to know if travelers will venture out to Utah the same way this year.
---
People are excited. People want to get outside. They want to have some feeling of normalcy and if you can ski outside with all our safety measures in place, that is possible."
–Susie English, assistant director of brand management for Deer Valley Resort
---
Deer Valley, like many other resorts, shifted to a mostly-digital marketing plan. It allows Utah resorts to target its normal travelers and shift to other locations should its top markets underperform, English explained.
In addition to new items at ski resorts, the state's ski industry touted the new Salt Lake City International Airport's upgrade as a perk for people flying into Utah. The airport's new concourses include a large baggage system to handle items like skis and snowboards.
If it appears people don't want to fly to Utah, the industry may focus on states and areas within driving distance. Utah tourism leaders mentioned a similar strategy after the Gardner Policy Institute report was released.
The resort in Park City also changed its policies to make it a more attractive destination option for those seeking to travel to Utah but who are fearful COVID-19 will hinder plans quickly — like what happened in March.
Utah resorts are optimistic based on feedback from the early out-of-state marketing. Website session times are higher than average at multiple Utah resort pages — possibly due to catching up on new policies or to check out how to purchase tickets online with resorts ditching walkup windows.
"People are excited," English said. "People want to get outside. They want to have some feeling of normalcy and if you can ski outside with all our safety measures in place, that is possible."
×
Related stories
Most recent Outdoors & Rec stories