Editor's note: This article is a part of a series reviewing Utah and U.S. history for KSL.com's Historic section.
SALT LAKE CITY — As Americans continue to wait for presidential ballots to be counted and for a projected winner to be named, it's clear 2020 will end up among the more memorable presidential elections in U.S. history.
For instance, it fell in the middle of a global pandemic that resulted in many adjustments to the election project. On top of that, it's shaping up to be another contested election in American history.
President Donald Trump filed lawsuits against Georgia, Michigan and Pennsylvania on Wednesday in his race against Democratic former vice president Joe Biden. Dr. Baodong Liu, a professor of political science at the University of Utah, is among the experts who believed it was a sign that the Trump campaign may plan to contest the legitimacy of the results in those states.
Judges in Georgia and Michigan dismissed lawsuits in those states Thursday, the Associated Press reported. A Pennsylvania appellate court granted the Republican party and campaign observers the ability to move closer to election workers as they process mail-in ballots in Philadelphia.
Trump spoke again Thursday and again claimed fraud in the election without providing evidence; he said he expected "a lot of litigation" and that he believed it's an election that will end in the courts. Liu pointed out in an interview with KSL.com on Wednesday that it would be an uphill battle for the president to win in court without proof of his claims or that a state broke an election law.
But aside from the record numbers of votes cast, early voting and mail-in ballots, the 2020 election isn't unprecedented in terms of how the outcome is handled. We still don't know the final results of the election and may not for weeks but it already draws some parallels to previous elections in 1800, 1824, 1876, 1888, 1960 and 2000.
That is to say there have been hefty delays, court decisions, candidates who argued the legitimacy of results and even made claims of voter fraud in the past.
Contested elections of yesteryear
Of course, there was the Supreme Court's Bush v. Gore decision in December 2000 that stopped Florida's recount and finally put an end to the presidential election that year. The decision resulted in Bush winning the state and presidency.
In 1960, results weren't just extremely close in the nationwide popular vote but in several states as well. That included Illinois and Texas, where John F. Kennedy defeated Richard Nixon by less than 50,000 votes in both states. Nixon's supporters alleged Chicago's mayor, officials in southern Illinois and also in Texas padded ballots to endure Kennedy's win, the National Constitution Center wrote, recapping that year's election. Nixon ultimately conceded a day after the election.
The 1800 election remains arguably the messiest in that it ended in a tie and a retooling of the entire presidential voting process, which was passed through the 12th Amendment.
Between 1800 and 1960? The highly contentious 1876 election — another one of the ugliest in American history. It took months to settle and ended in a compromise for post-Civil War America. And a delegate from what was then the Utah territory was in the middle of the heated debates.
The room where it happened
The 1876 race featured Republican Rutherford B. Hayes and Samuel Tildon, a Democrat, at a time U.S. political relations were still heated a decade after the Civil War. An incredible 82% of eligible American voters cast ballots that year — a record that remains to this day, as noted by the AP.
It also got messy rather quickly. Tildon emerged as the leader in the popular vote but finished an electoral vote shy of clinching victory. A large reason for this is that Democrats in the South intimidated Black voters at the polls, historian Gregory Downs wrote in The American Historical Review.
Hayes originally conceded but then reversed course. As History.com wrote, both sides claimed wins in Louisiana, South Carolina and Florida, which held 19 total electoral votes at the time. Since the Constitution didn't provide an answer to the squabble, it came down to Congress to figure out the election.
At this time in American history, presidents were typically sworn in on March 4, not January 20. With no clear way to figure out how to settle disputes in three states, a 15-person bipartisan commission was created in 1877 to settle the matter.
So what was it like at the time this unfolded? George Q. Cannon, an apostle for The Church of Jesus Christ of Latter-day Saints at the time, also served as a delegate for Utah. His journal, which is published online, documents the tense time in American history. It provides an interesting perspective of how politics unfolded then when it wasn't easy to document with video or social media.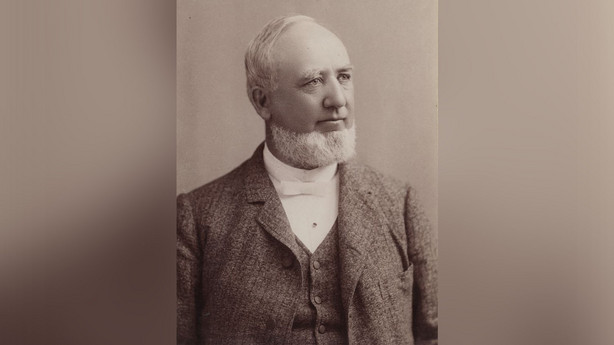 On March 1, 1877 — a day before the committee's final vote — Congress met to settle the election. Cannon described a chaotic scene in Washington. The session carried on for hours with filibusters blocking votes. Samuel Randall, the speaker of the House, refused to bring a vote on motions made. Lawmakers "grew very excited and a scene ensued" in a way Cannon wrote he couldn't remember despite the note that he had witnessed "some very violent times in Congress."
"The noise of many speakers yelling at the top of their voices in the most vehement manner and gesticulating frantically, endeavoring to make themselves heard above the din, was disgraceful," Cannon wrote. "Mr. Beebe of New York became so excited that he jumped on one of the desks and declaimed from that eminence, claiming his rights as a representative of the people.
"He said he had acted with the majority in opposition to the filibusters, but he thought their rights invaded and he and those acting with him claimed that they were representatives of the people and had their rights as well as the speaker his," he continued. "Mr. Sparks of Illinois, usually a well balanced man, seemingly lost his head and became very excited. Of course excitement on one side begat excitement in the House in the galleries on the floor, which was crowded."
The commission voted on March 2 along partisan lines. Hayes officially won all three states and the electoral vote by a single electoral vote, 185-184. He became the 19th president.
As noted by History.com, the vote was made after an agreement that Hayes would win the presidency but he would have to withdraw federal troops from the South. Some of the conditions of the deal were kept and it became the official end of the Reconstruction Era. The dispute was over.
An optimistic outlook?
As one can see from Cannon's journal of 1876 and from other chaotic points in presidential election history, this stage of the post-election results process can get nasty. But there is another way of looking at it, contends Alexander Cohen, an assistant professor of political science at Clarkson University in New York.
In a piece for the nonprofit The Conversation, Cohen argued the country's democratic system has prevailed through its messiest times — even after the Civil War ignited after the 1860 election.
"While the result of the 2020 election is sure to make many citizens unhappy, I believe rule of law will endure," he wrote. "The powerful historical, social and geographic forces that produced the total failure of 1860 simply are not present."
×