This archived news story is available only for your personal, non-commercial use. Information in the story may be outdated or superseded by additional information. Reading or replaying the story in its archived form does not constitute a republication of the story.
OREM — Mitt Romney is headed to Washington after all.
The former Republican presidential nominee and Massachusetts governor can add U.S. senator to his list of political accomplishments after cruising to victory Tuesday over Democrat Jenny Wilson.
"During the next six years, I commit to devote my heart, my mind and my energy to be worthy of the trust that as the voters of Utah have given me," he said in his victory speech to a cheering crowd at his campaign headquarters.
Romney will take office amid a small blue wave that returned control of the House to Democrats. Republicans held a slim majority in the Senate. He said he would reach across party lines to find common ground.
Unofficial results showed Romney with 61 percent of the vote to Wilson's 33 percent. Three third-party candidates Tim Aalders, Craig Bowden and Reed McCandless combined for less than 6 percent of the vote.
Romney said his victory is a call to action.
"I believe it's a call for greater dignity and respect. I believe it's an affirmation that regardless of one's gender or ethnicity or sexual orientation or race or place of birth, that we are equal, not only in the eyes of God, but also in the respect and dignity we are due from government and from our fellow Americans," he said.
Romney said his win is also a call to action that is "long past due" on a balancing the federal budget, immigration reform and pushing back against the "heavy hand of the federal government."
"I will be one of one hundred United States Senators. But I believe that one person, doing the right thing at the right time can have a lasting impact," he said. "I will work with good men and good women in both parties to serve the cause of America's enduring greatness."
---
I will be one of one hundred United States Senators. But I believe that one person, doing the right thing at the right time can have a lasting impact.
–Sen.-elect Mitt Romney
---
Though he fell short of winning the ultimate Washington prize in 2012, Romney beat Wilson in a race that really wasn't in doubt since the day he jumped in last February. Being forced into a primary election in June proved to be more of a distraction than a challenge.
Romney will replace retiring seven-term GOP Sen. Orrin Hatch, who urged the former Salt Lake Olympics leader to run.
Though he will head to the nation's capital as Utah's junior senator, Romney will have instant credibility with his Republican colleagues, though he won't wield near the power of the venerable Hatch. Some observers expect him to seek positions on the Senate foreign relations and national security committees.
Asked if he had any advice for the junior senator, Utah GOP Sen. Mike Lee said he would tell Romney to watch out for "mostly the hazing rituals."
Lee said Romney will bring a "great mind" to the Senate and that he looks forward to working with him. He said both of them see that the "strength of the American people lies not in the government but with its people, its communities its families and that Washington, D.C. doesn't have all the answers."
Utahns shouldn't expect Romney to be a counterbalance to President Donald Trump, at least when it comes to policy. He has, by and large, agreed with the Trump agenda, high tariffs on foreign goods being an exception. He also may disagree with the administration's approach to Russia.
Romney has distanced himself from his 2016 comments when he called Trump a "fraud" and a "phony," but said he would call out the president when he makes racist, misogynistic or anti-immigrant remarks.
#livestream_video
At 71, Romney will be the oldest first-term U.S. senator ever elected in Utah. He has said he doesn't expect to serve more than two terms.
"This is the kind of celebration I was anticipating six years ago. You can dream," Gov. Gary Herbert said, referring to Romney's failed 2012 presidential bid.
Romney has ruled out running for president again.
Herbert said Utah's new senator has big shoes to fill in replacing Hatch.
"I think Mitt's is going to come as close as anybody to filling those shoes," he said. "He's not going to be your typical freshman senator … He's going to have a significant leg up and great opportunity to do something, to get things done."
Even with Democrats taking the House, Herbert said Congress is going to be "set up for his skill set." He's has the personality and negotiating style to bring people together, he said.
Early on in the campaign, political opponents, including conservative Republicans, questioned Romney's Utah ties and complained that his entry in the race should drive a conversation, not a coronation.
Romney made a point to familiarize himself with the state, traveling to all 29 counties and holding events around Utah. He said he had 7,000 volunteers working on his campaign.
In his victory speech, Romney praised Wilson, who he worked with during the 2002 Salt Lake Winter Games, for running a strong, competitive campaign.
Wilson, 53, started campaigning months before Hatch announced his retirement, expecting to challenge the longtime senator whose popularity in Utah was waning or run for an open seat should he step aside. Instead, she got Utah's favorite adopted son.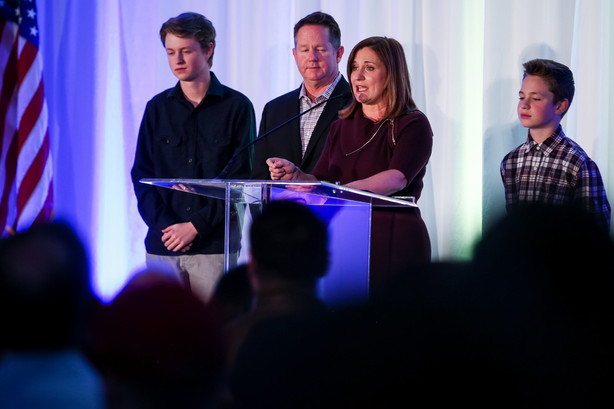 In her concession speech, Wilson said she entered the race with two objectives: to return a Senate seat to the people of Utah and to provide a voice for people who feel left out.
"I can tell you, that objective was met," she said of the latter. "Our campaign engaged with voters in every corner of this state."
Wilson said she will continue to fight for Democratic ideals "until the Trump rallies of division and hate are a thing of the past."
Though facing an uphill battle, Wilson campaigned hard on limited resources, raising less than $1 million compared to Romney's nearly $5 million, including $1.2 million from his presidential campaign account.
Wilson, a former chief of staff to Democratic Congressman Bill Orton, called for a new generation of leadership in Washington and "homegrown" representation for the state.
"I have one ask tonight of Mitt Romney," she said. "Do not forget about us, the people of Utah."
×
Photos
Related Stories