SALT LAKE CITY — A 17-year-old boy arrested for allegedly shooting three people at Tanner Park over a small-level drug deal has been charged as an adult with murder.
Andrew Whatcott, of Herriman, was charged Thursday in 3rd District Court with the first-degree felony, in addition to six counts of discharge of firearm causing serious injury, also a first-degree felony; and possession of a firearm by a restricted person and obstruction of justice, both second-degree felonies.
On Oct. 18, just after 4 p.m., police were called to Tanner Park, 2695 E. Heritage Way, where two men and a woman were shot. Domnyk Marez, 25, later died from his injuries.
The first arriving officers found a Subaru parked along Heritage Way with "multiple bullet holes in the windshield and the rear passenger door," according to charging documents. Marez was found "slumped over in the front passenger seat with a gunshot to the right side of his forehead," the charges state.
The female suffered a gunshot wound that went through her arm and into her chest, the charges state. The other male suffered four gunshot wounds in his right leg and right hand and had to have a finger amputated, according to charging documents. He remained in the hospital Thursday.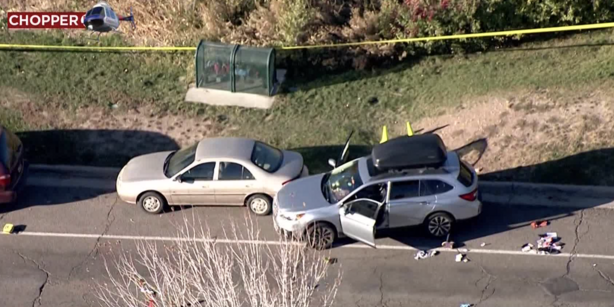 The woman later told police that she had arranged to buy marijuana from Whatcott, but they had a disagreement over the price when they met, the charges state. After the woman told Whatcott to get out of her car and he refused, Marez pushed Whatcott out of the vehicle, according to charging documents. When Marez told the woman to leave, "that was when 'Drew' started shooting at them," the charges state.
According to witnesses, Whatcott stood on a grassy area and fired multiple rounds into the Subaru, the charges state. Seven shell casings were collected by police. People who were walking in the area found the handgun that Whatcott allegedly used and threw out the window as he drove away, and turned it over to police, according to the charges.
Whatcott's vehicle was later located at an apartment complex and he was arrested.
According to charging documents, Whatcott has been convicted in juvenile court of aggravated assault and forcible sexual abuse, making it illegal for him to possess a gun.
Whatcott remained in juvenile detention on Thursday. Prosecutors have requested he be held now on no bail.
×
Related Stories