Estimated read time: 5-6 minutes
This archived news story is available only for your personal, non-commercial use. Information in the story may be outdated or superseded by additional information. Reading or replaying the story in its archived form does not constitute a republication of the story.
PARK CITY — Along with its ski slopes and resorts, Park City is known for movie stars at the Sundance Film Festival — but there's now a push by city officials to make it a community known for the stars in its night sky, as well.
City council members will vote on a plan for new lighting regulations later this year, which could result in the first changes to the city's lighting codes in over 20 years. The changes could also pave the way for Park City to wind up as Utah's next International Dark Sky Community — a designation that's only been handed out to a little more than two dozen communities across the globe to date.
Officials presented the proposal to residents Tuesday during the second of two online community discussions over possible lighting code amendments aimed to protect dark skies at night.
"Reducing light pollution saves energy, lessens the impact on human, animal and ecosystem health, as well as increasing public safety," said Liz Jackson, a planner within the Park City Planning Department, during the meeting.
The city's planning commission will review the plan during a public meeting on Nov. 11. It's set to be voted on by the Park City council on Dec. 10. If passed this year, all residents and businesses would be required to be in compliance with the new lighting code by the end of 2024.
The proposed ordinance change would mirror regulations passed last year by the county it's located in. Summit County officials passed an ordinance to require residents and businesses to install full cutoff lighting — with some exceptions — and ban types of lighting like spot/floodlights. Residents in unincorporated parts of the county have until March 13, 2024, to bring outdoor lighting to its updated code.
Rebecca Ward, land use policy analyst for the city's planning department, said city-owned properties would also be brought up to code. She explained that there are additional regulations to the lumen and Kelvin used for lights, which are the brightness and temperature of artificial lighting.
Some historic replica fixtures without full cutoff lighting capabilities would be required to have a lower lumen output that's different from other lighting fixtures, she added. Another notable exemption is holiday lights. The city's code currently permits holiday lights from Nov. 1 to April 15 with the lights turned off at midnight. Ward said that provision would not change under the proposal.
While officials touted cost savings under the regulations, Ward acknowledged that retrofitting some properties to follow new lighting regulation "can be really costly" for property owners. The city is looking to include a grant program to financially assist residents and businesses to get up to code.
What's a Dark Sky Community?
Official Dark Sky Community designations come from the International Dark-Sky Association, which was formed in 1988 to combat light pollution. Scientists say light pollution impacts everything from health to energy and wildlife. In 2001, the organization created the International Dark Sky Places program to "encourage communities, parks and protected areas around the world to preserve and protect dark sites through responsible lighting policies and public education."
Since then, four of Utah's five national parks, as well as various national monuments, state and local parks have received designation by the association. East Canyon State Park in Morgan County became the 14th Utah park to receive the status in August.
It's easy to spot the recent push for lighting regulation in communities to preserve dark skies in recent years from designations in the state by the International Dark-Sky Association, as well.
"Light pollution is a really important topic that is growing in academic and community circles. That's largely driven by the effects of it," said Aaron Dekeyzer, chair of the Utah International Dark Sky Chapter. "Light pollution is growing at twice the rate of human population growth. And as we transition — in the name of energy efficiency — to LED, it's really important that communities do it right."
Should Park City reach standards to qualify as a dark sky community, it could become just the third — and largest — community in Utah to reach the status.
Torrey, in Wayne County, was designated by the International Dark-Sky Association as Utah's first Dark Sky Community in 2018. The town with a population of a couple hundred is located near Capitol Reef National Park, which was designed as a Dark Sky Park three years before that.
Helper, in Carbon County, received the status earlier this year. Moab officials passed a new lighting ordinance last year that could also make it the state's third Dark Sky Community, as noted by the Moab Sun News. Many of the explanatory graphics presented by Park City officials in the dark sky proposal were credited to Moab's plan.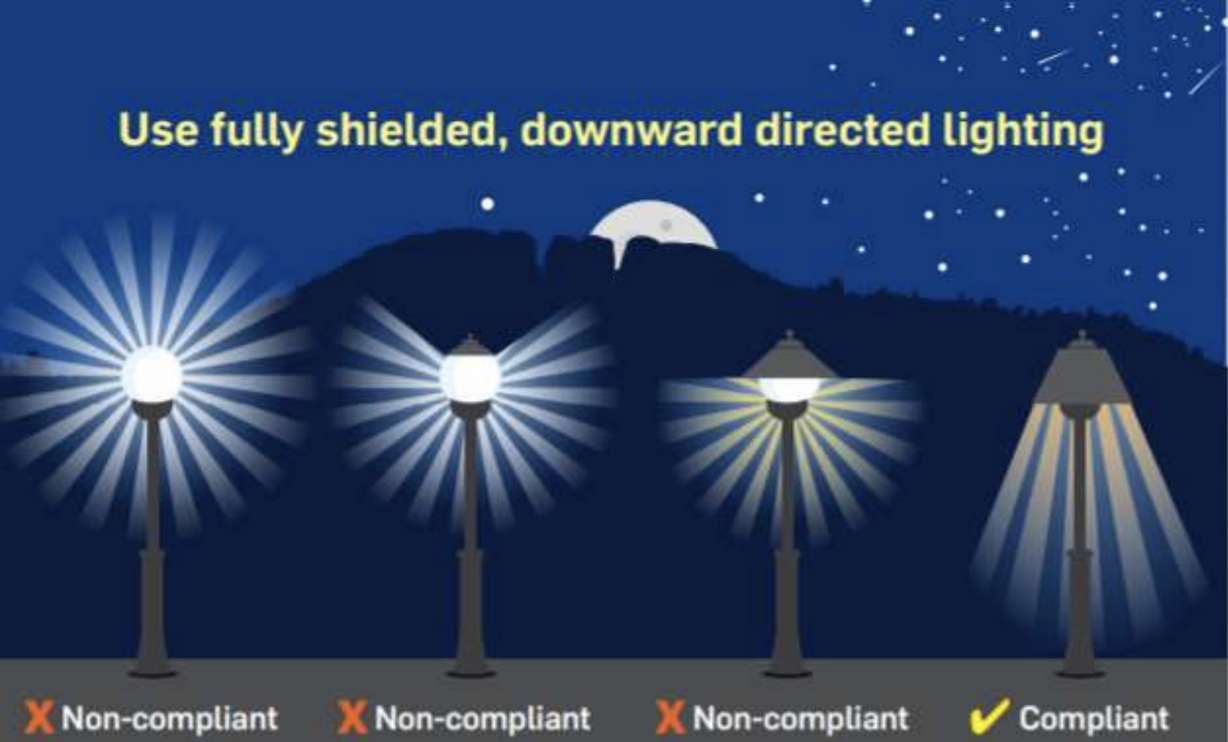 There are currently 22 communities across the U.S. with that status, including the Kaibab Paiute Indian Reservation near the Utah-Arizona border. Other Dark Sky communities in neighboring states include Flagstaff, Arizona; Ketchum, Idaho; and Norwood, Colorado.
Of note, Flagstaff's ordinance predated the International Dark-Sky Association by several decades. The city, now with a population over 70,000, enacted its ordnance in 1958 and the Milky Way is visible on clear nights even within the city, Jackson said.
Given the number of parks and growing list of Utah communities already acknowledged by the International Dark-Sky Association, as well as leading research by the University of Utah, Dekeyzer said Utah is now turning into a leader in the world when it comes to protecting night sky visibility.
"There is a lot of momentum in our communities … and cities all over are looking to update their lighting ordinances to preserve our heritage and ability to observe the night sky," he said.
×
Most recent Utah stories