PROVO — Before every football game at LaVell Edwards Stadium, BYU fullback Masen Wake inscribes three letters on his arm: M-O-M.
The word is a reminder to the 6-foot-1, 250-pound fullback of the reason he does what he does.
Every teeth-grating tackle. Every heart-stopping run. Every sensational shovel-pass for a touchdown.
Most importantly, every defense-stuffing block is made in remembrance of Wake's mother Pam, who died from cancer when he was about 9 years old. A caring mother, she was one who supported Wake in his football career.
So every time he puts on a uniform, whether it be at BYU or during a standout prep career at nearby Lone Peak High School, Wake remembers "Mom." He remembers the sacrifices she made for him, scribbling her name on his cleats and inking his bicep, one letter at a time.
And when he finds the end zone, he taps his chest and points to the sky, a symbol that while Mom may be gone, she's always close to him.
"She's been out of my life for a while, but she's definitely been with me," Wake said earlier this week. "She's made me who I am today. The trials that I've been through have made me stronger and everything I do is for her. I know she's with me every single day and I like to live life that way.
"Everything I do is to make her proud of me."
Behind the story of No. 12 BYU's 5-0 start to the 2020 season — the Cougars' best start since 2008, which continues Saturday against Texas State (8:15 p.m. MT, ESPN) — is the story of dozens of players. From Zach Wilson, the breakout junior quarterback earning way-too-early Heisman considerations, to breakthrough receiver Dax Milne and an emerging defense, the former walk-on who passed on scholarship offers to come to BYU and has worked his way to the top of the depth chart, the stories dot the lineup.
BYU, I'm convinced Masen Wake is real life SUPER MARIO (minus the mustache) and I'll prove it. @BYUfootball@masenwake22#BYU#wifesnothappyistillplaywithmyworktoysonmyfreetimepic.twitter.com/qgsYIgHpE3

— Isaac Halasima (@TIsaacHalasima) October 18, 2020
But in the background is Wake, the converted tight end known for muscling over opponents with the Knights, and a guy who has found himself thrust into the national spotlight — a true social media sensation — because of his early season surge and penchant for hurdling defenders.
The hurdles are what caught everyone's attention, from BYU fans to national college football writers to the immensely popular social media influencer known as PFT Commenter, who has struck up something of an online friendship with Wake.
But behind the gaping blocks and gasping runs is a fullback who admits he was always "a big guy" growing up, and who still speaks with his mother as if she is there, even if a dreaded disease took her from his world more than a decade ago.
"I know she's proud of me and I know my family loves seeing it," Wake said. "I don't know if people notice this, but after every touchdown I pound my chest and point to the sky, that's for my mom."
In BYU's 43-26 win over Houston — the Cougars' toughest test to date — Wake took his devotion and love for his late mother a step further. After hauling in a perfectly placed underhanded shovel pass from Wilson and trotting in 8 yards for a touchdown, Wake lifted up his jersey to reveal a white shirt with royal blue letters emblazoned across it.
The shirt read: "Rest in Heaven, Mom."
The fullback's utility has been waning in college football, sparked by a wave of spread offenses that have woken up even the most ground-and-pound NFL offensive coordinators to a new wave of thinking towards points, points, points.
But at BYU, the university once known as Quarterback U., the fullback is in full revival. Besides Wake, a sophomore who tops the depth chart at the position, former tight end and one-time defensive lineman Kyle Griffits are the top two fullbacks on the team.
Known for its flashy offense and big-play wide receivers like Milne, Gunner Romney and Neil Pau'u, the Cougars play virtually every snap with at least one player in the backfield. If it's not leading rushers Tyler Allgeier or Lopini Katoa, one can usually find the blocking backs who have learned to become weapons themselves.
The fullback isn't dying; it's just called something else. Most offenses utilize the fullback like former Patriots star tight end Rob Gronkowski, said BYU coach Kalani Sitake, a former fullback himself.
But Masen Wake is a true fullback, he added.
"Masen can do a lot of things that tight ends can do," Sitake said. "He can catch the ball, is physical, has great ball security and probably jumps a little too much for my comfort. I tried that too when I was playing, but he probably hung out with Chad Lewis too much this summer and thinks he can jump over everything.
"I just really like his style of play. What he represents on the field is important. He loves his family and wants to represent them the right way. He comes out here, sacrifices a lot for this team and does everything 100%."
In the mold of some of BYU's previous great blocking backs, Wake is a true fullback, even if the Cedar Hills native is also listed as a tight end on the Cougars' roster, as well. That's fine, too; while he practices every day with Isaac Rex, Carter Wheat and Lane Lunt under the watch of tight ends coach Steve Clark, Wake knows his role can change at any moment.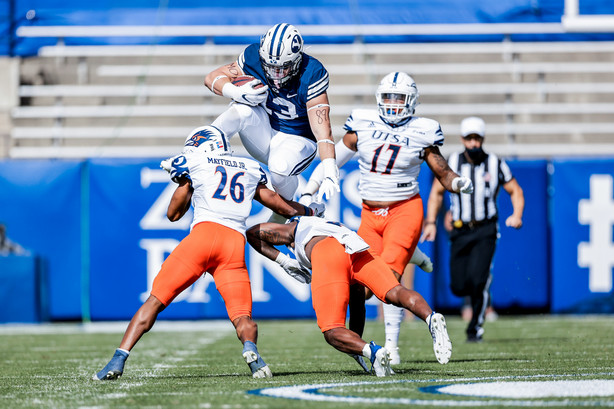 Clark and Sitake played a key role in bringing Wake to BYU, even if the walk-on fullback could've found a scholarship elsewhere — at least at a lower division or subdivision. But the Cougars' family atmosphere helped the Lone Peak standout feel comfortable with the program, even as coaches were texting him frequently, even incessantly — sometimes about more than football.
"One of my favorite parts about this staff is that everybody cares about each other — there aren't any 'me' guys on this staff," BYU safeties coach Preston Hadley said. "It starts with Kalani and his mindset, and then it's instilled in us as assistant coaches and to the players. That says a lot about Kalani, the coaches, and then the players.
"When times get hard, you rely on family. It's really something you are and not just something you say."
Wake's fondness for hurdling defenders — which he's shown off in wins over Navy, UT San Antonio and Houston in videos that are still spreading virally across the internet — has attracted the national spotlight. But he's more than a one-play offensive pony, too.
After playing in 12 games as a freshman in 2019, Wake has featured in every game of the season so far. He had two goal-line rushing touchdowns in the Cougars' 48-7 win over Troy, caught seven passes for 88 yards and a score, and even features on kickoff returns.
For as pivotal as he's been on the field, his teammates also appreciate the kind of person he is.
"Masen is awesome," said offensive lineman Chandon Herring, the 302-pound right guard. "Not only is he a great guy off the field, but on the field, he can do it all. We always tease him about his size and try to convert him to join the O-line. But he's too useful where he is, so we'll keep him there."
Being a jack-of-all-trades is nice. But his most important job is blocking.
"That's why I'm here: to hit people hard and block. All the other stuff then falls into place," Wake said. "Between blocking and catching the ball, I get way more joy out of blocking and pancaking a guy than I do catching a ball.
"Whatever I do, I'm trying to bring energy to the team."
On the air
No. 12 BYU (5-0) vs. Texas State (1-5)
Kickoff: Saturday, Oct. 24 at 8:15 p.m. MT
TV: ESPN
Radio: BYU Radio, KSL Radio
Series: First meeting
×
Photos
Related Links