PROVO — At first glance, BYU's 43-26 win Friday night at Houston felt like a classic Texas shootout, one that the Cougars have experienced before in previous victories over the Cougars or a certain other Texas school in Austin.
(Side note: What is it with BYU and the state of Texas, and why do they seem to produce a lot of points?)
Take a closer look, however, and you'll find the details of BYU's fifth win of the season — a win that gave the No. 14-ranked Cougars their first 5-0 start since 2008 — lies in the defense.
While perhaps best known for who wasn't there — Khyiris Tonga (illness), Lorenzo Fauatea (season-ending leg injury) or Micah Harper for much of the second half (targeting), to name a few — those who were present in TDECU Stadium made their mark felt.
At least, most of the time.
"I like the second-half defense, and the first-quarter defense," BYU coach Kalani Sitake said. "I think defensively, we had to change things up, and we had to challenge them a bit. We had to play some man-defense, and I like it. Our four-man rush was getting there, and hitting home.
"We knew that in the fourth quarter, we're usually stronger than most teams — and it paid off."
In a series where the first two games were decided by an average score of 40 to 30.5 — both in BYU's favor — the visiting Cougars knew a shootout was possible. Anything less than that average would take at least some modicum of defensive capability.
It wasn't always pretty — Houston piled up 438 yards of offense — nor was it consistent — 310 yards and two scores from quarterback Clayton Tune.
But when pushed up against the wall and needing a stop, the Cougars delivered. And this time, they delivered without having the reliable safety net of a 310-pound future NFL nose tackle in the middle of a four-man pass rush.
No one will argue that the absence of Tonga, who didn't make the trip to Houston with an illness that has been confirmed to be non-coronavirus-related, makes BYU a better defensive team.
But even in West Valley City native's absence, the Cougars proved they can still play a little defense.
"It was really hard to lose Khyiris this week," said senior Zac Dawe, a two-time All-American wrestler at Pleasant Grove who served a mission for The Church of Jesus Christ of Latter-day Saints in Houston. "It was unfortunate, but Khyiris was completely supportive of us. He made sure we knew he was with us. But Caden Haws and Gabe Summers stepped up, and I thought they did an excellent job. No one can replace Khyiris Tonga, but I thought those guys stepped up.
"We did our best, and had Khyiris' back tonight."
Once again, it started up front.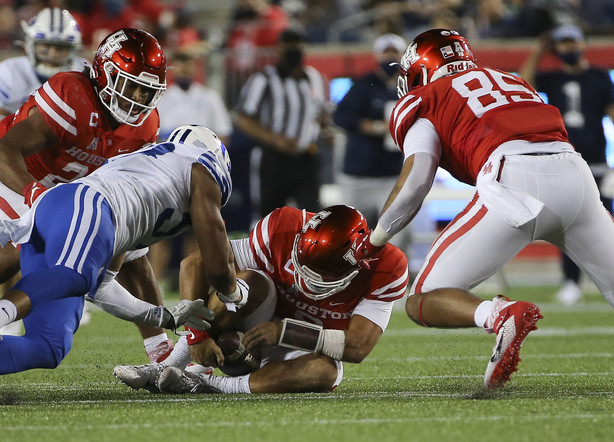 Dawe had a career-high eight tackles, including his best-ever mark of three tackles for loss, and the Cougars sacked Tune twice among six total tackles for loss. The pass rush didn't stop there, with Bracken El-Bakri added seven tackles, Keenan Pili had eight, and Isaiah Kaufusi added a sack, giving the Cougars 16 such backfield stops in the first five games of the season.
Through 13 games in 2019, BYU had just 17 sacks.
Caden Haws, the redshirt freshman who was the only healthy nose tackle listed on the Cougars' depth chart, added five tackles in his first career start.
They made some mistakes; no one is denying that. BYU trailed at halftime for the first time since falling behind 10-7 against Boise State a year ago. But like a defending state champ forced to the mat in the third period, BYU fought off its back. After Tune single-handedly gashed BYU for a 23-0 run through the middle two quarters, something changed.
The Cougars knew the other Cougars could score; just ask Tulane, which pushed No. 17 SMU to overtime a week after falling to Houston, 49-31. Dana Holgorsen doesn't have a reputation for a high-octane Air Raid offense for nothing.
"We talked about how this is a good team," BYU quarterback Zach Wilson said. "They can score the ball, and they can get stops fast. We knew there could be a moment in this game when we were down. We just had to score tonight.
Still, BYU battled back. They fought. Call them second-half adjustments. Call it desire, heart, endurance, conditioning, altitude advantage.
An absolutely beautiful onside kick pic.twitter.com/QKid80YJvN

— Unnecessary Roughness (@UnnecRoughness) October 17, 2020
Whatever it was, Houston had just eight yards of offense in the fourth quarter, thanks in large part to a pass rush, a few special-teams tweaks, and an aggressive onside kick that was perfectly placed by Jake Oldroyd and hastily corralled by Talmage Gunther. Houston's five fourth-quarter possessions ended in three punts and two turnovers on downs after a combined 19 plays.
Either way, BYU had its backs against the wall, and couldn't afford to fall any further behind in the final quarter and change than it had previously done when the home Cougars led by as much as 26-14 — the visiting Cougars' first double-digit deficit of the season.
"We're used to adversity," Dawe said. "This is an experienced team. We've been through adversity and we prepared for it in the offseason. Nu'u (Tafisi, BYU's strength and conditioning coach) and the guys are making us blow chunks and push sleds all summer. So we're ready for the fourth quarter and we're going to bring our best.
"We're seasoned, and at the end of the day, we're so tight and have each other's back."
BYU top defensive players
Keenan Pili: 8 tackles, 1 TFL
Isaiah Kaufusi: 8 tackles, 1 sack, 1 forced fumble
Zac Dawe: 8 tackles, 3 tackles for loss (1 sack), 1 pass breakup
Payton Wilgar: 5 tackles, 2 pass breakups
Caden Haws: 5 tackles, first career start
×
Photos
Related Links