Estimated read time: 5-6 minutes
This archived news story is available only for your personal, non-commercial use. Information in the story may be outdated or superseded by additional information. Reading or replaying the story in its archived form does not constitute a republication of the story.
PROVO — Gunner Romney's motor on the football field has helped No. 14 BYU to its first 4-0 start since 2014, as evidenced by his team-high 453 receiving yards and a pair of touchdowns.
His motor away from the stadium, though, is just as strong.
Maybe even stronger.
Maybe even too strong.
"The guy works hard," head coach Kalani Sitake said. "He doesn't talk a lot, and when he first got here, he definitely did a lot of talking. But he probably worked too hard when he came in as a true freshman.
"His freshman year, we had to slow him down. He had some soft-tissue injuries, because he was just working too much. We'd have two-a-days, and he'd want to go do more running afterwards."
Through four games in 2020, Romney ranks first in BYU's balanced scoring offense with 453 receiving yards. His 20 receptions (which is second only to fellow wide out Dax Milne's 24) averages a staggering 22.6 yards per catch, and he ranks 10th nationally with 113.3 receiving yards per game ahead of the Cougars' road trip to Houston at 7:30 p.m. MT Friday (ESPN). He's also the first BYU receiver to collect 100-plus receiving yards since Cody Hoffman in 2012.
A product of the Mormon Colonies in Colonia Juarez, Mexico, who signed with BYU in 2018, Romney grew up on the family's farm, running around without a shirt or shoes, riding bikes, jumping on four-wheelers, and getting injured by his older brother Baylor. The family lived there until moving to El Paso, Texas, where Baylor graduated from high school just before Gunner started his own prep career in the Phoenix suburb of Chandler, Arizona, his father Cade told BYUtv.
To this day, Gunner Romney claims that big brother was responsible for his first broken bone, an arm injury when Baylor pushed him off his bike as a child. Baylor Romney, as any good big brother will do, denies the story.
"Gunner's a little more impulsive, a little more 'heat of the moment' kind of guy," Baylor Romney told BYUtv recently with a cheeky grin. "He always thinks I'm boring."
So when the two met up at BYU — Gunner as a top-tier wide receiver recruit out of Chandler High School, where he paired with recently returned missionary and four-star quarterback Jacob Conover; and Baylor after initially signing with Nevada prior to a two-year mission for The Church of Jesus Christ of Latter-day Saints — the wideout just wanted to work.
He worked so hard that a couple of minor injuries may have slowed his early production, which included 162 yards and two touchdowns as a freshman, and 377 yards and two more scores a year later.
In Saturday's 27-20 win over UTSA, Romney also left the game briefly after picking up a knock. But he returned following evaluation from the team's medical staff and finished with 80 yards on four catches — his first game of the year with fewer than 100 receiving yards.
That knock amounted to little more than "bumps and bruises," Romney said Monday after the game. But he's also learned to pay heed when something feels off, physically.
"I think I've learned to listen to my body a lot better, to take care of it," Romney said. "That's one thing the training room and medical staff have done a great job of teaching me."
The younger Romney has surpassed both receiving marks through just four games as a junior, stepping into a larger leadership role alongside fellow junior Dax Milne (366 yards, 1 touchdown). As vital as the pass-catching role has been as junior quarterback Zach Wilson's primary targets, the leadership role is even bigger, following the departure of graduated senior wide receivers Micah Simon, Talon Shumway and Aleva Hifo, as well as the preseason Achilles' injury to tight end Matt Bushman.
Romney learned a lot from those older players, and now it's his turn to take over as an upperclassman. He's not the consummate hype man and doesn't engage much in 'rah-rah' cheers and attitudes.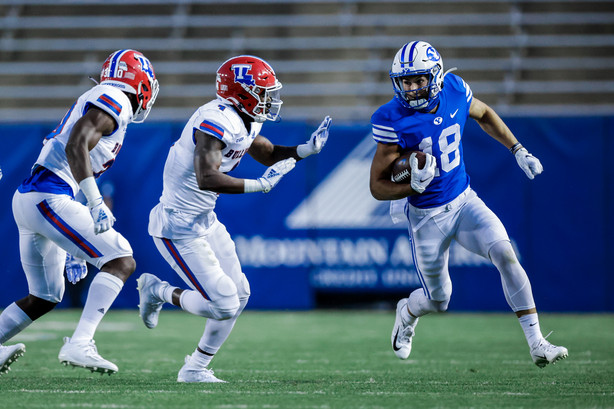 But his quiet leadership goes a long way — both for his teammates, and himself.
"I feel like my confidence is at an all-time high," Romney said. "The game is coming a lot easier to me now because of that experience."
He's not the only one. While Romney ranks fourth nationally in receiving yards, the BYU offense is fifth nationally in averaging 7.81 yards per play and 556.8 yards per game.
Of course, Wilson receives plenty of credit — as he should, as the starting quarterback of a place once dubbed "Quarterback U.," with 1,241 yards and eight touchdowns with just one interception and a completion rate of 81.2%.
But there's more to the offense than the quarterback — starting, of course, with his prime target.
"Our offense is super experienced. Most of the guys playing and contributing have a couple of years under their belt," Romney said.
"The play-calling has been really good. Everybody has stepped up. Overall, our line is amazing, we have running backs who run super hard, our quarterback gets the ball where it needs to be, and receivers make plays."
On the air
No. 14 BYU (4-0) at Houston (1-0)
Friday, Oct. 16
Kickoff: 7:30 p.m. MT
TV: ESPN
Radio: BYU Radio, KSL 1160 AM/102.7 FM
Series: BYU leads, 2-0
×
Photos
Related Links