SALT LAKE CITY — This Halloween will be one for the books. We'll be swapping big Halloween parties for smaller family parties and rethinking our usual Halloween traditions.
This year is the perfect time to try out new spooky recipes to enjoy at home as we focus on smaller, simpler ways to celebrate and enjoy time with our loved ones. These delicious Halloween-inspired meals and treats will turn this unprecedented year into one full of new and fun memories. Choose a couple of these recipes to make with your family this year.
Snacks
Last-Minute Halloween Snacks via registered dietitian Shannon A. Garcia of KISS in the Kitchen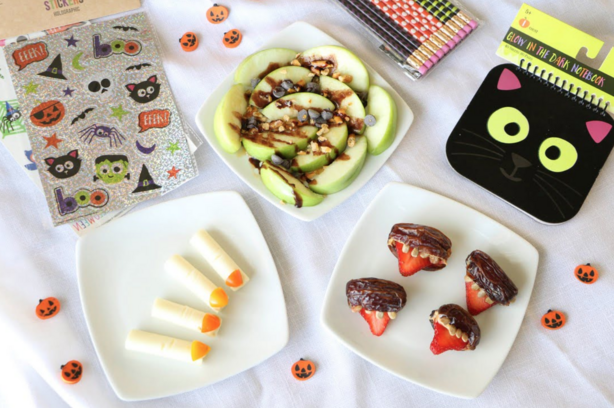 Garcia shares really easy recipes to make vampire ice cubes, witch fingers (using string cheese and bell peppers), apple nachos and spooky mouths (with dates and strawberries). If you're a procrastinator like Garcia and myself, these snacks are perfect for you to celebrate Halloween.
BooBerry and Vanilla Banana Ghosts via registered dietitian Lauren Harris-Pincus
How fun are these ghosts? These are a great project for younger children. The kids can dip their bananas and get creative making spooky faces on them!
Spooky Black Bean Hummus via registered dietitian nutritionist Karman Meyer of The Nutrition Adventure
Meyer's recipe is easy, flavorful and perfect for a quick snack. You can serve it with crackers and veggies so everyone can choose what they dip in the spooky hummus!
Everything Bagel Pumpkin Seeds via registered dietitian Laurel Deininger
I'll be honest, these aren't exactly a spooky Halloween treat, but it's a great way to use up all those pumpkin seeds after carving pumpkins.
More Easy Halloween Snacks via Jessica Penner of Smart Nutrition.
Penner shares fun Halloween-inspired snacks, like pancake spider webs with raisin flies and apple spiders, apple monsters with a few different types of fruit, strawberry jack-o-lanterns with chocolate, witches' broomsticks with pretzels and cheese and orange jack-o-lanterns.
Spooky Graveyard Cup of Dirt via Holley Grainger of Holley Grainger Nutrition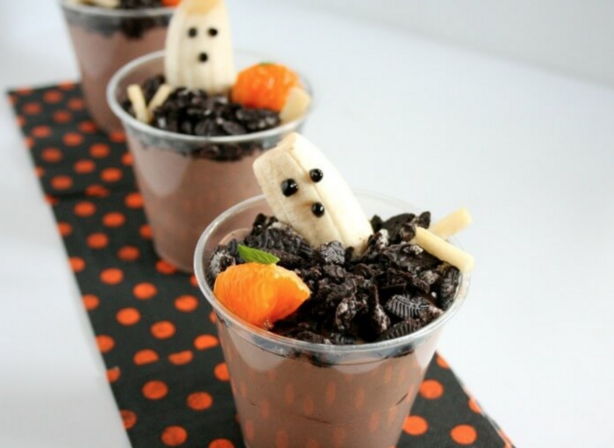 Turn a traditional cup of dirt desserts into a spooky cemetery. These cups of dirt swap the pudding for yogurt and add a couple of fruits to the dirt to make it great for a dessert or a snack.
Meals
Mini Halloween Mummy Meatloaves via registered dietitian Chrissy Carroll of Snacking in Sneakers
Chrissy uses a mixture of ground beef and mushrooms to make these mini meatloaves. The mushrooms add a great meaty texture and cut down on the price of this meal. Plus, they're adorably spooky and perfect for little and big hands.
Jack-O-Lantern Vegan Stuffed Peppers via Rebecca Bitzer and Associates.
These bell peppers will be so much easier to carve than pumpkins. They're a great plant-based dish for you and your whole family.
Mummy Meatballs with Marinara Dip via family dietitian Crystal Karges of Crystal Karges Nutrition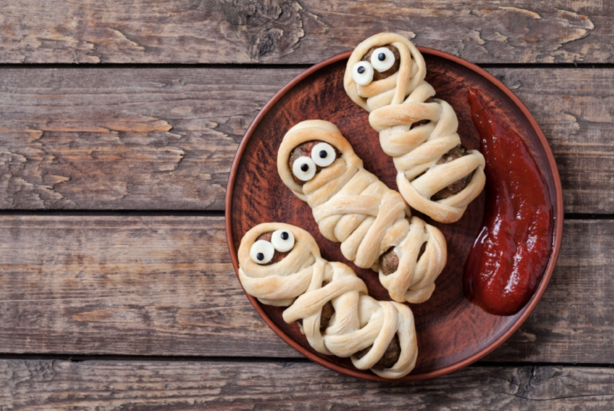 These pizza dough-wrapped mummies are so fun to make and eat! They're perfect for an easy family-friendly Halloween dinner.
Yummy Mummy Pizzas via Holley Grainger of Holley Grainger Nutrition
These yummy pizzas are easy and great for the whole family to enjoy. Have younger kids assemble their own and put their creativity into the toppings.
Treats
This is my favorite Halloween treat, hands down. I melt my favorite semi-sweet chocolate chips (use your favorite), toast quinoa and chop up Halloween candy to make this easy bark. The unexpected addition of quinoa adds a great nutty flavor and a wonderful crunch. Plus, it's a great way to use up some candy in a fun way!
Candy Corn Jell-O Cups via registered dietitian nutritionist Sarah Pflugradt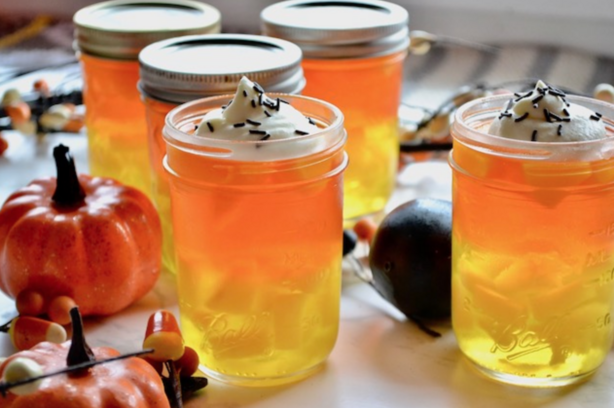 Sarah uses lemon, orange and pineapple jello and canned pineapple chunks to make these adorable Halloween gelatin cups. These definitely taste better than traditional candy corn! (Note: use canned pineapple in this recipe, fresh pineapple won't allow the gelatin to set.)
Halloween Spiderweb Cookies via registered dietitian Anne Mauney of fANNEtasticfood.com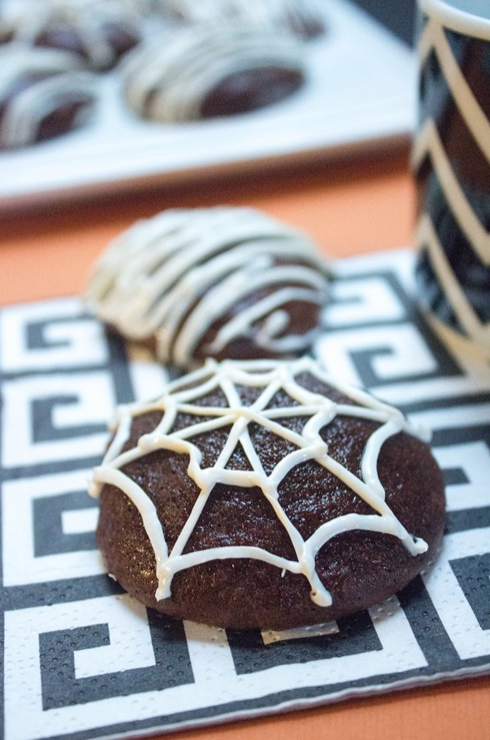 Maple brownie cookies WITH a cream cheese frosting spiderweb? Yes please! These cookies not only look like the perfect Halloween cookies, but the maple makes them feel like fall too!
Monster Yogurt Covered Pretzels via Maggie Farley of Meals with Maggie
Break out your food coloring and googly eyes to make these brightly colored, fun yogurt-covered pretzel sticks. They're perfect for the whole family to make and delicious to eat.
Now, choose a couple of fun Halloween recipes to make with your family to enjoy this unique holiday!
---
---
Editor's Note: Anything in this article is for informational purposes only. The content is not intended, nor should it be interpreted, to be a substitute for professional medical advice, diagnosis, or treatment. Always seek the advice of your physician or other qualified health provider with any questions you may have regarding a medical condition; Any opinions, statements, services, offers, or other information or content expressed or made available are those of the respective author(s) or distributor(s) and not of KSL. KSL does not endorse nor is it responsible for the accuracy or reliability of any opinion, information, or statement made in this article. KSL expressly disclaims all liability in respect to actions taken or not taken based on the content of this article.
×
Photos
Related Stories