Estimated read time: 11-12 minutes
This archived news story is available only for your personal, non-commercial use. Information in the story may be outdated or superseded by additional information. Reading or replaying the story in its archived form does not constitute a republication of the story.
SALT LAKE CITY — Hello National Apple Month!
Apples are such a great and convenient fruit to eat. They're pretty readily available at grocery stores, convenience stores, and lots of other places. They're easy to carry and eat either plain or with peanut butter, or they can be cooked to make a completely different dish. They come in a bunch of varieties, so you can choose your favorite apple based on its sweetness and crispiness. They're really the best fruit out there.
But I need to be honest. I grew up in eastern Washington, where loving and picking apples is a way of life. There's probably a special gene for Washingtonians that makes us love apples. Again, they're super easy to find, delicious and easy to transport for a snack.
While I save my favorite apples for straight snacking (I'm looking at you Utah's Own Pyne Farms Braeburn apples), apples are still great to cook and bake with. This is especially true for apples that may not be as crisp as you'd like. Instead of tossing them, saute them or bake them to enjoy their great flavor and not have to worry about their texture.
Before we go into great recipes for different apple varieties, let's go over a few tips to pick out the best apples for snacking at the store:
Your apple should be firm to the touch. If it feels soft, mushy or leaves an indent when you gently squeeze it with your fingers, then your apple may be mealy and not great for snacking.
Check your apple for visible bruising. While visible bruises won't taste good when you're snacking on them, if you're making apple sauce or cooking them then that may not be as much of an issue.
Do a sniff test. Bring an apple up to your nose and take a sniff. if it smells sweet and fragrant like an apple, then it should be good. If it doesn't smell like much of anything, it may not have much flavor. (Note: If your apple is refrigerated, then you may not be able to smell its sweet, fragrant scent.)
Now, let's get into a few easy-to-find, popular apple varieties in Utah. They range from the tart Granny Smith apple to sweet Fuji apples. Each variety has uses that make the most out of its unique flavor and texture. I'll share a few recipes for each variety to help you make the most out of apple season in the kitchen. I'll also admit that my favorite apples are a good mixture of sweet/tart and are very crisp. So, if you like sweeter apples (like Fuji and Gala), take my personal recommendations with a grain of salt.
I got my apple info from the Washington Apple Commission, where the categories are listed from least to most sweet. There is variability in each apple, but we'll go by their general tartness/sweetness.
Granny Smith
Granny Smith apples are the most tart of the easy-to-find apple varieties. They are bright apple green, very crisp and they originate from Australia. Granny Smith apples are excellent in salads, sauces, pies, and are great for freezing. I like them best to eat with caramel or to make caramel apples with. The tartness and crispness from this apple make it better than any other for caramel apples.
Dip them into this Peanut Butter Caramel: If you haven't made your own caramel before, this is the recipe to try! It's easy, quick and has added peanut butter powder for added protein and flavor. This recipe takes just about 15 minutes and is delicious on Granny Smith apples or other crisp-tart apples.
High Protein Cranberry Apple Oatmeal via registered dietitian Rachael Hartley of Rachael Hartley Nutrition: This is a great recipe to make if you've got leftover fresh cranberries from Thanksgiving (or whenever you buy fresh cranberries). I'm salivating over the tart cranberries and apples in this oatmeal recipe. Also, she adds eggs to this oatmeal to make it high-protein. What a great idea.
Caramel Dutch Apple Pie from Backyard Bohemian: Sure, lots of apples would work in this recipe, but I think you're doing yourself a disservice by using any apple other than Granny Smith apples. The sweetness of the crumbly topping plus the caramel requires a crisp tart apple. I'm drooling over here thinking of this pie.
Apple Thokku from Sandhya Ramakrishnan from My Cooking Journey: Apple Thokku is essentially South Indian apple pickles. Ramakrishnan says this is a great recipe to use the last apples that you may not want to eat plain.
Caramel Apple Cupcakes from Greedy Eats: If you can't see already, these tart Granny Smith apples are great when added to a traditionally sweet food, and they're great baked. These cupcakes would be delicious with Granny Smith apples or even golden delicious apples.
Healthy Apple Fennel Stuffed Pork with Irish Whisky Sauce from Erica's Recipes: Apples + pork is one of the best apple flavor parings. The addition of fennel and the Irish whisky sauce just takes this delicious pork dish over the top.
Apple Cinnamon Rolls from Greedy Eats: The only way to make cinnamon rolls even better is to add fresh apples to them. Golden delicious apples would probably be great in this recipe too.
Caramel Apple Snickers Salad from Dancing Through The Rain: Granny Smith apples + whipping cream + vanilla Jell-o + Snickers. Need I say more?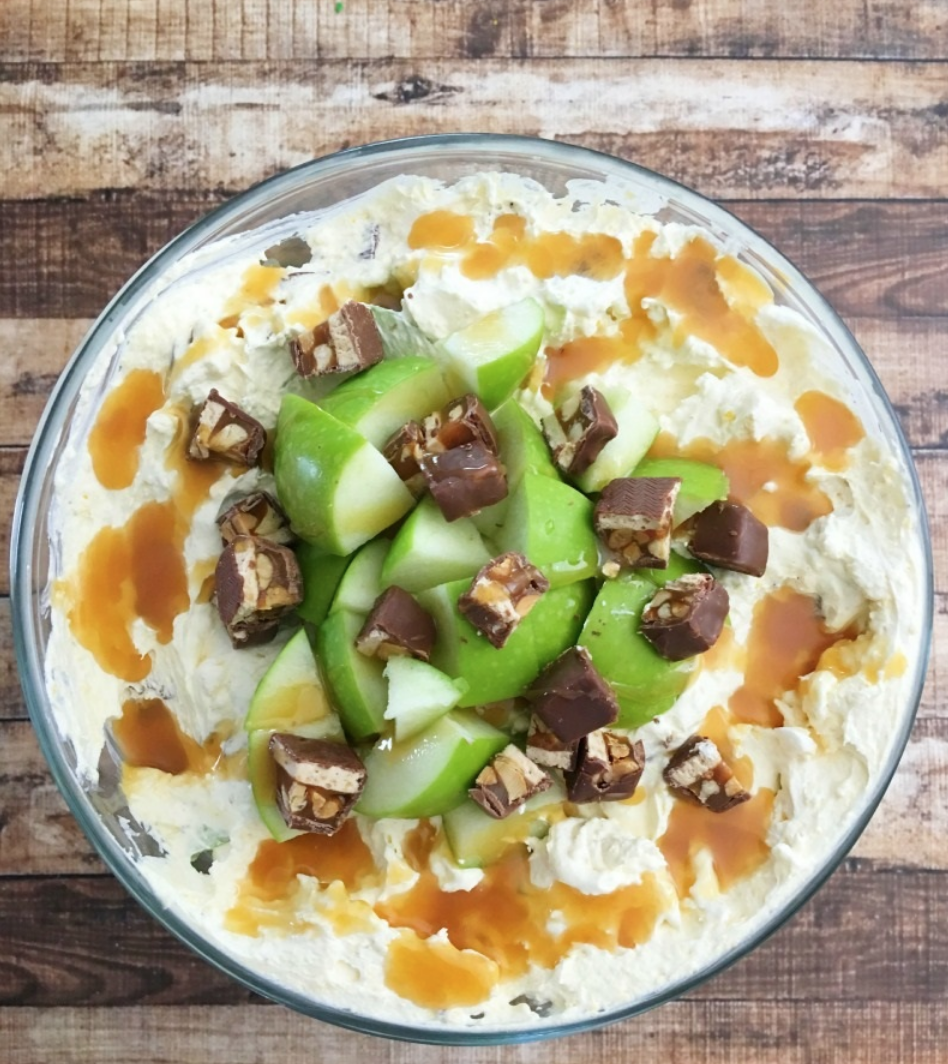 Pork Chops with Apple-Sage Sauce from Food Meanderings: Again with the apples + pork. This is like fall and Thanksgiving flavors all coming together. The recipe creator adds a touch of apple juice for extra apple flavor in the sauce.
Golden Delicious
Golden Delicious apples are a light green color and are just a bit sweeter than they are tart. They've got a nice crisp texture and they originate in West Virginia. Golden Delicious apples brown more slowly than many other varieties, so they maintain their white/yellow flesh for longer than others. They're great to eat plain, to freeze, to turn into a sauce, or to make into a pie. Growing up, Golden Delicious apples were my favorite when we'd go apple picking. They're excellent off the tree.
Kale, Apple, and Pecan Salad: First of all, this salad is great with Golden Delicious, Braeburn, Granny Smith and other tart apples. Serve it over a pan-fried pork chop for an easy, flavorful dinner.
Easy Apple Scones from Super Golden Bakes: This recipe calls for 1/2 Granny Smith apples and 1/2 Pink Lady apples, but I'm just dreaming of Golden Delicious apples. They're great because they're not quite as tart as Granny Smith apples but are nice and crunchy, so they'll grate well in this recipe.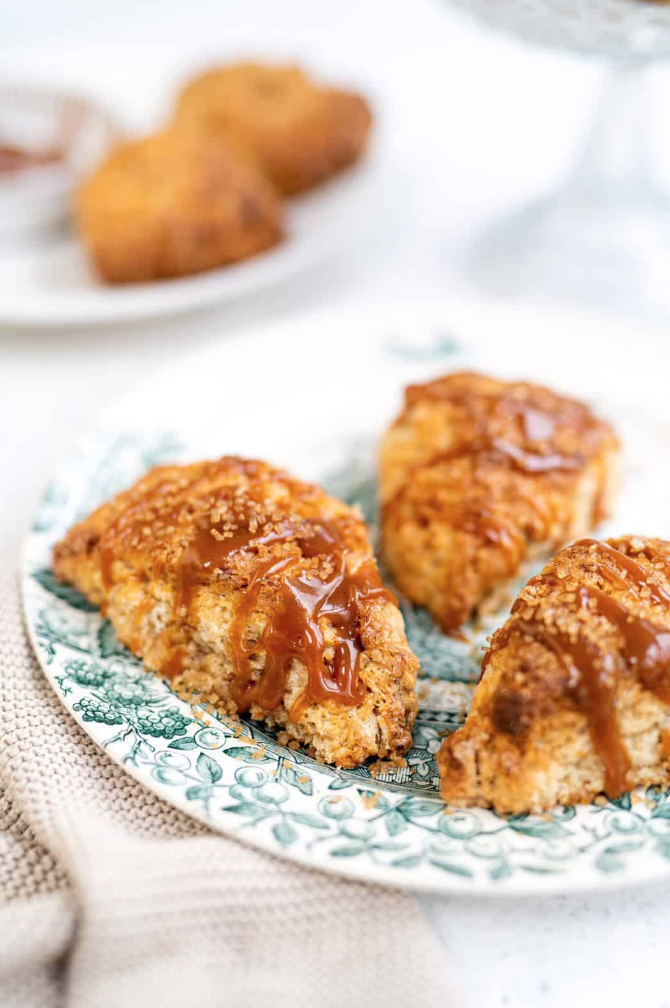 Sheet Pan Sausage, Potato and Apple Dinner from Brooklyn Farm Girl: Sausage and apples are such a great flavor combination. Swap the Golden Delicious apples for Honeycrisp if you need to. This simple dinner tastes like fall in one plate
Apple Cinnamon Apple Butter from The Belly Rules the Mind: This apple butter recipe is perfect if you went apple picking and have A TON of apples that need to be used up quickly. This recipe can be made in batches and frozen. Apple butter can be used as you'd use apple sauce, but it's got deeper flavors than apple sauce usually has.
Honeycrisp
Honeycrisp apples are a great combination of tartness and sweetness. They're very crisp and delicious, with red and green patches, and you can easily find giant ones at the store. They were developed in Minnesota and are one of my favorite apples. They're usually more expensive than the other varieties but are super delicious and juicy. They're great in salads, for snacking, in sauces, pies and they freeze pretty well, too.
Apple Omelet with Sharp Cheddar: If you haven't added apples to your morning omelet, now is the time to try it. I first had apples + sharp cheddar cheese in a New York City diner and I've been dreaming about it ever since. The crisp, sweet apples, sharp cheddar cheese, and creamy eggs are such a great combination in this recipe. You can use Fuji apples, or even Granny Smith in this recipe, too.
Easy Slow Cooker Baked Apples via registered dietitian Kara Lydon: She used Cortland apples for this recipe, but you can use any crisp apple that you'd like. They just take 10 minutes to throw together, and you let your slow cooker do all the work. What a great, easy fall dessert.
Grilled Apple Cheddar Bleu Cheese Sandwich via registered dietitian Jenny Shea Rawn of My Cape Cod Kitchen: There are so many great flavors going on in this simple sandwich — sweetness from the apple, funkiness from the bleu cheese, and tanginess from the cheddar cheese.
Fried Apple Crisp from Quiche My Grits: She cooks down the apples in butter for a great, crisp base that's tender, buttery and spiced to perfection.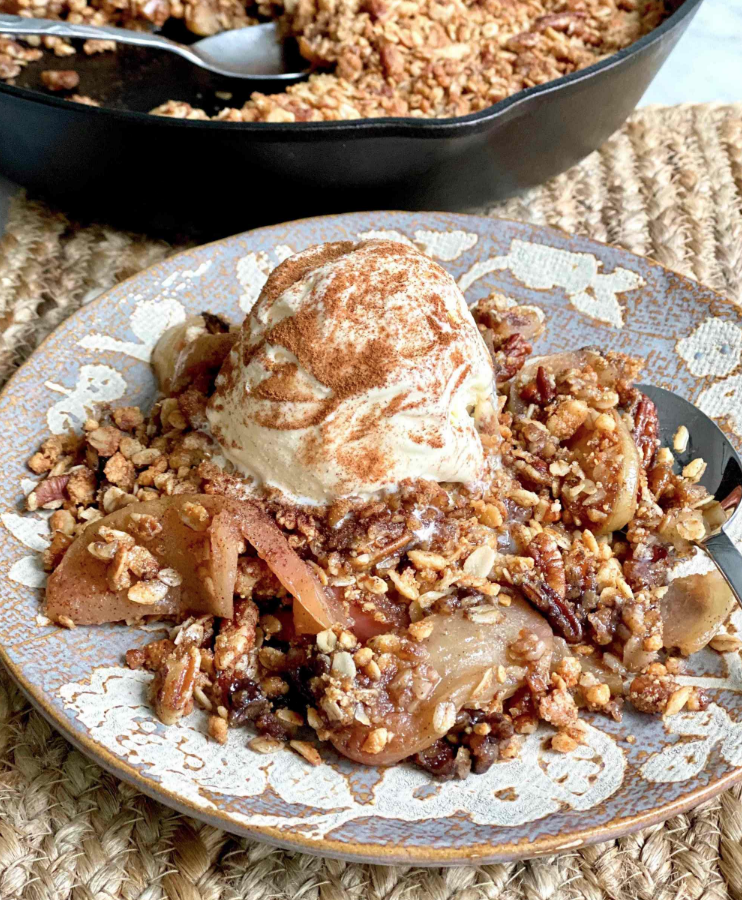 Gala
Gala apples are very easy to find at the grocery store. They're on the sweeter end of the scale and are often less expensive than other varieties. Gala apples are round and have orange/red striping; they originate in New Zealand. Gala apples are great for snacking, baking, sauce and pies, but not great for freezing. Just like red delicious apples, my experience is that grocery store Gala apples are fairly soft, especially compared to Fuji and Honeycrisp apples. In my mind, that makes them great for cooking/baking.
Braised Red Cabbage and Apples via registered dietitian nutritionist Jessica Levinson: Braised red cabbage can be a little bit bitter, but when you add apple slices, you sweeten it up while adding in great apple flavor to this simple veggie side dish.
Apple Pumpkin Pie Baked Oatmeal via registered dietitian nutritionist Sarah Schlichter of Bucket List Tummy: This baked oatmeal is easy to make and a perfect fall breakfast with the pumpkin and apples. Adding apple slices sweetens up this oatmeal without having to add a bunch of added sugar. It's a great make-ahead breakfast.
Apple Cinnamon No-Bake Cookies via registered dietitian Alena Kharlamenko: These no-bake cookies are the perfect quick-to-make snack. No need to turn the oven on. All you have to do is cook the apples, then mix in with the rest of the ingredients. Let them set in the fridge for 20 minutes, and you've got a batch of no-bake cookies.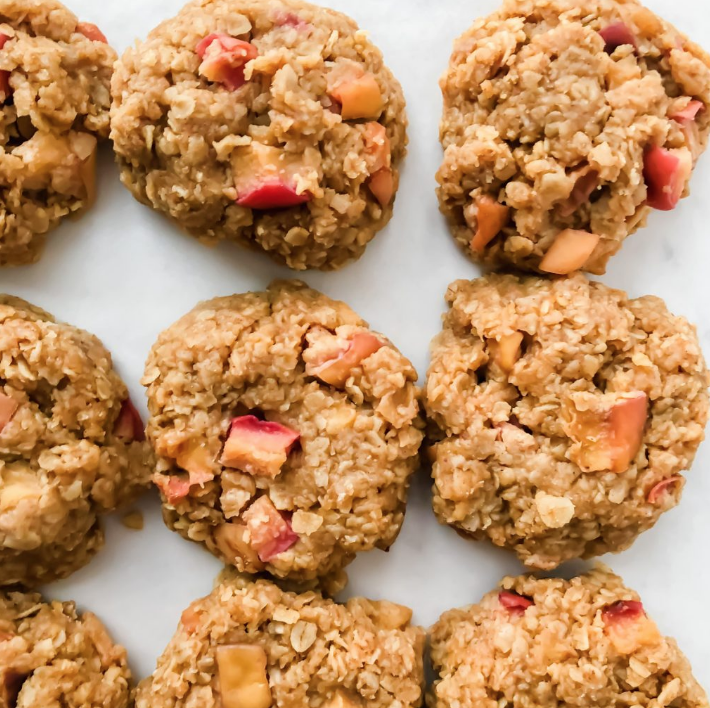 Instant Pot Apple Butter from Cravethegood.com: Apple butter is basically extra flavorful, sweet apple sauce. When you cook it longer, it gets deeper apple and spiced flavors than traditional apple sauce. Definitely try this recipe with some Gala apples this year.
Fuji
For a long time, Fuji apples were the crispest apples in my mind. Fuji apples are very popular these days, they're crisp, sweet and easy to find. They originate in Japan. Look for generally red apples with a touch of yellow/orange. They're great in salads, for snacking, in pies sauces, and for freezing, too. They're actually the sweetest apple on this list.
Pan Fried Pork Chops with Sauteed Apples: Lots of apples would work in this recipe, so go for your favorite one and it'll taste great. This one-pan recipe is a play on the classic pairing of a pork chop with apple sauce. All you have to do is quickly saute apples and a few vegetables with your cooking pork chop to make this recipe.
Vegan Cranberry Apple Crumble via registered dietitian Shahzadi Devje of Desi-licious RD: Cranberries and apples make a great flavor combination. This crumble is vegan and gluten-free, so it's perfect if you can't have gluten and want a delicious vegan dessert.
Crock Pot Pear Pumpkin Applesauce from Returntothekitchen.com: This recipe combines all of the best fall flavors. I've never had pumpkin, pear apple sauce before, but I'm intrigued by this great combination of flavors.
Apple Loaf with Cinnamon Cream Cheese Glaze from The Cookie Dough Diaries: This apple loaf + glaze can be made vegan or not. I've never thought of adding a cream cheese glaze to apple cake, but I don't think I'll be able to not do that from now on. This is an easy recipe with great flavors in it.
One Dish Apple Dump Cake via Lorie of Lemons and Zest blog: One-dish apple dump cake? Can life get any better? This recipe is great with Gala apples or Fuji apples.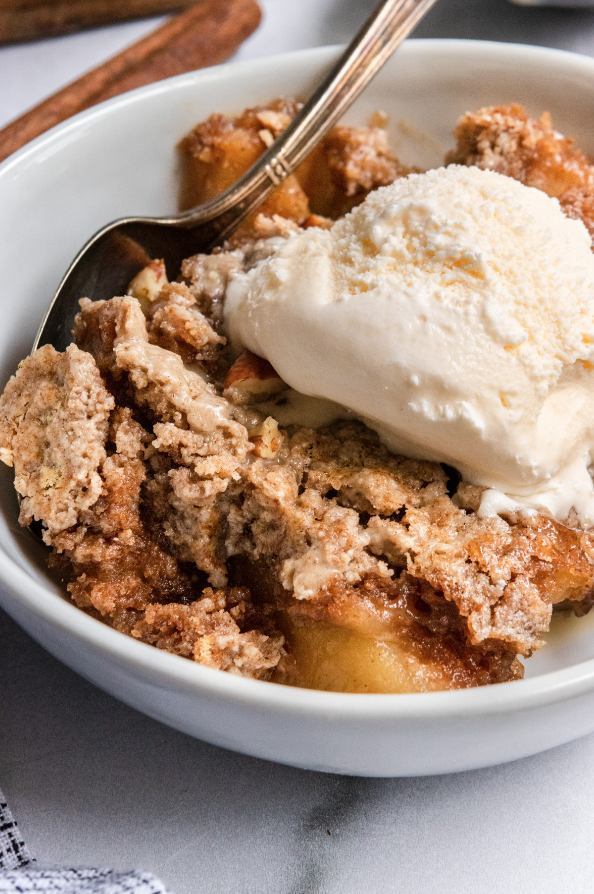 Of course, you don't have to stick to using the apple category each recipe is placed under. Lots of these recipes would be great with other types of apples, but this is just to get you started. Now you've got a long list of recipes to use your favorite apples in (or try new apple recipes with), enjoy National Apple Month this October.
More from Rebecca Clyde:
---
---
Editor's Note: Anything in this article is for informational purposes only. The content is not intended, nor should it be interpreted, to be a substitute for professional medical advice, diagnosis, or treatment. Always seek the advice of your physician or other qualified health provider with any questions you may have regarding a medical condition; Any opinions, statements, services, offers, or other information or content expressed or made available are those of the respective author(s) or distributor(s) and not of KSL. KSL does not endorse nor is it responsible for the accuracy or reliability of any opinion, information, or statement made in this article. KSL expressly disclaims all liability in respect to actions taken or not taken based on the content of this article.
×
Photos
Related stories
Most recent Lifestyle stories