Estimated read time: 11-12 minutes
This archived news story is available only for your personal, non-commercial use. Information in the story may be outdated or superseded by additional information. Reading or replaying the story in its archived form does not constitute a republication of the story.
SALT LAKE CITY — As a spike in cases continues in the state, Utah leaders have been forced to go backward for the first time since the start of the COVID-19 pandemic and Utah County has implemented a mask mandate in response to the rising cases.
Provo and Orem will be moving back to the orange, or moderate restriction, level for COVID-19 starting at 11:59 p.m. Wednesday, state health officials announced Tuesday. Utah's number of COVID-19 cases increased by 650 from Monday, and two deaths. They said Utah County has accounted for a large number of the new cases over the last week.
"This is the first time we've rolled backwards," Utah Gov. Gary Herbert said at a Tuesday afternoon press conference.
Utah County has accounted for about 42% of COVID-19 cases over the past week, despite being home to only about 20% of Utah's total population, according to health department state epidemiologist Dr. Angela Dunn. Provo and Orem have accounted for about 57% of all Utah County's COVID-19 cases during that time, she added.
Overall, Utah's rolling seven-day average number of positive cases per day is now at 857, up from just 522 this time last week, according to the health department. The positive test rate per day for that time period is now 13.9%, up from 10.6% last week, Dunn said.
While Provo and Orem move backward, Rich County in northern Utah will be allowed to move to the green, "new normal" restriction level as of 11:59 p.m. Wednesday, health department director Rich Saunders announced.
---
Utah Gov. Gary Herbert, Utah Department of Health state epidemiologist Dr. Angela Dunn and health department director Rich Saunders provided a COVID-19 update at a news conference Tuesday afternoon. Watch a replay of the event below.
---
Utah County issues mask mandate
Hours after Provo and Orem were moved back under orange restrictions, the Utah County Commission and the Utah County Health Department issued a mandatory mask mandate for everyone in the county — even those under yellow restrictions — when in a public place where social distancing is not feasible.
The announcement came late Tuesday night as part of a public health order.
"If recent trajectory of cases were to continue, our healthcare system's capacity could be at risk and the entire county may be put back into Orange Level restrictions," read a joint statement from commissioners Tanner Ainge and Nathan Ivie along with Utah County Health Department executive director Ralph Clegg. "Please join with us in doing all we can to slow the spread during these next 30 days."
The mask mandate goes into effect immediately and will expire at 11:59 p.m. on Oct. 20, 2020, unless it is extended or rescinded before that time.
Earlier Tuesday, Herbert said that he encouraged Utah County to explore a mask mandate; however, the governor again declined to enact a statewide mandate, saying that would be "overkill" and a one-size-fits-all approach isn't appropriate.
Multiple individuals are exempted under Utah County's order, including children under 5 years old and those with a medical or mental health condition that prevents mask wearing.
Additionally, masks are not required when eating at a restaurant, participating in strenuous physical activity such as running or swimming, or when someone is completely alone inside a facility.
The order may be rescinded early if certain public health goals are met, such as lower case counts, hospitalization and positivity rates, the statement read.
In a statement issued before Tuesday's health order, Utah County Sheriff Mike Smith voiced his disapproval of a mask mandate, saying it is a "health issue, a community issue" that "should not be criminalized."
Provo Mayor Michelle Kaufusi also opposed a mask mandate and went as far as vetoing a health order requiring face masks after it was passed by the city council. However, the order was eventually passed after the council voted to override the mayor's veto. Kaufusi has previously said she supports wearing masks voluntarily and started the "Mask Up Provo: Why Not" initiative aimed at redirecting focus away from contentious discussions about wearing a face covering.
Herbert called the decision wise in a tweet on Tuesday evening.
"A countywide mask requirement will help slow the spread of COVID-19 in hotspots across Utah County," he continued. "We encourage all to wear masks — remember, my mask protects you and yours protects me."
Back to orange
Provo and Orem will be moving from the yellow restriction level back to the orange, more strict level, while the rest of Utah County will remain at the yellow level, state officials said.
There will be one exception: Team sports will be allowed to proceed, but no spectators will be allowed in the stands for games. That means Brigham Young University's next two home football games, against Troy on Saturday and against Louisiana Tech on Oct. 2, will be played with no fans in the stands of LaVell Edwards Stadium.
Herbert noted that from the beginning, the state has planned the framework of its restrictions not as an on-off switch, but rather as a dial that can be moved back and forth. The governor said he knows that reverting back to stricter guidelines will be inconvenient for residents of Provo and Orem, but it's necessary.
"Intervention is needed, and so that's what's taking place here today," Herbert said.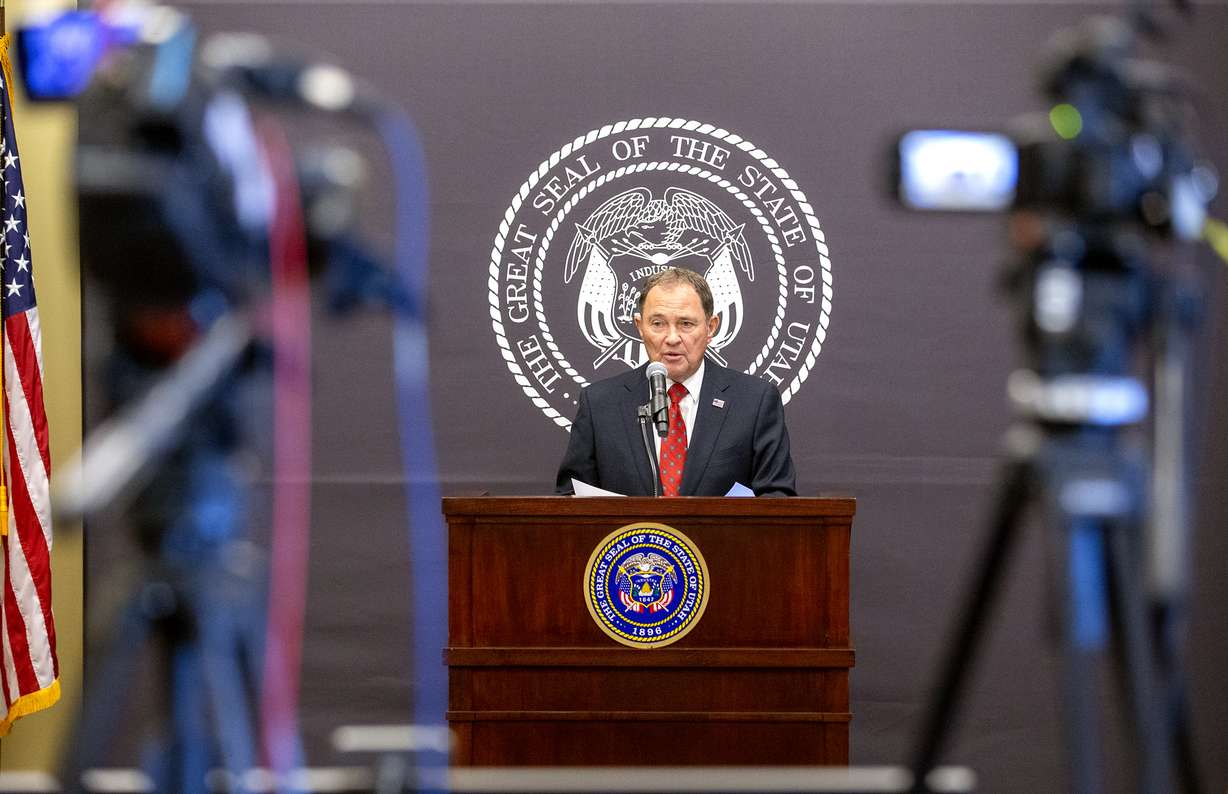 In a Tuesday statement, Kaufusi, Provo's mayor, said she hopes the move back to orange won't discourage city residents, but rather would serve as an incentive to fighting COVID-19.
"While disappointing news, this announcement can and should serve as a community rallying cry to more vigilantly follow health guidelines so we can quickly move back to Yellow to protect our local economy from further damage," Kaufusi said.
City officials will begin determining what restrictions Herbert's mandate will require and will be communicating the changes to Provo citizens, Kaufusi said.
"We appreciate the past and continuing efforts of our community to be compliant with safety guidelines," she said.
While disappointing news, this announcement can and should serve as a community rallying cry to more vigilantly follow health guidelines so we can quickly move back to Yellow to protect our local economy from further damage.

— Provo City (@provocity) September 22, 2020
Herbert added that the state's goal is to move Provo and Orem back to the yellow restriction level as soon as possible.
"Let's nip it in the bud in Orem and Provo and stop it from spreading," he said.
BYU, UVU presidents urge students to change behavior
In a joint letter sent to students Tuesday, BYU President Kevin Worthen and Utah Valley University President Astrid Tuminez thanked students who have adhered to COVID-19 safety guidelines put forth by the universities, which are located in Provo and Orem, respectively.
However, they said if behavior doesn't change, both campuses risk further restrictive actions.
"(We) are greatly concerned about the dramatic rise in positive cases of COVID-19 in Utah County, particularly among college students. This is both alarming and unacceptable," the letter says. "We're concerned not only for your well-being, but also those in the local community who are affected by the trends we've seen in the last week."
Tuminez and Worthen both urged students to stay at home except for in-person classes, work, church and other essentials. Students should also limit their social interactions to people within their own households, and they should avoid even small gatherings where people aren't wearing masks or physically distancing, the letter said.
If students don't follow those guidelines, "more dramatic action" might be necessary, the letter says. That could include two-week quarantines for the campuses, closing campuses to the public, or a switch to remote instruction for all classes for the rest of the semester, Tuminez and Worthen said.
"We expect you to follow all safety requirements on campus and all state and local mandates off campus," the letter says. "Please be wise. Your individual choices will make all the difference."
Last week, as Utah's current spike began, health officials pointed to Utah County residents in the 15-24 age group as the main source of the rise in cases. In particular, health officials suspected off-campus activities as a possible reason for the surge.
The bulk of the new cases is still among the 15-24 age group, Dunn, the health department's state epidemiologist, said Tuesday. However, all age groups are now experiencing rises in cases during Utah's current spike, including older populations, which are more at risk for being hospitalized due to the disease, Dunn said.
That's why state health officials are taking action now — to hopefully avoid a surge in hospitalizations in the coming weeks, Dunn said. But hospitalizations have already started going up. Tuesday, there were 161 COVID-19 patients hospitalized in Utah, up from just 115 a week prior, Dunn said.
Herbert hits back at Salt Lake County mayor's letter
Salt Lake County Mayor Jenny Wilson has penned a letter to Herbert asking, again, for him to enact a mask mandate statewide.
"Today, I implore you to take it a step further and implement a statewide mask mandate. Not only does the health of Utah depend upon strong action, the future of our economy is at stake," Wilson's letter, dated Sept. 21, says. "Please Governor, we need you to move from requests to requirements."
Salt Lake County is home to the hub of Utah's healthcare system and hospital infrastructure, Wilson said. However, cases from outside the county will inevitably pour over into the county's healthcare system, creating a strain that the county's hospitals may not be able to handle, she added.
Additionally, Wilson urged the governor to take further actions because the state's tourism, skiing and convention industries are at risk as the economy continues to suffer due to the pandemic.
Salt Lake County has already exhausted many of the tools that could make a meaningful difference in stopping the spread of COVID-19, Wilson said. But the governor can do more, she wrote.
"Our efforts in Salt Lake County are hamstrung by a lack of discipline and a continued denial by some of the severity of the disease and the veracity of the science," Wilson wrote. "Thankfully, you have been a champion of science and you have remained steadfast in your pleas with the public to comply with two simple, yet effective, ideas: socially distance and mask up!"
Herbert criticized Wilson's action, calling the letter a "political stunt."
"It would be more impressive to me if she'd called me on the phone and talked to me about it, as opposed to releasing (the letter) to the press, which sounds like more of a political stunt," the governor said.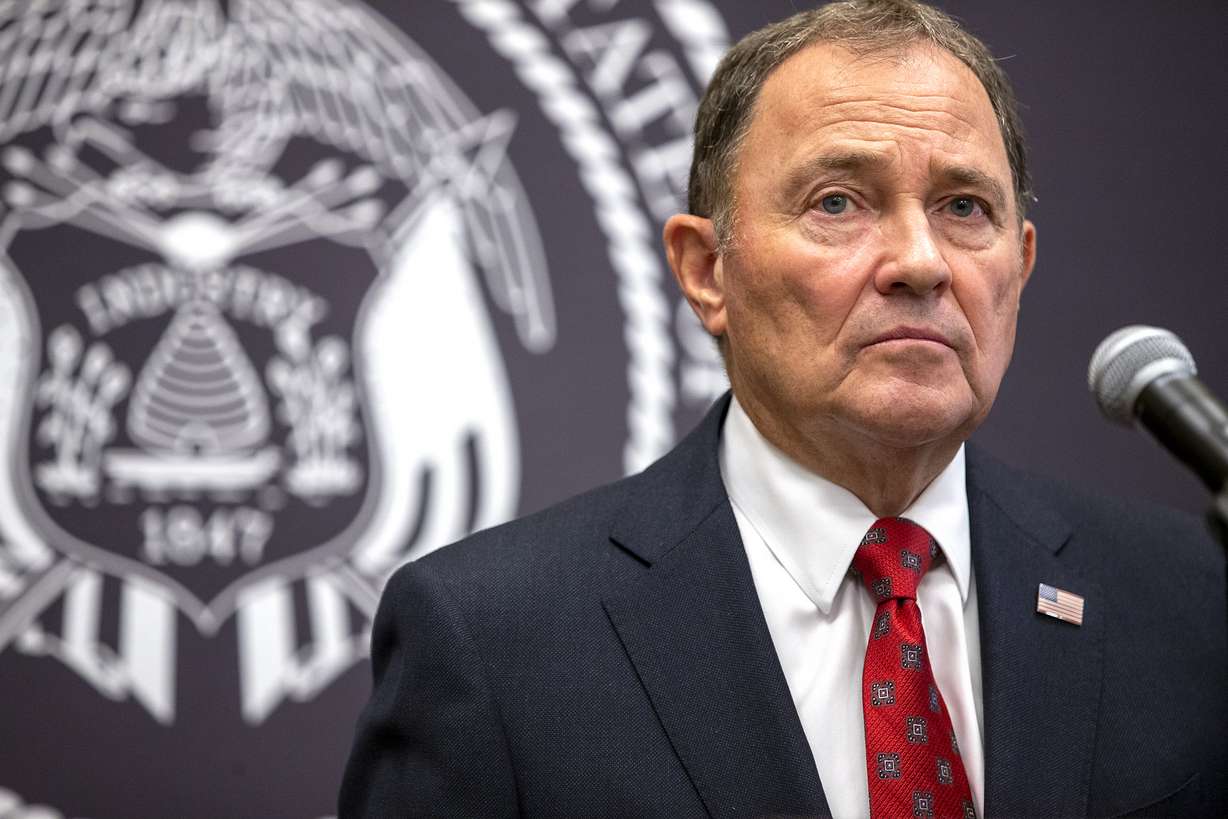 He reiterated his commitment to letting local officials lead the way with mask mandates in their areas.
"Nobody knows the demographics and the culture and the situation better than those who are in that community at large," he said.
Herbert added that he's expecting local government officials to step up and make those decisions. State leaders support them and will support their decisions, he said.
New COVID-19 cases
Though the area south of the Point of the Mountain continues to be the main driver for Utah's current spike, health officials say it's not just Utah County.
Twelve of Utah's 13 health districts are currently experiencing surges in COVID-19 cases, Dunn said Tuesday.
There are now an estimated 12,656 active cases of COVID-19 in Utah, state data shows. The new numbers indicate a 1% increase in positive cases since Monday. Of the 768,959 people tested for COVID-19 in Utah so far, 8.5% have tested positive for the disease. The state reported an increase of 6,908 tests conducted as of Tuesday.
Among the 161 people hospitalized with COVID-19 in Utah, 63 are in intensive care unit, or ICU, beds across the state. About 62% of all ICU beds in Utah are occupied as of Tuesday, while about 46% of non-ICU beds are filled, according to health department data.
Both deaths reported Tuesday were people who were between the ages of 65 and 84, and both were hospitalized when they died, according to the health department. One was a Weber county woman, and the other was a Salt Lake County man.
Tuesday's totals give Utah 65,044 total confirmed cases, with 3,550 total hospitalizations and 443 total deaths from the disease. A total of 51,945 Utah COVID-19 cases are now considered recovered, according to the state.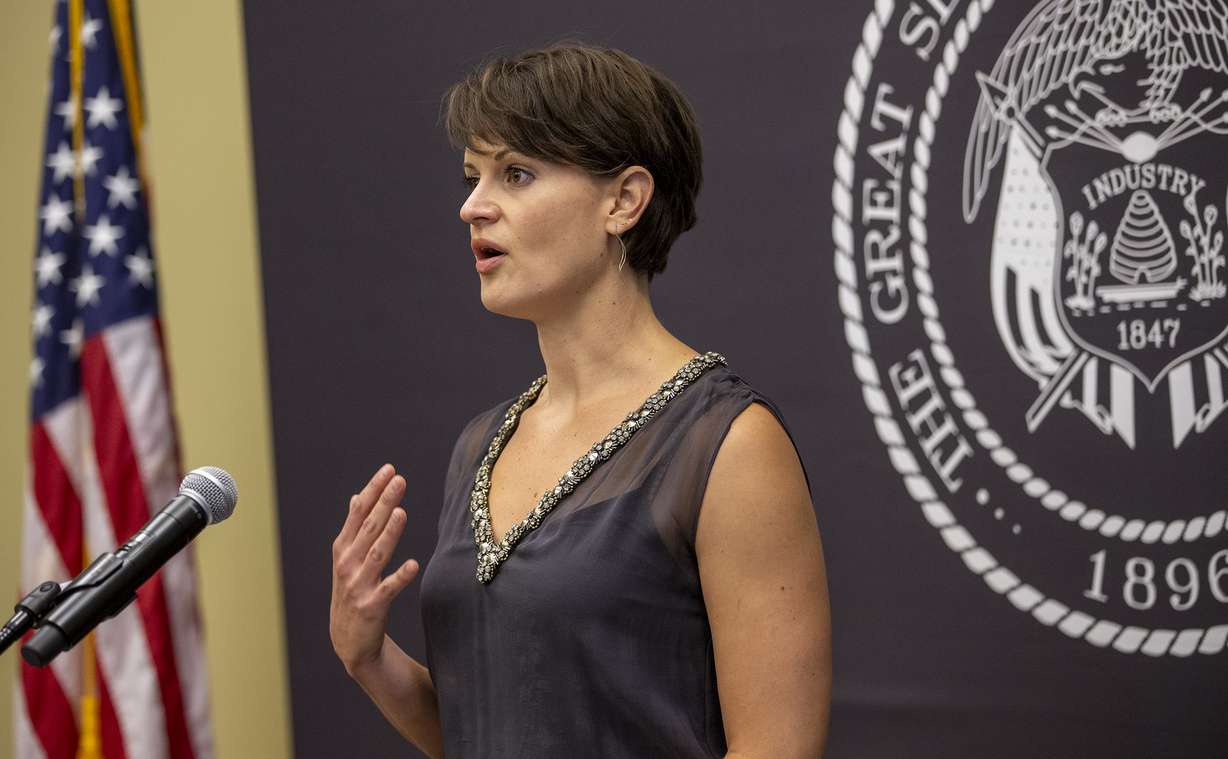 People are urged to get tested for COVID-19 if they have any symptom, no matter how mild, for the disease, Dunn said. She said health officials are worried they are missing cases because people are hesitant to get tested, especially in Utah County.
People getting tested when they have symptoms helps health officials know where the disease is prevalent in the state, Dunn added. That, in turn, helps state leaders better assess the severity of Utah's current situation.
"This is the only way we will know where the spread of COVID-19 is, and be able to contain it and prevent unnecessary illness and deaths in our state," Dunn said.
Contributing: Lauren Bennett, KSL.com
Methodology:
Test results now include data from PCR tests and antigen tests. Positive COVID-19 test results are reported to the health department immediately after they are confirmed, but negative test results may not be reported for 24 to 72 hours.
The total number of cases reported by the Utah Department of Health each day includes all cases of COVID-19 since Utah's outbreak began, including those who are currently infected, those who have recovered from the disease, and those who have died.
Recovered cases are defined as anyone who was diagnosed with COVID-19 three or more weeks ago and has not died.
Deaths reported by the state typically occurred two to seven days prior to when they are reported, according to the health department. Some deaths may be from even further back, especially if the person is from Utah but has died in another state.
The health department reports both confirmed and probable COVID-19 case deaths per the case definition outlined by the Council of State and Territorial Epidemiologists. The death counts are subject to change as case investigations are completed.
Data included in this story primarily reflects the state of Utah as a whole. For more localized data, visit your local health district's website.
Information is from the Utah Department of Health and coronavirus.utah.gov/case-counts. For more information on how the Utah Department of Health compiles and reports COVID-19 data, visit coronavirus.utah.gov/case-counts and scroll down to the "Data Notes" section at the bottom of the page.
__
×
Photos
Most recent Utah stories