Estimated read time: 6-7 minutes
This archived news story is available only for your personal, non-commercial use. Information in the story may be outdated or superseded by additional information. Reading or replaying the story in its archived form does not constitute a republication of the story.
SALT LAKE CITY — Utah's number of COVID-19 cases has increased by 911 from Wednesday, according to the Utah Department of Health.
That is the highest single-day increase in cases since the beginning of Utah's pandemic, but no new deaths were reported Thursday.
Utah Gov. Gary Herbert called Thursday's numbers a "red flag warning." State leaders will be meeting in the coming days to formulate a plan of action moving forward, the governor said.
"Today is not one of those good news days," he said Thursday during the state's weekly COVID-19 news conference.
Herbert had just left an emergency meeting of the state's unified command for COVID-19 response, during which state officials discussed plans to address Utah's recent surge in cases.
COVID-19 testing has lagged in recent weeks, so in an effort to increase testing, state leaders are looking to make testing available for anyone who wants one, regardless of if they have a symptom of the disease, Herbert said. The state will be making an announcement about that process in the next few days, he added.
The state has received several requests from counties across Utah who are seeking to change their color-coded restriction status, Herbert said. Due to Thursday's record-breaking number of new cases, the state is suspending that process, and those change requests will be put on hold until at least next week, he said.
State leaders want to make sure they are considering all the data and not making a premature decision regarding county restriction changes, so they will avoid having to roll back restrictions in the future, Herbert added.
State leaders will be considering other possible restrictions in the coming days to stop the spread of COVID-19 and slow down the state's current spike, the governor added.
"Everything is on the table," Herbert said.
---
Utah Gov. Gary Herbert and Utah Department of Health state epidemiologist Dr. Angela Dunn provided a COVID-19 update at a news conference Thursday. Watch the replay of the event below.
New COVID-19 cases
Thursday's increase of 911 cases is the state's highest single-day increase of the pandemic, followed by an increase of 867 cases on July 10. The state reported 954 more cases on July 16, but some of those cases were actually from tests conducted weeks before.
There are currently an estimated 10,113 active cases of COVID-19 in Utah — the first time that number has been in quintuple digits since Aug. 7. The rolling seven-day average number of positive cases per day is now at 661, according to the health department. That is the second-highest seven-day rolling average reported in Utah so far, according to Utah Department of Health state epidemiologist Dr. Angela Dunn.
"What makes this so alarming is that we have gotten to this peak of a seven-day rolling average of 661 new cases in one week," she said.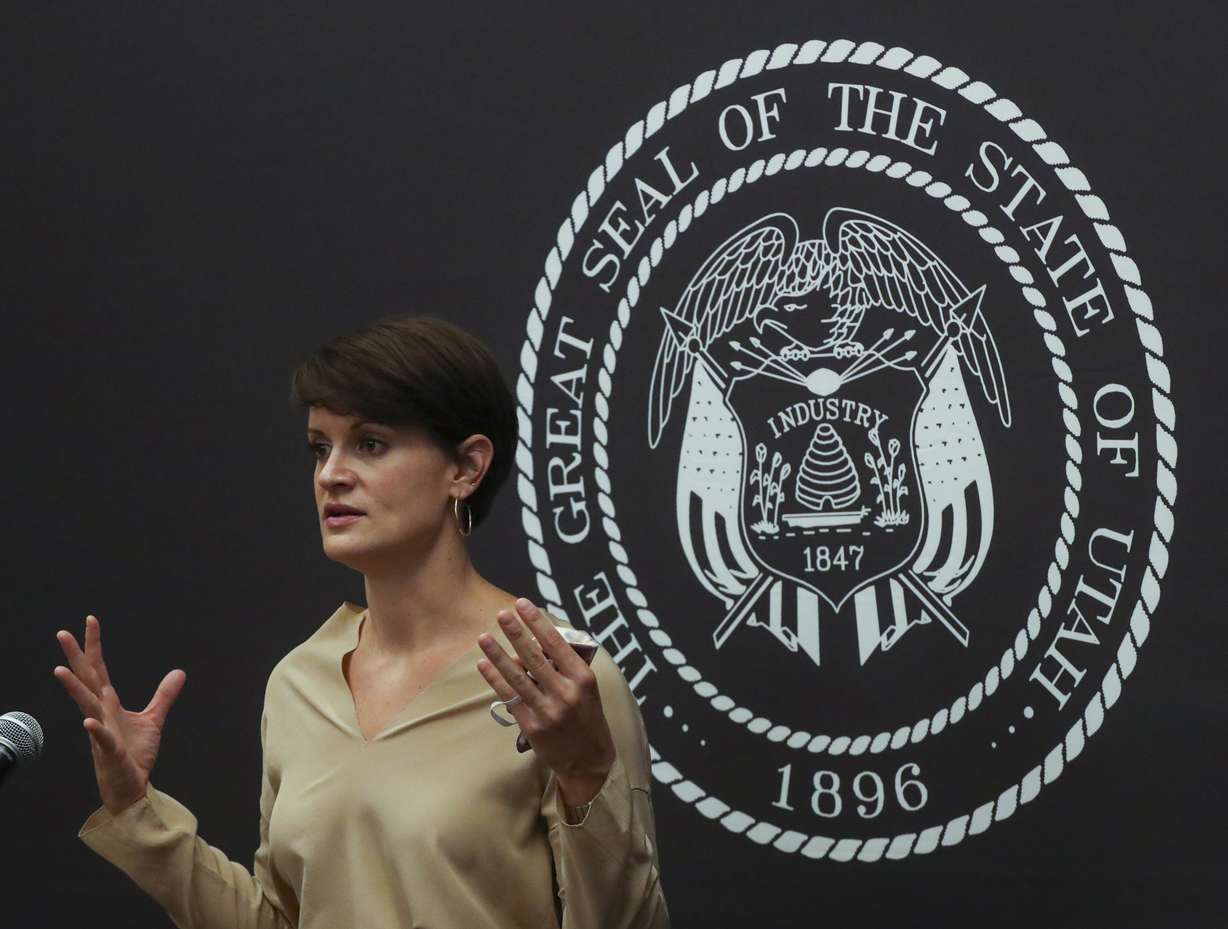 During Utah's first summer COVID-19 spike shortly after Memorial Day, it took nearly six weeks for the state to see a rolling-average at a similar level, Dunn added.
The rolling seven-day average for positive test rate per day is now 11.9%, which is the highest positivity rate reported in Utah's pandemic so far, Dunn said.
The new numbers indicate a 1.5% increase in positive cases since Wednesday. Of the 735,138 people tested for COVID-19 in Utah so far, 8.3% have tested positive for COVID-19. The state reported an increase of 5,447 tests conducted as of Thursday.
There are currently 120 people hospitalized with COVID-19 in Utah, including 54 in intensive care unit, or ICU, beds in the state. About 69% of ICU beds in the state are occupied as of Thursday, while about 56% of non-ICU hospital beds are filled.
Thursday's totals give Utah 60,658 total confirmed cases, with 3,401 total hospitalizations and 437 total deaths from the disease. A total of 50,108 Utah COVID-19 cases are now considered recovered, according to the health department.
Utah County driving current spike, officials say
About 40% of all COVID-19 cases in Utah over the past week have been from Utah County, despite that county containing only about 20% of the total population of the state, according to Dunn.
Some parts of Utah County have COVID-19 infection rates of 1,400 cases per 100,000 people, which is six times the state's overall infection rate, she added. The state is on pace to match or exceed infection rates that were previously recorded in New York City and the Navajo Nation — two of the hardest-hit places in the continental United States during the pandemic, Dunn said.
Dunn noted that in Utah's earlier COVID-19 spike that took place shortly after Memorial Day, there were initial increases of cases among the 15-24 age group. But cases quickly spread to other age groups and more vulnerable populations, leading to more hospitalizations and deaths, she said.
The current spike appears to be following a similar pattern so far, Dunn added. The first part of the surge was mostly among the 15-24 age group, but over the past few days, there have been increases across all the age groups in Utah, she said.
"We need to take immediate action to prevent unnecessary illnesses and deaths in this state," Dunn said.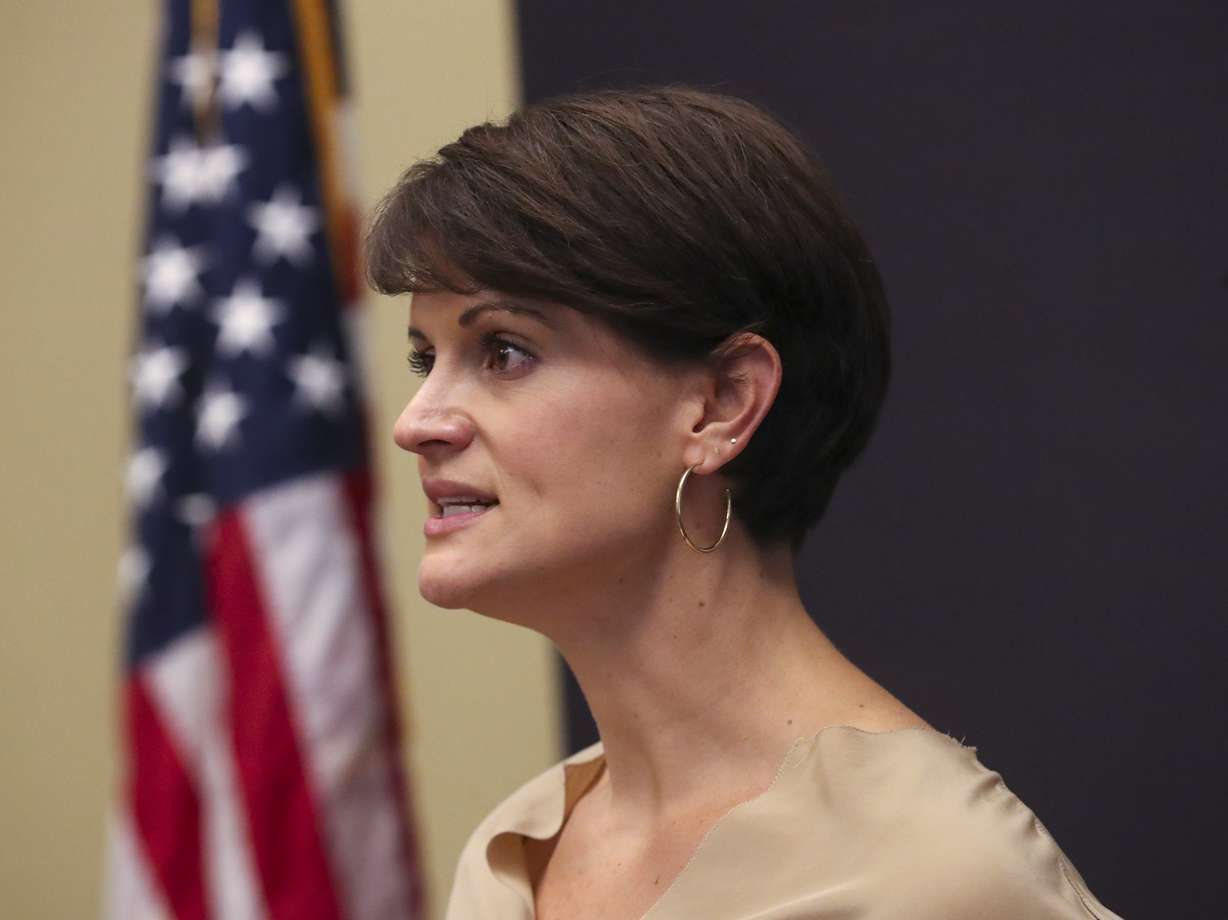 Herbert said the increased infections among younger age groups should act as a "canary in the coal mine" warning that things could get worse.
Some college students in Utah County tend to have a "you can't tell me what to do" attitude, Herbert said. While that is the attitude of just a few and not the majority of the students, it's not the right way to behave, the governor said.
"This battle is not going to be over anytime soon," he said.
Local officials should lead out, governor says
Herbert on Thursday reiterated his commitment to avoiding a "one size fits all" approach for COVID-19 response in Utah.
Leaders at the state level will look to local elected officials and health districts to lead the response in their areas moving forward, he said. They should make the best decisions for their specific areas based on the best science and data available to them, the governor added.
"We don't want to overreact, we don't want to underreact," he said.
State and local leaders can make policy changes or recommend safety guidelines, but if people don't modify their behavior now, "the pandemic will just run wild," Herbert said.
The governor thanked those Utahns who have been doing their part by wearing masks while in public and socially distancing. He said that if people out there haven't been doing their part, now is the time to start.
"We are taking this very seriously and we want you out there to take this seriously too," Herbert said.
Methodology:
Test results now include data from PCR tests and antigen tests. Positive COVID-19 test results are reported to the health department immediately after they are confirmed, but negative test results may not be reported for 24 to 72 hours.
The total number of cases reported by the Utah Department of Health each day includes all cases of COVID-19 since Utah's outbreak began, including those who are currently infected, those who have recovered from the disease, and those who have died.
Recovered cases are defined as anyone who was diagnosed with COVID-19 three or more weeks ago and has not died.
Deaths reported by the state typically occurred two to seven days prior to when they are reported, according to the health department. Some deaths may be from even further back, especially if the person is from Utah but has died in another state.
The health department reports both confirmed and probable COVID-19 case deaths per the case definition outlined by the Council of State and Territorial Epidemiologists. The death counts are subject to change as case investigations are completed.
Data included in this story primarily reflects the state of Utah as a whole. For more localized data, visit your local health district's website.
Information is from the Utah Department of Health and coronavirus.utah.gov/case-counts. For more information on how the Utah Department of Health compiles and reports COVID-19 data, visit coronavirus.utah.gov/case-counts and scroll down to the "Data Notes" section at the bottom of the page.
__
×
Photos
Related stories
Most recent Utah stories