Estimated read time: 6-7 minutes
This archived news story is available only for your personal, non-commercial use. Information in the story may be outdated or superseded by additional information. Reading or replaying the story in its archived form does not constitute a republication of the story.
SALT LAKE CITY — The first day that Ken Sanders opened his full-service antiquarian bookstore in downtown Salt Lake City he earned $0. But soon he wove his store into its own unique place in the fabric of Salt Lake culture. Now, 24 years of success later, people across the world are fighting to raise funds to keep this iconic store alive.
As the COVID-19 outbreak has hit independent bookstores hard across the country, the Ken Sanders Rare Books staff has worked hard just to keep up 50% of their regular sales to support 100% of their full costs.
"We had adapted to the fight to keep bookstores alive in the age of Amazon, and we were doing well. But then half our business is just gone overnight," Sanders said. "I'm grateful that I retained half of my business, but we worked dang hard to keep that half."
During the store's existence, it has served as a venue for thousands of events for local authors, artists and musicians. Some of these performances involved well-known people like author Terry Tempest Williams, but most have given exposure to under-the-radar local creatives.
When he couldn't host his live events during the statewide shutdown during the spring, he did a YouTube broadcast to read to children.
Sanders has created COVID-19 policies to keep his customers and staff safe by opening browsing by appointment only and arranging for free standard shipping and curbside pickup. Only six customers can be in the store at a time. Masks are required for staff and customers.
"I hate doing it, but we have to protect the staff and the public," he said.
The museum-like, 4,000-square-foot store is stuffed with over 100,000 books, from top to bottom, and peppered with rare editions and unique and sometimes bizarre artifacts.
"I've always said it looks like a library after an earthquake," Utah filmmaker and director Trent Harris said. "Or it's kind of like going on safari: You see things there that you can't see anywhere else."
For multi-instrumentalist, vocalist, songwriter, composer and producer Kate MacLeod, being in the store surrounded by the eccentric, exotic and eclectic makes her feel like she is part of something greater.
"It gives us a space to think about the important things, surrounded by all of the information and complexity and the things he's saved, ... it makes you realize how many people it takes to make the world," she said.
This focus on diversity and inclusion has been a priority for Sanders from the very beginning. The store features everything from African-Americana to gender studies to Native American literature. It's a space that values representation and welcomes people as they are.
"I try, to the best of my ability, to give a voice to the voiceless," Sanders said. "I'm far from perfect at it, but I do try."
Almost every patron of Ken Sanders Rare Books says that the store is a physical manifestation of Sanders' personality. He has been buying and selling books for 50 years, since the age of 15, and he ran the legendary Cosmic Aeroplane Bookstore in the 1970s.
He also spent 14 years on PBS's Antiques Roadshow in the Salt Lake City, St. Louis, Green Bay and New Orleans editions.
"I've known him since high school and I've never known him not to be selling a book or reading a book. He's always got a nose in a book. He's the most well-read person," Harris said.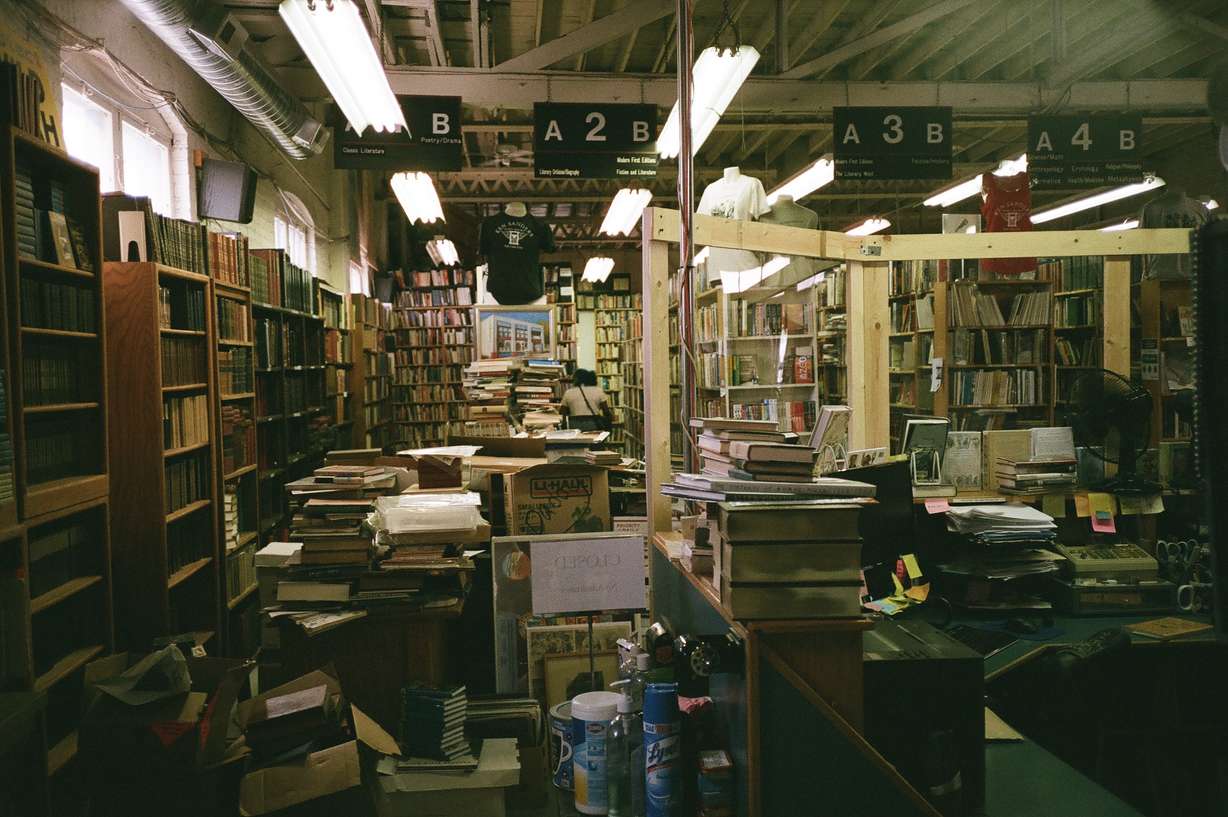 But what stands out most among his friends, customers and fellow creatives is his generosity. He admits that his work is all about the giving, not the taking.
"Ken needs our help in the ways Ken has always helped us," Williams said in a video for the campaign.
At first, he was very hesitant to do any kind of a fundraiser, even if it was to save the store. But then a group of his friends and colleagues he refers to as his "braintrust" decided to take matters into their own hands and create a GoFundMe*.
"He's so used to helping other people that we had to talk him into it," MacLeod said. "We've seen him pay, and even overpay people and give over and over again. It's time that he gets some of that help back."
Even outside of the pandemic, the store is facing some serious financial issues. Sanders doesn't own the building, and the current landlords are planning on developing the property sometime in the near future. The store will need to find a new home when the time comes.
"Selling $3 to $10 used books to local young people and students, it's not a sustainable business model anymore," Sanders said. "We've been looking for a new space for years, but real estate is insane to rent or to buy."
And settling for a smaller space might mean that there won't be room to continue the thousands of live events the store has been hosting for decades.
"For the first time in all those years, I'm asking you for help," Sanders said in the video.
Related;
According to the store's website, any funds that are donated to the GoFundMe go straight to payroll, employee health insurance, basic store operations, COVID-19 supplies, and potentially the cost of moving stores.
The GoFundMe is at about halfway to the set goal of $250,000, and funds are coming in other ways, too. Internet sales are the highest they've ever been. And there have been multiple fundraisers put on by creatives, including an online sing-in event with MacLeod on Sept. 6.
"If we lost this store, we would lose a gem," MacLeod said. "There are a lot of people in Utah that are not of a mainstream culture, yet he creates a bridge with the mainstream culture. We would lose a place where that happens."
For Sanders, the GoFundMe and the fundraising is a metaphor for something much larger — a struggle for the very soul of our planet. Giving money to things you care about keeps those things alive, he explained.
"COVID-19 has stripped everything bare and is waking more and more people up to the inequality that we have in this state, in this country, and in the world today," he said. "We can change that if we vote with our votes and with our dollars. It's not about me. It's so much bigger."
---
*KSL.com does not assure that the money deposited to the account will be applied for the benefit of the persons named as beneficiaries. If you are considering a deposit to the account, you should consult your own advisors and otherwise proceed at your own risk.
---
×
Photos
Most recent Utah stories