SALT LAKE CITY — Utah's number of COVID-19 cases has increased by 334 from Wednesday, with two more deaths reported, according to the Utah Department of Health.
The state estimates that there are now 9,254 active cases of the disease. The rolling seven-day average number of positive cases per day is now at 354, according to the health department. The positive test rate per day for that time period is now 8.6%.
"The trends are going in the right direction. I'm grateful for that," Utah Gov. Gary Herbert said Thursday. "We need to continue that effort."
However, the number of tests conducted increased by only 3,447 Thursday. The new numbers indicate a 0.7% increase in positive cases since Wednesday. Of the 584,656 people tested for COVID-19 in Utah so far, 7.8% have tested positive for COVID-19.
---
Utah Gov. Gary Herbert provided a COVID-19 update at a news conference Thursday morning. Utah Department of Health deputy director Nate Checketts and Intermountain Healthcare Chief Physician Executive Mark Briesacher also spoke at the event. Watch the replay of the event below.
Health department state epidemiologist Dr. Angela Dunn usually speaks at the state's weekly briefing, but she is on vacation this week, according to Herbert.
---
Herbert again said he believes reopening K-12 schools this fall to be very important, pointing to several studies that show in-person learning is valuable for students.
"We understand the significant importance of our public school system," he said. "It's the building block upon which we, in fact, function."
However, he acknowledged that it's not possible for there to be zero risk for COVID-19 as schools reopen. All schools will have a "plan B" in case they need to adjust their coronavirus response, he added.
"We're trying to recognize that's an important aspect of our society," the governor said of public schools.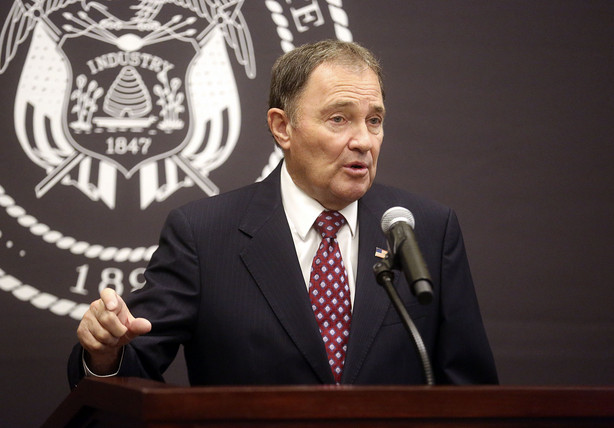 School officials and state leaders have planned for extra hospital and testing capacity in case there is another COVID-19 surge, Herbert added. With fall and it's cooler weather coming soon, more people will be spending time indoors, which can be riskier than being outdoors, the governor said.
"Now's not the time to let up. Now is the time to redouble our efforts to make sure we do what we can do as we go into the fall season," Herbert said.
New COVID-19 cases
A total of 184 COVID-19 patients are hospitalized Thursday, the health department reported. Of those, 74 patients are occupying intensive care unit, or ICU, beds in Utah. About 67% of the state's ICU beds are occupied as of Thursday, and about 54% of non-ICU beds are filled.
Both deaths reported Thursday were people from Salt Lake County. One was a man who was between the ages of 65 and 84 and was not hospitalized when he died. The other was a woman who was over the age of 85 and was a resident of a long-term care facility.
Thursday's totals give Utah 45,424 total confirmed cases, with 2,721 total hospitalizations and 353 total deaths from the disease. A total of 35,817 COVID-19 cases are now considered recovered, according to the health department.
Testing concerns continue
Over the last few days, Utah has seen a decreased demand for COVID-19 testing, and fewer tests are being administered each day.
In June and early July, Utah was typically testing 6,000 people or more each day. Currently, the state is administering fewer than 4,000 tests a day; and though new cases have recently gone down sharply, the positive test rate has only slightly decreased.
The rolling seven-day average positive rate is reported at 8.6% Thursday. That statistic has typically been in the 8-10% range since early June, around the time that Utah's summer COVID-19 spike began.
Utah Department of Health deputy director Nate Checketts said Thursday that state health officials still don't know exactly why people aren't getting tested as much. But their best guess is that since COVID-19 is not as prevalent now, fewer people are having symptoms and, therefore, fewer people are getting tested.
That doesn't change the fact that testing is important for helping epidemiologists understand where COVID-19 is present and where it's spreading.
"We need to know the extent of the spread of the disease," Checketts said. "Test results help inform our response."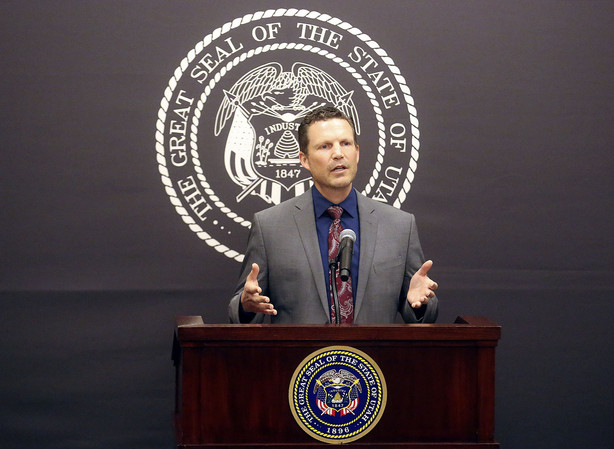 Utah's current capacity for testing is near 9,000 per day, according to Herbert. Most models indicate anywhere from 2,000-7,000 tests per day is the optimal range for making sure health officials have an accurate look at the spread of the disease in their communities, Checketts said.
Health officials and state leaders are attempting to increase Utah's testing through several initiatives. The health department's state lab is looking into tripling its capacity for testing as schools reopen, Checketts said.
Last week, Herbert announced Utah has joined a multistate compact to work with the Rockefeller Foundation to purchase more antigen tests. The rapid procedure can deliver test results to people in as little as 15 minutes, much quicker than the more widely used PCR tests, which may take 24-48 hours to produce results.
Additionally, mobile testing units have been deployed to communities and have been given a green light to plan more testing events, Checketts said. In the coming days, those units will be conducting testing events in West Valley City and elsewhere in western Salt Lake County, he added.
The Utah Health & Economic Recovery Outreach, or HERO, Project has also been conducting some randomized testing in communities over the past several months, Checketts said. Both PCR testing and antibody testing are provided through the HERO Project. Health officials are looking into testing more heavily in schools as part of the HERO Project as schools reopen, Checketts added.
Additionally, the federal government has begun a program to provide antigen testing at nursing home facilities across the country. However, the demand for antigen tests is much higher than the availability manufacturers can provide for the tests, Checketts said. With the federal government purchasing many antigen tests for the nursing home program, the tests may be difficult to obtain, he added.
Don't delay medical care, hospital official says
Like many other states, Utah has seen an increased number of people delaying medical procedures over COVID-19 concerns, Herbert said. But Intermountain Healthcare Chief Physician Executive Mark Briesacher said Thursday that hospitals are safe and ready to care for patients.
"It's really important that you don't delay care," he said. "Delays in care can actually be life-threatening."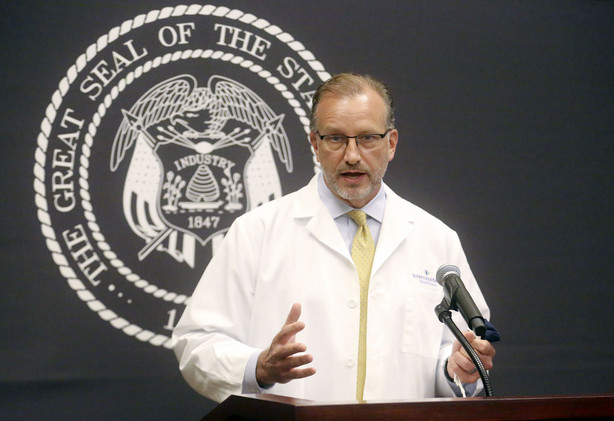 People shouldn't put off regular checkups because they are concerned they might catch COVID-19 by visiting a hospital, Briesacher said. If you're past due for a cancer screening, a diabetes checkup, or some other regular procedure, you should get that done as soon as possible, he said. People with chronic conditions should check in with their medical providers and make sure they have a plan for treatment moving forward.
"Our hospitals are safe," Briesacher said. "We're ready to care for you."
---
Editor's note: A previous version of this story reported an incorrect number of new COVID-19 tests. The story has been updated with the correct number.
Methodology:
Test results now include data from PCR tests and antigen tests. Positive COVID-19 test results are reported to the health department immediately after they are confirmed, but negative test results may not be reported for 24 to 72 hours.
The total number of cases reported by the Utah Department of Health each day includes all cases of COVID-19 since Utah's outbreak began, including those who are currently infected, those who have recovered from the disease, and those who have died.
Recovered cases are defined as anyone who was diagnosed with COVID-19 three or more weeks ago and has not died.
Deaths reported by the state typically occurred two to seven days prior to when they are reported, according to the health department. Some deaths may be from even further back, especially if the person is from Utah but has died in another state.
The health department reports both confirmed and probable COVID-19 case deaths per the case definition outlined by the Council of State and Territorial Epidemiologists. The death counts are subject to change as case investigations are completed.
Data included in this story primarily reflects the state of Utah as a whole. For more localized data, visit your local health district's website.
Information is from the Utah Department of Health and coronavirus.utah.gov/case-counts. For more information on how the Utah Department of Health compiles and reports COVID-19 data, visit coronavirus.utah.gov/case-counts and scroll down to the "Data Notes" section at the bottom of the page.
__
×
Photos
Related Stories