SALT LAKE CITY — After Utah met Gov. Gary Herbert's goal of seeing the state's rolling seven-day average for new COVID-19 cases drop below 500 new cases per day by Aug. 1, the governor has now set a new goal.
Herbert announced Thursday he wants to see that statistic drop below 400 cases a day by Sept. 1.
"We do think that there's some opportunities for us, in fact, to do better," he said at a news conference Thursday. "Time for a new challenge."
Utah's number of COVID-19 cases has increased by 587 from Wednesday, with three more deaths reported, according to the Utah Department of Health.
Herbert also announced that local governments and health districts can now enact mask mandates in their areas simply by notifying the state of their plans to do so, and state education officials discussed adjustments made to the Utah Department of Health's school reopening guidelines.
---
Gov. Gary Herbert provided a COVID-19 update at a news conference on Thursday afternoon. Utah Department of Health state epidemiologist Dr. Angela Dunn and Herbert's education adviser Tami Pyfer also spoke at the news conference. Watch the replay of the event below.
---
New COVID-19 cases
The state now estimates there are 10,966 active cases of COVID-19 in Utah. The rolling seven-day average number of positive cases per day is now at 449, according to the health department. The positive test rate per day for that time period is now 10%.
The new numbers indicate a 1.4% increase in positive cases since Wednesday. Of the 555,391 people tested for COVID-19 in Utah so far, 7.7% tested positive for COVID-19. The number of tests conducted has increased by 5,069 as of Thursday, state data shows.
There are currently 190 people hospitalized with COVID-19 in Utah, according to the health department. Of those, 80 are in intensive care unit, or ICU, beds across the state, health department data shows. About 63% of all ICU beds in the state of Utah are occupied as of Thursday, and just under 51% of all non-ICU beds are occupied.
One death reported Thursday was a Davis County woman who was between the ages of 45 and 64 and a resident of a long-term care facility. The second death was a Salt Lake County man who was between the ages of 45 and 64 and was hospitalized when he died. The third death was a Utah County man who was over the age of 85 and was a resident of a long-term care facility.
Thursday's data gives Utah 42,915 total confirmed cases, with 2,554 total hospitalizations and 330 total deaths from the disease. An estimated 31,619 cases are now considered recovered.
Utah seeks to improve testing by joining multistate compact
Though the number of daily new cases has seen a decrease over the last week, the rolling seven-day average positive test rate has gone up slightly, sitting at 10% today. The state has also seen a decrease in demand at all testing locations across the state.
Health department state epidemiologist Dr. Angela Dunn said state officials aren't sure why this is happening. It may be because people aren't having symptoms of COVID-19 and don't need to get tested. People may also be reluctant to wait outside in the blistering summer heat to get a test, she added.
Health officials are still encouraging people to seek out testing if they have any symptoms of COVID-19, Dunn said. And though health officials are remaining cautious about the state's decline in cases due to the lack of change in the positive test rate, she remained optimistic about the way things are going in Utah right now.
"I'm really encouraged with the progress we've made in this pandemic in Utah," Dunn said.
Herbert also announced that Utah will join seven other states, along with the Rockefeller Foundation, in purchasing large amounts of rapid COVID-19 antigen tests in Utah.
The initiative is led by Maryland Gov. Larry Hogan and seeks to improve accessibility and cost for testing, Herbert said. The program will also aim to improve the turnaround time for putting test results in the hands of those tested, the governor added. Some test results could be delivered in as little as 20-30 minutes.
The compact is in the very early stages of being completed, and officials will have more details about the effort in the coming weeks, Herbert said.
"We're confident that this will allow us, in fact, to help with all the other protocols we've got in place to slow down the spread of the coronavirus," he said.
Dunn and Herbert both said that any rumors that testing figures, or any other coronavirus-related statistics have been manipulated or altered by the state are patently false.
The health department operates with the "utmost integrity" with regard to data and statistics and would never consider manipulating or falsifying data, Dunn added. Access to testing has not been deliberately restricted in any way in Utah, she said.
Herbert added that Utah's COVID-19 unified command meets every day to examine statistics and data related to Utah's pandemic.
"The numbers are what the numbers are," Herbert said.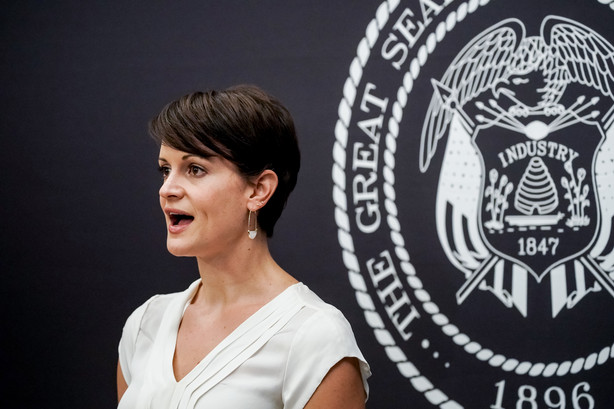 Local governments can now enact mask mandates
Herbert also announced that local health departments and government officials will no longer need to come to the state for approval if they want to enact a mask mandate. If local jurisdictions want to require face coverings in their areas, they will simply need to notify the state of their plans, and a mandate will be so ordered.
This doesn't mean a statewide mask mandate is now off the table, Herbert said. That remains in the "toolbox" of options for slowing the spread of the disease if the state finds it necessary, he said.
However, Herbert reiterated his commitment Thursday to allowing local government and health officials make the decisions over such mandates, instead of enacting a "one size fits all" statewide policy.
"I'm a local control person," he said.
School reopening guidelines adjusted
State education officials also announced Thursday they have made changes to the state's guidelines for schools reopening. The state now recommends that students who have had confirmed close contact with a COVID-19 case should spend a full 14-day quarantine at home and should not attend classes or any other school-related activities.
Previously, the state guidelines proposed a "modified quarantine" that would have seen students who were exposed to the disease be allowed to go to school, so long as they did not have any symptoms and were being monitored regularly. The "modified quarantine" recommendation has now been removed from the guidelines.
Other sectors of Utah's infrastructure, including essential businesses, have used a "modified quarantine" procedure, according to health officials. Essential businesses have used such procedures throughout the pandemic to allow employees to work as long as they do not have symptoms of illness.
However, the state health department and education officials received lots of feedback from students, parents and teachers after announcing a "modified quarantine" procedure might be used in schools in the coming months, and the guidelines have been adjusted to remove that recommendation, Dunn said during Thursday's news conference.
"Everybody wants to make sure that teachers, parents and students feel safe and are safe as they return to school," she said.
The full, updated guidelines manual for school reopening can be found at coronavirus.utah.gov/education.
Herbert announced that the state will be sending personal protective equipment "push packs" to schools in the state. The push packs will include five face masks and two face shields for every teacher and faculty member at Utah schools, he said.
The state anticipates that the push packs will support 28,000 teachers and 16,000 school staffers across Utah. State officials are committed to providing access to personal protective equipment for teachers, faculty and staff at schools as needed, Herbert added.
Herbert also pointed out that although he has mandated that masks be required for anyone going to any school building, he has not required that schools be reopened for the upcoming semester. Those decisions have been left up to local school districts, government and health officials.
Methodology:
Test results now include data from PCR tests and antigen tests. Positive COVID-19 test results are reported to the health department immediately after they are confirmed, but negative test results may not be reported for 24 to 72 hours.
The total number of cases reported by the Utah Department of Health each day includes all cases of COVID-19 since Utah's outbreak began, including those who are currently infected, those who have recovered from the disease, and those who have died.
Recovered cases are defined as anyone who was diagnosed with COVID-19 three or more weeks ago and has not died.
Deaths reported by the state typically occurred two to seven days prior to when they are reported, according to the health department. Some deaths may be from even further back, especially if the person is from Utah but has died in another state.
The health department reports both confirmed and probable COVID-19 case deaths per the case definition outlined by the Council of State and Territorial Epidemiologists. The death counts are subject to change as case investigations are completed.
Data included in this story primarily reflects the state of Utah as a whole. For more localized data, visit your local health district's website.
Information is from the Utah Department of Health and coronavirus.utah.gov/case-counts. For more information on how the Utah Department of Health compiles and reports COVID-19 data, visit coronavirus.utah.gov/case-counts and scroll down to the "Data Notes" section at the bottom of the page.
×
Photos
Related Stories