FARMINGTON — In the end, Davis School District decided the best plan to reopen schools was the one it already had.
Or plans, even — yes, plural.
The Davis School District board of education unanimously affirmed the district's decision to begin the upcoming school year with an alternating-day, hybrid schedule during a special meeting Thursday night at the district offices in Farmington.
Under the plan, which was previously submitted to the Utah state board of education, students would return to class on Mondays and Wednesdays, or on Tuesdays and Thursdays, with every other day — in addition to Fridays — being reserved for online learning.
The affirmation is a continuation of the decision made by the board of Utah's second-largest school district since a July 14 meeting that began a process of submitting a three-plan proposal to the district superintendent and administrative team, board president John Robison confirmed.
The plan also could be modified between three options, which also included a five-day model of in-person teaching, as well as an online-only model similar to the one used at the end of the 2019-20 school year following Gov. Gary Herbert's soft closure of all Utah schools in March in response to the coronavirus pandemic.
"By no means is this a perfect plan. It's our best guess," Robison said. "We value the health of our students and staff. If the data shows that it is inadvisable for us to open, we won't do it with a full schedule."
New information will be evaluated every other day based on current data, the board added.
"I think we need to do something, and we only have a few weeks before we start," board member Gordon Eckersley said during the open meeting, which was also streamed live on YouTube. "We've already decided on the three plans, and our district leaders said we want to go with the alternate-day. I think the best plan is to move forward with the alternate-day schedule."
In July, the district initially opted for a full week of in-person classes with increased sanitization, mask-wearing and social distancing where possible as officials planned to reopen schools in the fall.
But just before the Utah board of education's Aug. 1 deadline, the district pivoted to an alternating A-B schedule of in-person classes Monday through Thursday combined with an all-online curriculum every Friday. Teachers will be available on campus each Friday, when schools would also deep sanitize buildings and high-traffic areas like buses.
Both models were approved unanimously by the board as a three-part option for reopening schools, in addition to an online-only model, Robison said.
But board member Julie Tanner expressed concerns that the board did not vote on the hybrid model — and that the change in back-to-school plans in a seemingly abrupt fashion caught many off-guard. Robison disagreed with that assumption with strong language, saying that the July 14 meeting voted to approve the entire plan.
"I left with the idea in mind that the superintendency would be allowed to determine which option we would leave with — and if we needed to move, it would be their call," said Robison, who sat just one chair away from Tanner, with superintendent Reid Newey in between them.
"I believe our administration left with that understanding. Multiple others left with that understanding."
Tanner said she wanted to discuss the plan, and — if necessary — call for a vote of the hybrid model.
"I want to thank each one of the board members for their willingness to meet together tonight for a discussion," said Tanner, her eyes cast downward as she appeared to be reading a prepared statement. "I'm looking forward to the discussion and for the chance to vote on this really important decision from the board.
"Democracy is messy, but it's worth it. We appreciate feedback and parent and teacher engagement, and I think we have it. We can't give everyone exactly what they want, but we think we can give you feedback and engagement."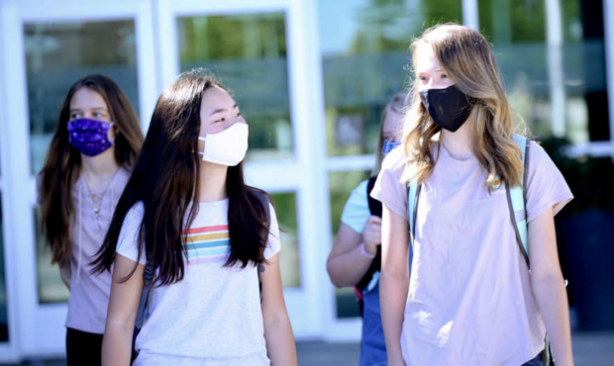 The board meeting drew around 100 teachers and parents protesting or affirming the current plan with signs outside the district office. Several of them spilled over into an 18-minute public comment session, with arguments for both the five-day and two-day reopening models.
One student, an incoming junior at Viewmont High School, said the hybrid schedule was the best way to protect high-risk populations like her sister who has Type 1 diabetes. A teacher likened the virus to an active shooter in schools, adding that while she would take a bullet for her students, the virus has the potential to turn her students into a bullet.
Another commenter cited the crowd gathering outside the building, and argued for a five-day return-to-class model based on some students' need for free or reduced lunch, as well as those with special needs like individualized education plans. Still another said that because COVID-19 has "shown to produce a low death rate" and "low transmission rate among children," that there is no reason to reduce in-class education by 80%.
In other words, arguments ranged from support for the two-day model to attempts to start the school year with five days in the classroom, as 24 school districts in mostly rural counties were approved to do Thursday by the state school board.
Teachers admit that the hybrid plan will mean more work. But many believe it will be worth it, if it prevents future cases and keeps both students and faculty safe.
"Starting out with two days a week is our best chance to get back to five days a week," Mark Mageras, a history teacher and basketball coach at Legacy Junior High, told KSL TV.
It's been a long suspension of classes for these teachers, and they want to get back to school as soon as possible, they say. But they want to do it safely and with a careful watch on future rates of infection.
"We love our students. We want to see our students every day," said Sarah Jones, a mother of six (including one with special needs) who also works as an instructional coach at Centennial and Legacy junior high schools. "Our kids get to continue learning. They're building those important relationships, and they're also keeping themselves, our teachers, and our entire community safe."
That five-day model is everyone's goal, Davis vice president Liz Mumford said.
"That's our goal, is to get back there," Mumford said, acknowledging and thanking Tanner for her dialogue. "But I really feel confident about this hybrid plan, and I appreciate the input from the community."
Schools may backslide to an online-only soft closure if infection rates increase dramatically, Newey said — but so, too, can they advance to a five-day model, if infections decrease as dramatically.
"Will it be perfect? No. It's called a crisis for a reason, and it's a health crisis," Newey said. "But our educators have performed admirably during this crisis.
"It will be messy, because it's a crisis — a health crisis. We don't know when it's going to end, but we appreciate immensely our Davis County Health Department who has been with us every step of the way for every infectious disease."
Contributing: Mike Anderson, KSL TV; Andrew Adams, KSL TV
×
Related Links