FARMINGTON — The Davis School District has shared its plans for reopening for the 2020-2021 school year.
Nearly four months after Gov. Gary Herbert issued a soft closure of Utah's schools, Superintendent Reid Newey said that the district is expecting to have children back in the classroom on Aug. 25.
"We LOVE school! Children NEED school!" he wrote in a letter sent to teachers and staff over the weekend and obtained by KSL.
"Students thrive in safe, structured and nurturing environments. Currently, we are planning a normal school opening on August 25. Our hope is to keep school 'in the building' through a shared commitment from students, teachers, families, and staff by preventing the spread of COVID-19."
As part of that plan developed with the Davis Health Department, Newey said that they will be encouraging physical distancing and regular handwashing, as well as having staff and students wear masks where appropriate. Reid said schools planned to make a number of changes within the buildings.
The Davis District calls its plans a "Big Five" approach for operating schools during the COVID-19 pandemic. Parents and students are also invited to enroll in Davis Connect K-12 Online School or Independent Study if they do not feel comfortable returning to the traditional classroom, district officials said.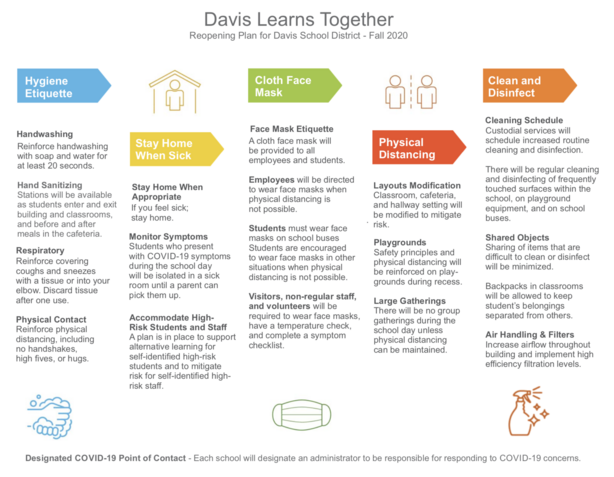 'Big Five'
The "Big Five" things in the Davis School District will be: Hygiene etiquette, having staff and students stay home when sick, having staff and students wear cloth face masks, encouraging physical distancing, and ensuring regular cleaning and disinfection of frequently touched surfaces.
Newey said that the plans have been created from discussions ongoing since February and are intended to help prevent the spread of COVID-19 in their schools.
"Understand that these guidelines are determined by health, educational and civic professionals commissioned to care for your child, considering the physical environment, time spent in school, and the potential risk to the health of our students, staff and families," Newey said.
"Please be aware there is no such thing as a 'COVID-free zone' in our classrooms or schools. The more people congregate in society — no matter where that takes place — the more opportunity there is for the virus to spread. COVID-19 exists everywhere and, at this point in time, no vaccine has been developed.
"That being said, representatives from the Davis School District and the Davis County Health Department have been meeting at least weekly since Feb. 27. The information that follows — if adhered to by all involved — will provide the best measures to not only prevent the spread of the virus, but also give us an opportunity to provide the best education we can for all students."
Hygiene etiquette
As part of the 'Big Five' plan, the district said each school will provide hand sanitizing stations at the entrances of the buildings and at each classroom.
Stay home when sick
Parents will be asked to make sure that if their students are sick they stay home. The district said that it will be monitoring for symptoms and if a student presents with COVID-19 symptoms they will be isolated in a sick room until a parent can pick them up.
Face coverings
The Davis School District officials said that cloth face coverings will be provided for all students and employees and that students will be strongly encouraged to wear them throughout the school day. They said that students will also be required to wear a mask while on school busses because social distancing won't be possible there. Students will be strongly encouraged to also wear the mask in other situations when physical distancing is not possible throughout the rest of the day. Accommodations will be made for students or staff who have respiratory issues.
Physical distancing
The district said that classrooms, cafeterias and hallways will be modified to mitigate risks to students and teachers and no large gatherings will be held during the day unless proper distance can be maintained.
Clean and disinfect
Custodial services will be increased throughout the day, ensuring that highly touched and trafficked areas will be cleaned and disinfected frequently. Backpacks will also be allowed in classrooms to help students keep their personal items separated. The district said that it will also be increasing the airflow throughout the building and adding high-efficiency filters.
Subject to change
"Overall, circumstances will likely vary from school to school and program to program, each with unique challenges and solutions, Newey wrote. "Specific school details will be communicated to you directly by the administration of the school your child attends."
He also said that if, for any reason, parents do not feel safe letting their children return to school in the fall, the Davis School District has two online school options.
The Utah State Board of Education has asked that all Utah school districts have a plan submitted by Aug. 1.
×
Related Links
Related Stories