KAYSVILLE — Just a few days before the Utah State Board of Education's deadline for all school districts to submit their plans for the reopening of public K-12 schools for the fall, Davis School District has dramatically altered its schedule.
The district will begin the 2020-21 academic year on an alternate-day, hybrid model of in-person and remote learning options for all students, according to a letter dated Tuesday from superintendent Reid Newey.
The initial plan was for a five-day school week, with increased emphasis on social distancing, face coverings, and hygiene and sterilization practices.
"Originally, Davis School District planned on a 'normal' school opening with required face coverings, enhanced hygiene/sterilization procedures, and — where possible — physical distancing," Newey's letter says. "Due to the prevalence of COVID-19 cases in our community and in order to further limit the spread of the virus, we need to increase our capacity to provide physical distancing in our schools."
Part of the change came as Davis County schools saw increasing infections as student-athletes returned to practice for the upcoming fall season, Davis School District spokesperson Chris Williams told KSL TV.
"We do know 11 of 45 athletic teams that we have were put on quarantine by the health departments," Williams said. "Those are students who have been put in quarantine without school even starting.
"We know if we can cut our class sizes in half, we have a better chance of slowing the spread."
According to the new plan, students with last names A-K will attend in-person classes Mondays and Wednesdays, with remote learning options available Tuesdays and Thursdays. Students with last names L-Z will alternate, attending in-person classes Tuesdays and Thursdays, with remote learning Mondays and Wednesdays.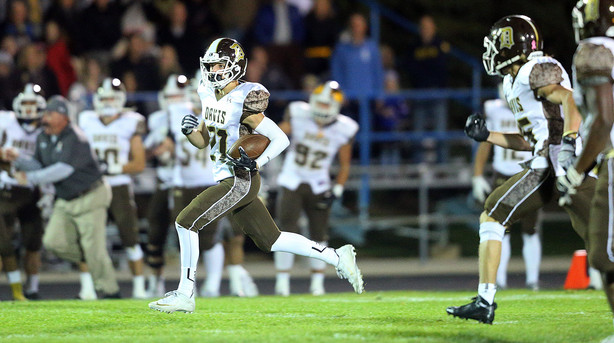 Fridays will be set aside for remote learning for all students, with teachers available on school campuses to facilitate instruction.
For junior high and high school students, the plan essentially sets aside "A-day" classes for Mondays and Tuesdays and "B-day" classes for Wednesdays and Thursdays, with Friday's remote learning option available for all courses.
The district said the alternate-day plan will likely continue until at least winter break, but stressed that it does not plan to make the schedule permanent. An online program will continue to be offered through the district's Davis Connect program, officials said.
"We also recognize the strain this alternate-day schedule places on families (work schedules, childcare needs, etc.)," the letter continued. "Our hope is that we will see a substantial decrease of COVID-19 cases and be able to resume a typical school schedule as soon as possible."
While the new plan was met with mixed reception from Davis County parents, many said they understood the need to adjust the schedule to conform to local public health protocols.
"I applaud the board, superintendent and health department," Davis parent Lynne Sokoloff told KSL.com in an email. "I am a mother and teacher in a two-person working household. We get through tougher things than this in our lives. If this could save even one life it would be worth it in my eyes. Our teachers and students are so vulnerable in packed classrooms.
"This is a time where we need to think with medical science in mind and not our own convenience or even finances," Sokoloff added. "No plan on a pandemic is ideal, but we all have a responsibility to maximize lives. This isn't forever and we need to band together in solidarity for the best outcome rather than be divided as experts have made recommendations.
"As a parent I support expert opinions knowing that they know far more than me and have my best interest in mind."
If students in the same household have a different last name that would send them to school on different days, the schedule for all students in the household will be based on the surname of the oldest student. Other exceptions to the group assignments must be approved by the principal "only when equivalent group sizes can be maintained," the district said.
The new plan hopes to reduce the number of students on buses, in halls and common areas, and in classrooms to better accommodate new physical and social distancing norms and help mitigate the spread of the novel coronavirus. It's also hoped that it will enhance contact tracing by the Davis County Health Department, according to the letter, as well as minimizing risk and exposure to potential COVID-19 cases while maintaining a traditional school system set up two days of the week.
The change comes as teachers around the state have called on districts to address health and safety concerns among educational faculty, as well as among students.
"Our teachers must be healthy to teach," Newey said. "Our students must be healthy to learn. During this pandemic, and in these extraordinary times, we believe it is best to cautiously proceed with this alternate-day schedule. Please know these decisions are the result of much research, discussion, and genuine concern for all."
Other school districts have also made adjustments to school schedules. Nebo School District, which comprises the southern half of Utah County, will release students nearly an hour early every day to allow school custodial staff to thoroughly disinfect classrooms and common areas, according to a letter to parents, teachers and faculty obtained by KSL.com.
Full-time remote learning will also be available, though Nebo students will be required to commit to one form of learning for at least one term. Students may transfer back and forth from in-home to in-class instruction Oct. 19, Jan. 5 and March 15, if the modified schedule remains available through the school year.
"In the event that a single school or the entire district closes, students will continue to receive instruction from their assigned teacher(s)," Nebo spokesperson Lana Hiskey told KSL.com, adding that all teachers were trained in online and blended learning models during the summer.
The early-out schedule will also allow teachers time to integrate remote learning into their full-time curriculum, and even to work remotely themselves, if necessary, according to the letter.
The board of the Jordan School District is scheduled to formally approve plans for a four-day, in-person school week, with remote learning every Friday, during its board meeting Tuesday night.
The school board will make a decision on each district's plan after the Aug. 1 deadline.
Davis School District is scheduled to open the school year Aug. 25.
Contributing: Morgan Wolfe, KSL TV
×
Related Stories