Estimated read time: 4-5 minutes
This archived news story is available only for your personal, non-commercial use. Information in the story may be outdated or superseded by additional information. Reading or replaying the story in its archived form does not constitute a republication of the story.
WEST JORDAN — The day after a small plane crashed in a West Jordan neighborhood, the streets were quiet as neighbors stayed inside and family members of one of the victims watched silently as workers cleaned up the debris.
A small memorial of flowers marked the sidewalk in front of the crash site.
Among the victims was 72-year-old Mary Quintana, who was in her home when the plane hit. She remained hospitalized in critical condition Sunday, heavily sedated with severe burns, according to her family.
Quintana's brother, Joe Murillo, said their family was shaken by what happened, and many have traveled from southern Utah to show their support for her.
"We're getting through it, slowly but surely," he said. "She's a good person, a real good person and everything. . . . Everything is good about her, and I hope she makes it through."
The family watched from the front of her charred house as a small group of workers hoisted pieces of the plane onto a trailer, and officers blocked off the area to cars. Some residents expressed frustration about people driving through the neighborhood throughout the night and day after the crash to view the damage — police eventually blocked traffic onto the street.
Plane's passengers identified
The pilot, Lee Wyckoff, 43, his 9-month-old daughter Coral Wyckoff, and Milda Shibonis, 36, all died when a Piper PA-32 crashed into the backyard at 3847 Piccadilly Circle (8710 South), West Jordan police said.
Two of the plane's other three passengers, the pilot's wife, Rebecca Wyckoff, 36, and Cody Mitchell, 2, were in critical condition Sunday. Cody, Wyckoff's son, suffered burns to his legs and arms, police said.
The daughter of Shibonis, Veda Sheperd, 12, was the only passenger not seriously injured. Police said she was able to walk away from the crash. She was treated at a hospital and then released soon after.
Shibonis' family members and friends remembered her as "truly unique."
---
As a friend, a daughter, a sister, an attorney and a mother, Milda was fiercely loyal and unendingly kind.
–Family statement
---
"As a friend, a daughter, a sister, an attorney and a mother, Milda was fiercely loyal and unendingly kind," they said in a statement.
"Milda came from Lithuania as a child with her family, as refugees. Life was not easy and only a spirit as strong and wild as Milda's could conquer it; and she did. She trained in mixed martial arts throughout her life and valued the people in that world as family," family members and friends said.
Shibonis went through graduate school while she was a new single mom "and found her place as a respected and endeared family law attorney in Utah's legal community. Throughout all of this, she never shied away from an adventure, traveling whenever she could and trying new things," according to family members.
"The only thing stronger than her spirit was her love for her family, especially her daughter. The family is doing everything they can to hold her close and prepare for what the future holds. Thank you to all of those that have donated to help Milda's loved ones, particularly her daughter, or plan to donate in the future. It means so much," they said.
A narrow escape
Quintana had been on her home's deck when the crash occurred, according to her brother, which he believes led to her survival.
"That's God's blessing," the brother said.
Neighbors helped Quintana escape from her home after the crash, Murillo said.
"That felt real good. She had the community, that was helpful and that was really good. If it weren't for her neighbors . . . she probably wouldn't have made it out," Murillo said.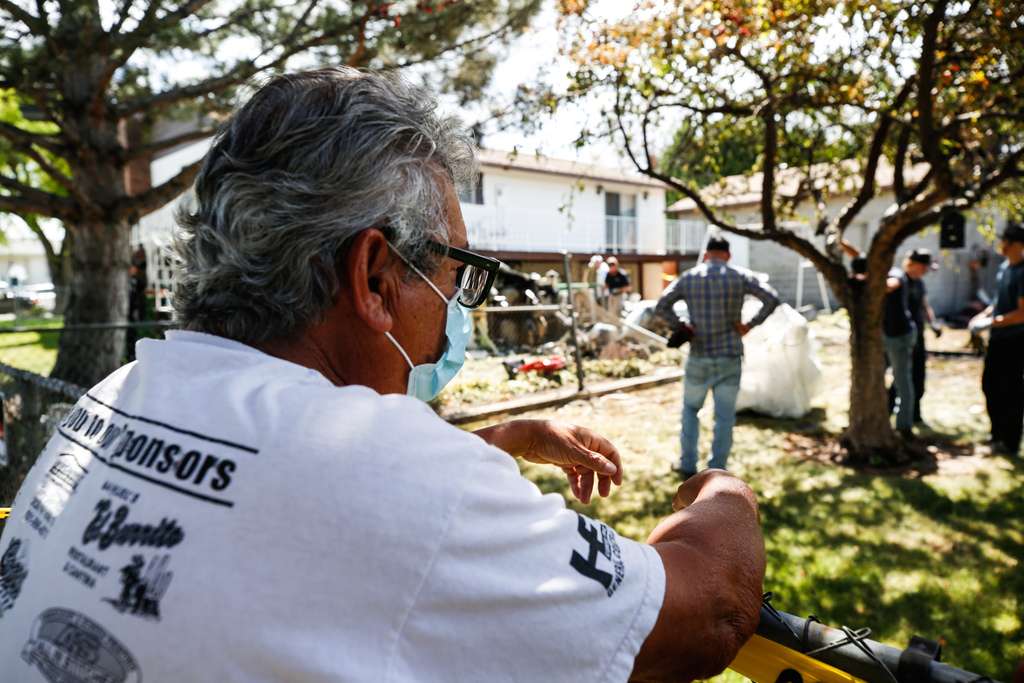 The crash also devastated neighbors in the community, which city officials have described as tight-knit.
"They've been coming around, you hear so many stories," Murillo said, explaining that he doesn't know exactly what happened but has seen its impact on the community.
West Jordan police as of Sunday did not know where those in the plane were from. That information is expected to come from the Federal Aviation Administration, police said.
The flight took off from South Valley Regional Airport in West Jordan and was bound for Page, Arizona, said Allen Kenitzer, FAA spokesman. The FAA, which is investigating the crash along with the National Transportation Safety Board, has not yet released information about what caused it.
Contributing: Garna Mejia
Correction: An earlier version had the address of the crash as 8691 S. 3780 West. The correct address is 3847 Piccadilly Circle (8710 South). Also, police said they believed Cody Mitchell was Shibonis' son. He is actually Wyckoff's son.
×
Photos
Related stories
Most recent Utah stories