Estimated read time: 2-3 minutes
This archived news story is available only for your personal, non-commercial use. Information in the story may be outdated or superseded by additional information. Reading or replaying the story in its archived form does not constitute a republication of the story.
Utahns, mostly teenage girls and their moms, are among the millions counting down the days, hours and minutes until the premiere of "Twilight."
The movie is based on the best-selling book about the romance between Edward and Bella. Stephenie Meyer is the author of the now four-book series, a BYU graduate in English, whose imagination has taken readers to another realm.
Edward and Bella are about to hit the big screen. Teenage girls and their mothers are buying tickets as quickly as vampires fly.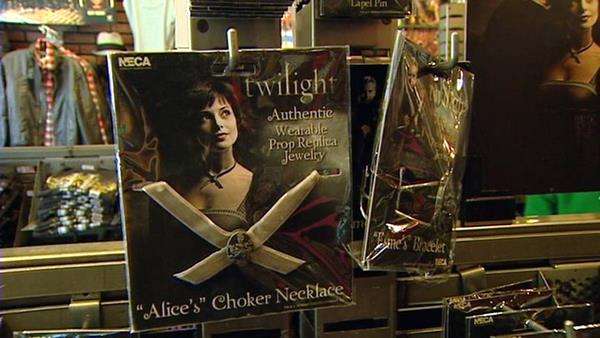 They're also buying T-shirts, posters and jewelry at Hot Topic stores where the topic is, could this really happen? Twilight fan Lakota Gambill says, "Fall in love with a vampire? It's just like that desire and passion. It's like I really want to fall in love with this vampire, wishing for what they have."

Another fan, Emma Farr, says, "It's really fun to read about. Sometimes you feel like your Bella, when you're a girl, guys ..."

The countdown is on at Megaplex Theatres from Lehi to Ogden. Julie Withers, Megaplex Theatres manager says, "We still have tickets available. Our midnights are pretty well full. We've added at 2:30 \[a.m.\] showing. All of the die-hard vampire fans are comin' out."

Web sites and blogs are ablaze with activity from girls. On the site Twilight We Love a person wrote: "I personally like Edward, but Jacob has wormed his way into my 3rd favorite character."

There's also a site dedicated to women whose lives have been turned upside down. The site Twilight Moms , one person asked, "Is your house a disaster with piles of laundry and stacks of dirty dishes. Have you imagined your husband is a vampire?"

The answer to that would be "no." Once again "Twilight" opens in theaters Thursday at midnight, but according to some blogs there are special screenings for fan club members in other parts of the country as early as today.

E-mail: cmikita@ksl.com

×
Related links
Most recent Utah stories